Great Homemade Food Gifts for the Holidays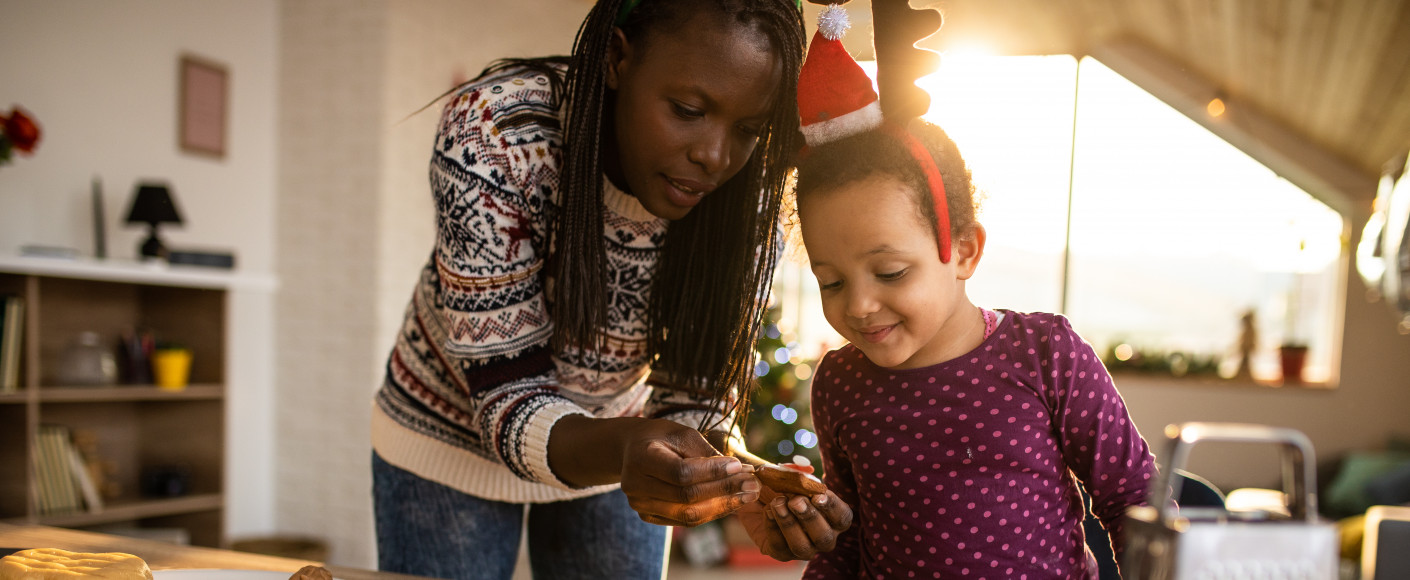 'Tis the season for giving! If you're looking for gift ideas with a personal touch, it doesn't get any better than homemade presents. Not only are they thoughtful and delicious, but they won't be held up in a container ship!
We've compiled some of our favorite recipes that make perfect holiday gifts. Whether you like to work solo or want a fun family project, these recipes are sure to spread cheer this holiday season.
Tip: Have a signature recipe, but aren't sure how to share it? Look for miniature versions of bread loaf baking pans, Bundt pans and others to scale back your classic treat into a perfect gift size.
Snacks
Snacks are great for making in batches to share with your kids' classmates, neighbors or other groups. Portion them in festive bags with a cute tag and — voila! — you've conquered multiple gifts in one fell swoop. Be forewarned: You'll definitely be tempted to nibble at these recipes, so be sure you set some aside for yourself.
Holiday Crunch
This easy-to-make recipe is a hit with kids of all ages. Who doesn't like to snack on crunchy sweet-and-salty goodness? Need a nut-free snack? Simply leave out the cashews. Easy peasy and super tasty!
Spicy Sweet Nuts
This recipe from our friends at Kansas Living magazine is so addictive. It's got just the right blend of sweet and savory. Mix things up with different nuts, try swapping the sugar and honey for maple syrup or even throw in some other herbs like sage, rosemary or thyme for a fall spin on this classic.
Bacon Candy
Those are probably the only two words you need to read to be sold on this recipe, and you'd be 100% right to go for it. Since this one won't keep, make sure to give it in a timely manner after you make it. No doubt the recipients won't have any problem gobbling it up in record time. For smaller snack sizes, cut the bacon strips into squares.
Artisan Cheese Crackers
With so many sweets flying around this time of year (although we want to make it perfectly clear we're totally fine with that!), it can be nice to have a savory option. These crackers made with sorghum are crisp, tasty and gluten-free.
Crispy Parmesan Chickpeas
Crunchy and flavorful, these chickpeas provide the perfect opportunity to write "Peas on Earth" on a gift tag (yes, we've been waiting all year to use that!).
Cookies and Bars
What would the holidays be without cookies?! Try something new for this year's cookie exchange with these recipes that put a fun spin on the classics you love.
Whole Wheat Chocolate Peppermint Drop Cookies
When the pumpkin flavors of fall give way to the minty goodness of winter, there's only one thing to do: Lean into it. We can't think of a tastier way than with these delectable cookies.
Gluten-Free Gingerbread Cookies
Celiac sufferers often suffer a bit more this time of year with the fear of missing out on all the mouth-watering treats changing hands. But they don't have to! If you love someone with a gluten allergy, whip up these seasonal favorites using sorghum flour for a gluten-free treat they'll love.
Cornmeal Raspberry Linzer Cookies
With a dusting of powdered sugar and a glistening window of raspberry jam, you don't get any more festive than these for the holidays. Cornmeal ups the crumble factor in this delicious recipe from our friends at Midwest Dairy.
Cornmeal Raspberry Linzer Cookie Recipe
Chewy Brownie Mix in a Jar
This classic dessert from our friends at Eat Wheat is a treat for the tummy and the eyes. Assemble the brownie ingredients in layers and print instructions for your recipient to whip up at their leisure.
Holiday Sugar Cookies
Whether you want an elegant design or a fun kids' project, you can't go wrong with these iced sugar cookies.
Breads
From tear-and-shares to mini-loaves, these bread recipes can help you cover a lot of gifts with a lot of flavor.
Chocolate Cherry Scones
The classic British staple gets a special makeover that's perfect for the holidays in this recipe from our friends at Kansas Living.
Rosemary Cardamom Twisters
Make batches of this award-winning twisted bread and divide them up for delicious gifts for neighbors, teachers and friends.
Cinnamon Monkey Bread
What's better than a dessert disguised as a breakfast food?! This monkey bread does double duty as a thoughtful gift and a sanity-saver that helps recipients feed holiday visitors.
Glazed Orange Cranberry Bread
The sharp, yet sweet flavors of this bread perfectly capture the feel of fall leading into winter.
Desserts
These showstoppers are for the special people in your life who deserve something as sweet as they are.
Candy Cane Pie
Peppermint bark reaches a whole new level in pie form with this scrumptious recipe from Kansas Living. Marshmallows make for a smooth, creamy texture that pairs perfectly with the crunch of chopped candy canes.
Christmas Pavlova
This dessert looks almost too good to eat. Almost. We're pretty sure any recipient will get over that hesitation right quick and dig into this classic meringue dream.
Apple Gingerbread Skillet Cake
This recipe featuring sorghum molasses is decadently gooey, light and crunchy. Substitute sorghum flour for wheat flour for an entirely gluten-free dessert.
Apple Gingerbread Skillet Cake Recipe
Condiments
Are condiment gifts a thing? You bet! Some small jars and a little elbow grease make for some delicious options for neighbors, teachers and friends to enjoy in their own kitchens.
Flavored Butters
From sweet to savory, these butters will add some oomph to any table. Give them solo or with bread. Get creative! Take this idea and play around with your favorite flavors like different jams, caramelized onions, chives and more.
Spice Mixes
You could go out and buy some fancy spice mixes to give to friends, or you could personalize the gift by mixing your own favorite concoctions. Love Indian food? Greek? Or good old-fashioned barbecue? Whip up your own spice mix! Here's some inspiration to get you started.
Vanilla Extract
Do-it-yourself vanilla is one of the easiest recipes out there. It only takes two ingredients and will brighten up baked goods for months to come. The only downside is that you need to allow plenty of time for the flavor of the vanilla beans to seep into the alcohol — at least 60 days. Never fear. A simple tag instructing the recipient to open after a certain date will give them something to look forward to.
Homemade Vanilla Extract Recipe
Balsamic Vinegar
This kitchen staple can range from a few dollars to a few hundred dollars. Chances are you don't want to spend a bunch of money on a fancy vinegar, but this DIY hack has all the flavor of fancy with the budget of frugal. Dressed up balsamic vinegar makes for a lovely gift perfect for hostesses and anyone you know who deserves a little extra glam this holiday season.
Now that we've gotten our own mouths watering just thinking about these goodies, we're ready to hit the kitchen! We hope you find a few new favorites from this list and enjoy spreading some baked joy this holiday season.
Recipe Ideas for Entertaining
---