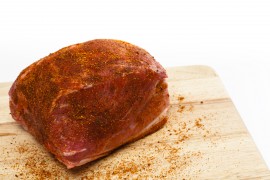 Dry and wet rubs add flavor, spice and everything nice to make your meat extra delicious. Learn how to make our three go-to meat rubs!
Ingredients
Cajun Dry Rub
1 teaspoon white pepper
1 teaspoon onion powder
½ teaspoon garlic powder
1 teaspoon dried thyme leaves, crushed
1 teaspoon black pepper
½ teaspoon celery seed
½ teaspoon cayenne pepper
¼ teaspoon salt
Asian Dry Rub
1 tablespoon black peppercorns, crushed
¼ teaspoon salt
1 teaspoon brown sugar
½ teaspoon ground ginger
½ teaspoon cinnamon
1 ½ teaspoon anise seed, crushed
¼ teaspoon ground cloves
Basil-Garlic Rub
2 tablespoon extra virgin olive oil
1 tablespoon basil, dried
1 tablespoon lemon juice, fresh
1 teaspoon coarse salt
½ teaspoon garlics powder, or granulated garlic
½ teaspoon black pepper, freshly ground
Directions
For each rub, mix together ingredients. Rub mixture evenly over meat, coating the entire surface. Cook meat as desired. To boost flavor, cover and refrigerate for 15 minutes to several hours before cooking. 
---