Antipasti Holiday Skewers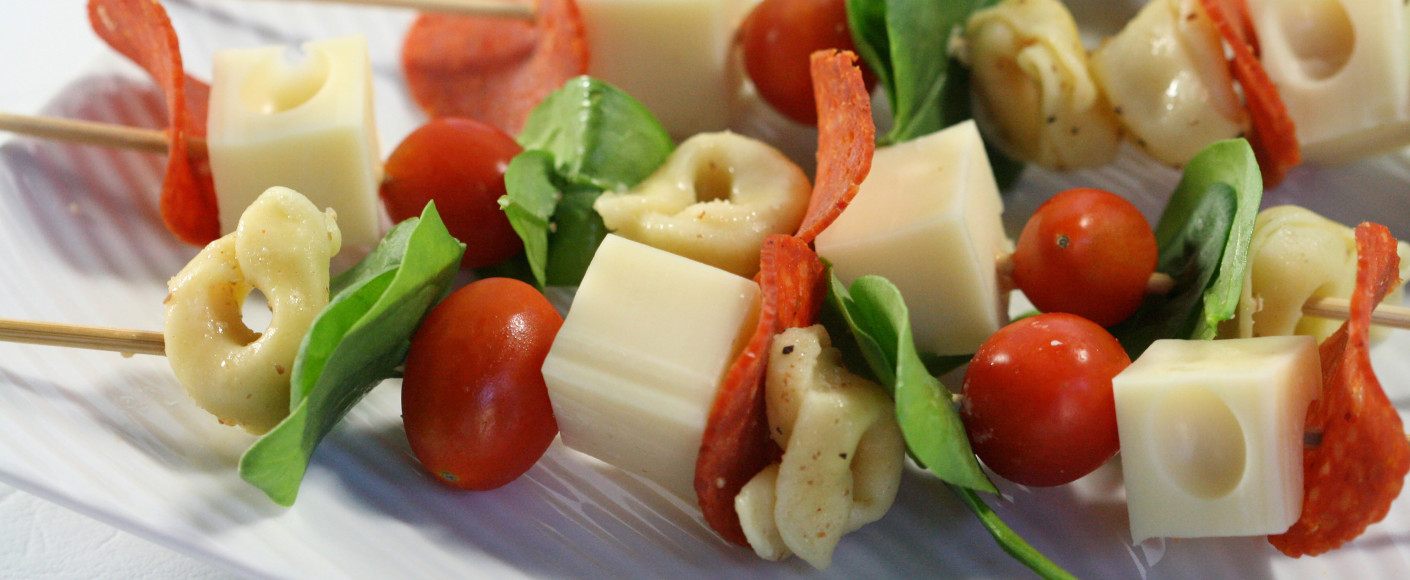 This simple recipe makes the perfect appetizer for any get-together.  The tomatoes and spinach even look festive for the holidays. These antipasti skewers will ignite your taste buds with a delicious mix of cheese and veggies. And they're healthy, to boot!
On a specialized diet? This recipe works well for folks following a plant-based vegetarian (if you skip the pepperoni) or low-fat diet — and, of course, omnivores!
Ingredients
1 9-ounce package cheese filled tortellini cooked al dente and cooled
½ cup fat-free Italian dressing
8 ounce block of reduced-fat Swiss cheese cubed
2 cups baby spinach leaves
32 pieces turkey pepperoni
3½ cups cherry tomatoes
16 9- to 10-inch wooden skewers
Directions
In a large bowl, marinate tortellini in Italian dressing for 30 minutes. Chill.
To assemble skewers, start with two pieces tortellini, one cheese cube, two spinach leaves, one pepperoni slice (folded in fourths) and one tomato, then repeat again. (Each skewer will have total of four pieces tortellini, two cheese cubes, four spinach leaves, two pepperoni slices and two tomatoes.) Repeat until 16 skewers are made.
Refrigerate until serving.
This recipe was provided courtesy of Midwest Dairy and originally appeared on their website.
---