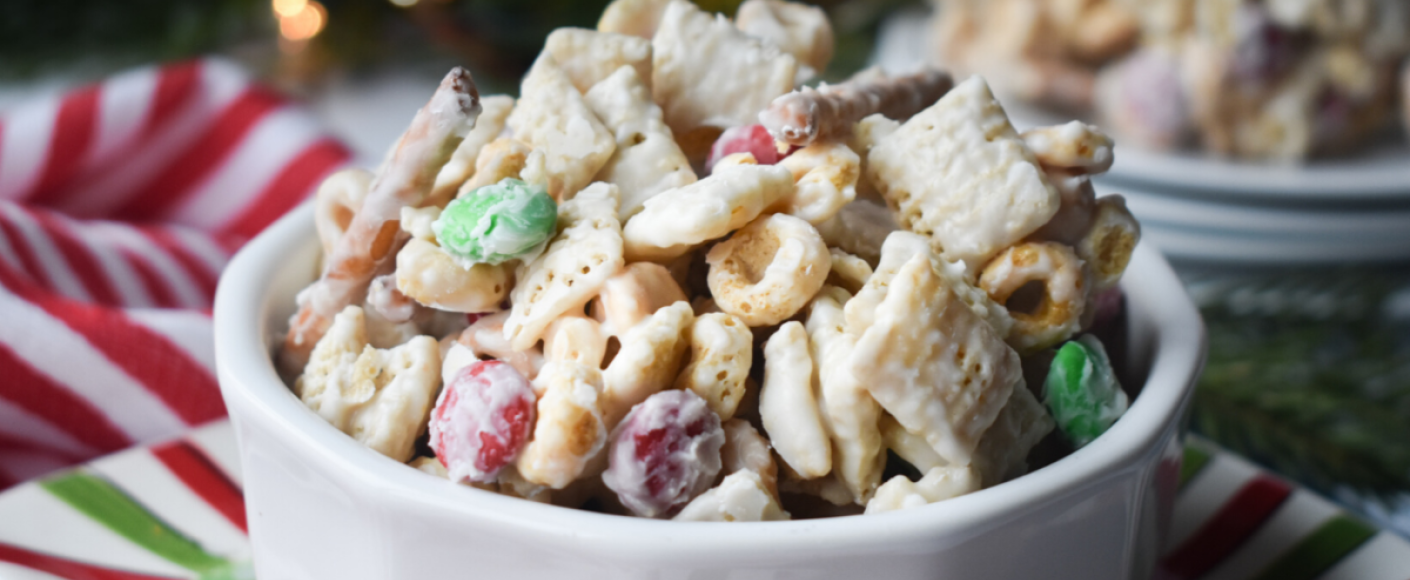 This treat is a holiday favorite — it's crunchy, salty, sweet and oh-so-good! Even better, it uses vitamin-enriched, high fiber cereal for a healthy edge over other sweets.
Ingredients
3 cups Wheat Chex® or Rice Chex® cereal 
1 ½ cups MultiGrain Cheerios® cereal 
1 cup pretzel sticks 
1 cup cashews 
1 cup M&M's® candy, plain 
8 squares (13 ounces) vanilla or butterscotch almond bark
Directions
Line a 15 x 10 x 1-inch baking pan with wax paper. In a large bowl, combine Wheat Chex® cereal, Cheerios®, pretzels, cashews, and M&M's®.  
In a heatproof bowl, microwave the almond bark 2 to 3 minutes. Stir occasionally until melted. Remove carefully, using pot holders. 
Pour melted almond bark over the dry ingredients and stir gently just until coated. 
Immediately pour onto prepared baking sheet. Spread evenly. Refrigerate 30 minutes or until firm. Remove wax paper. Break into bite-size pieces and store in an airtight container. 
Makes 24 servings. 
Nutrition information per serving (1.36 oz.): 155 cal, 8 g fat, 1 mg chol, 140 mg sodium, 20 g carbo, 1 g fiber, 3 g pro, 31 mcg folate. 
You Might Like
---