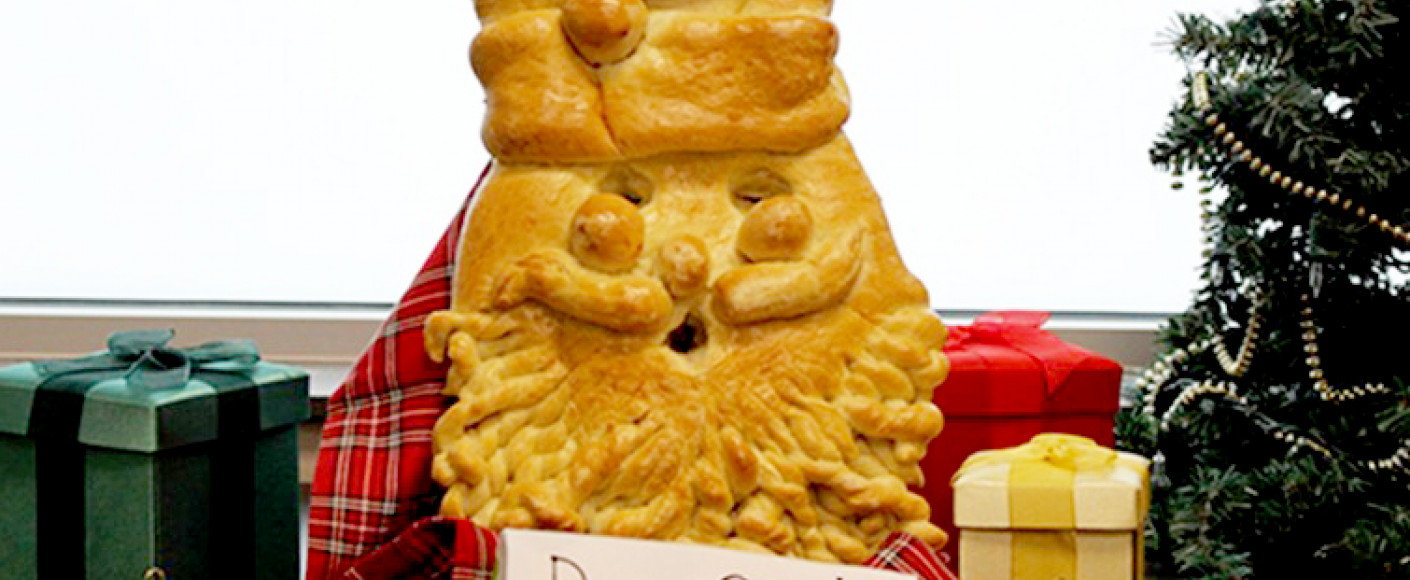 Celebrate Christmas with this festively shaped bread! Use these instructions with your favorite homemade bread dough, or frozen dough purchased at the grocery. The shape was developed by Cindy Falk, nutrition educator for Kansas Wheat, who used frozen dough in our test kitchen. Ho ho ho!
Ingredients
1 ½ pounds of frozen bread dough or your own favorite yeast bread dough recipe 
1 egg 
1 tablespoon water
Directions
Roll out 1 pound of the dough into a tall 18-inch triangle and place on a large baking sheet sprayed with non-stick cooking spray. 
Fold top point over to form cap. 
For the trim on Santa's cap, roll out 2 ounces of dough into a 2 x 8-inch rectangle and lay across the upper triangle, tucking edges under cap. 
Place a small dough ball on the point of the cap. 
Place 2 smaller dough balls on Santa's face for cheeks. 
Use a small piece of dough for the nose. 
Shape the rest of the dough into an 8-inch rope. Cut the rope in half and place on Santa's face for a mustache. 
With a sharp knife or scissors, cut out two eyes and a mouth. To reinforce the eyes and mouth, crunch aluminum foil into small balls and place inside the eyes and mouth openings. The foil will remain in during rising and baking. (Remember to remove the foil after baking!) 
With a knife or pizza cutter, cut the beard into strips and stretch them out. For a special effect, arrange the strips at different angles and twist each strip so it resembles hair. 
Cover with plastic wrap that has been sprayed with non-stick cooking spray. Let rise until almost doubled in size, about 20 minutes. 
Remove plastic wrap and brush Santa with egg wash (1 whole egg plus 1 tablespoon cold water, beaten together). 
Bake in preheated 350° F oven for 20-25 minutes or until golden brown. 
Tip: To prevent overbrowning, tent with foil. 
You Might Like
---