Whole Wheat Chocolate Peppermint Drop Cookies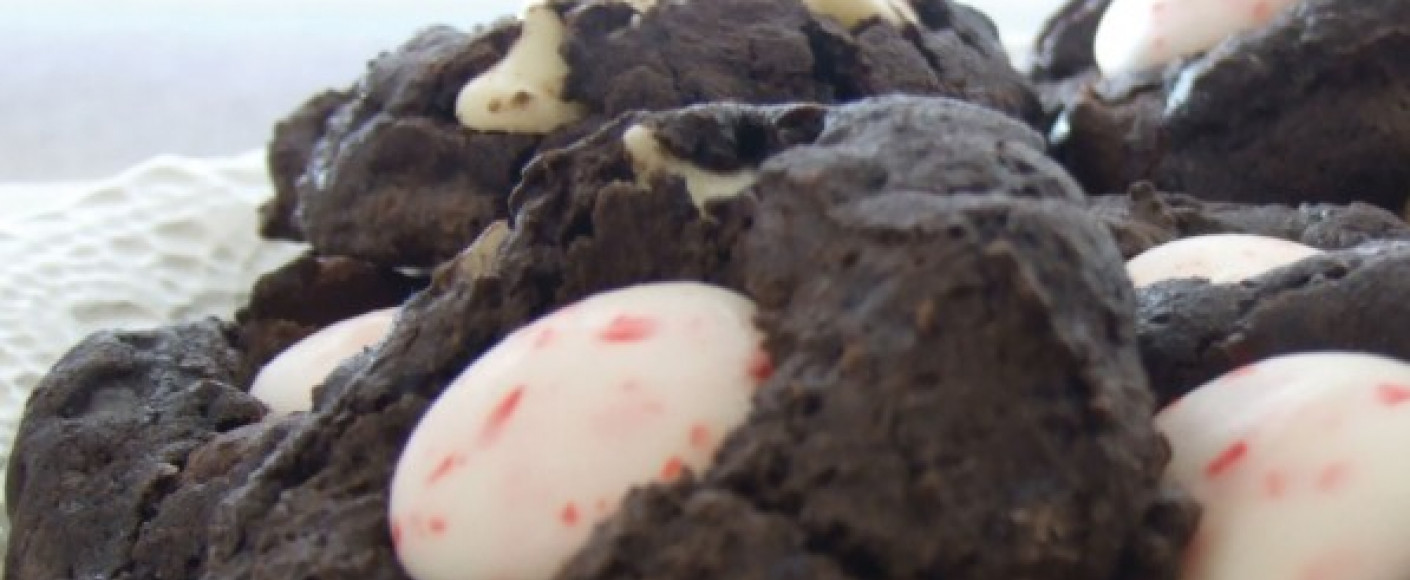 Nothing says winter quite like chocolate and peppermint! But no one would ever guess that this indulgent recipe uses whole-wheat flour for a healthier spin on everyone's favorite winter flavors.
Ingredients
½ cup butter, melted  
1 cup brown sugar  
¾ teaspoon baking powder  
½ teaspoon salt  
2 large eggs  
2 teaspoons vanilla extract  
2/3 cup Dutch-process cocoa  
1 ¾ cups white whole wheat flour  
1 cup dark chocolate chips  
½ cup white chocolate chips  
½ cup crushed peppermint candy  
36 whole peppermint candy melts (Wilton), optional
Directions
Prep Time:  10 minutes 
Bake Time:  8-10 minutes 
Preheat oven to 350° F. Lightly grease two cookie sheets or line them with parchment paper.  
In medium bowl, mix together melted butter, brown sugar, baking powder and salt. Add the eggs and vanilla, beating until smooth.  
Stir in the cocoa and flour. The dough will be sticky. Mix in the chocolate chips and crushed peppermint candy.  
Drop dough by tablespoonfuls onto the prepared cookie sheets, leaving 1 ½-inch between each drop.  
Bake 8 to 10 minutes, until cookies are set. Remove from oven. If desired, place a whole peppermint candy in the center of each cookie. 
Note: cookies will be very soft coming out of the oven, but will firm up as they cool on the cookie sheet.  
Makes about 3 dozen cookies.  
Nutrition Information 
One cookie provides approximately 136 calories; 2 g protein; 20 g carbohydrate; 2 g dietary fiber; 6 g fat (3g saturated); 18 mg cholesterol; 7 mcg folate; 3 mg iron and 84 mg sodium. 
You Might Like
---