Tips for Date Night at Home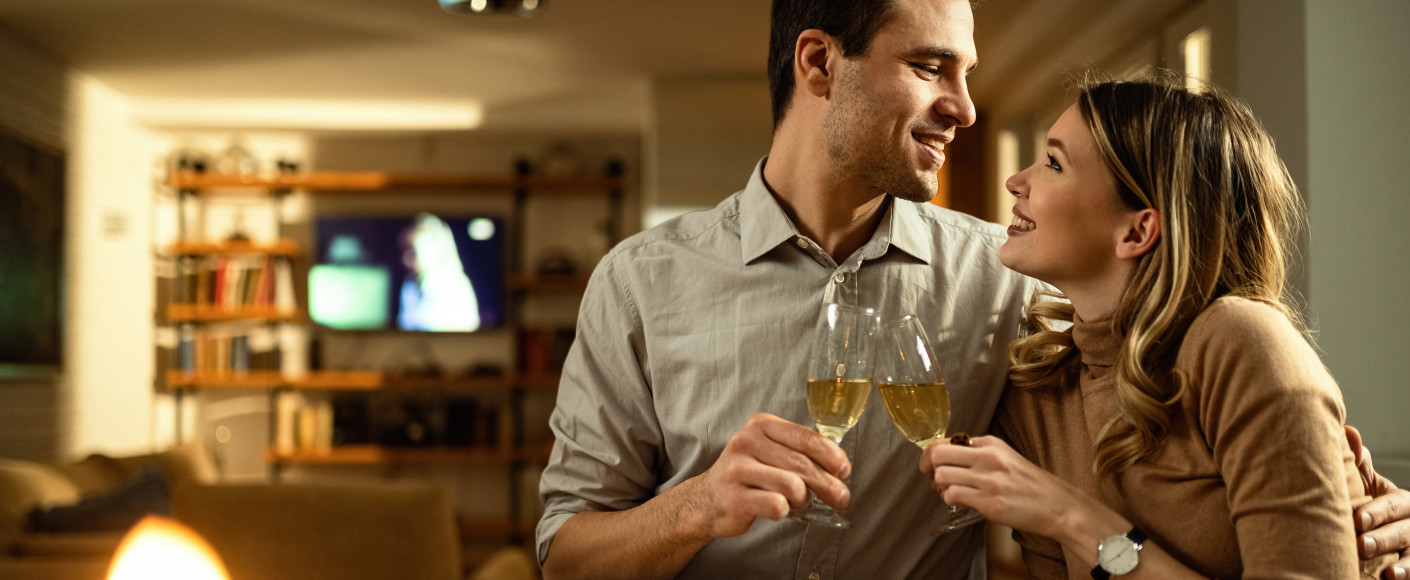 It's easy to fall into the slump of routine. The hours tick by, the days blend together and you find yourself wondering how long it's been since your last shower. 
Or so we've been told...
To break out of monotony without leaving the house, here are some tips to treat your partner — and yourself — to a date night in. 
Set the Dress Code
This can be as casual or as dressy as you'd like, but set the stage so you're both on the same page. Getting ready for your date will also help put you in the right mindset.
If it's been awhile since you've put "real" pants on, maybe you feel like spicing things up! Do your hair, put on your favorite lipstick, spray the perfume and don those heels. Being dolled up is a great mood booster and gets you even farther out of your housebound habits. 
Perhaps you've had a draining week and dream of your pajamas. Do it! Make your date night a PJ party and stay as comfy as you want to be. 
Prepare a Meal
We all know the key to a great date is great food! And no matter your skill level, cooking together doubles as a fun activity. Whip up one of these dishes that fits the vibe of your evening. 
Recipes for a Romantic Date Night In
Transport each other to your go-to special occasion restaurant with one of our romantic entrees. 
Fancy Pants Grilled Cheese
Who says grilled cheese can't be sophisticated? A little red pepper jelly really takes things to the next level.
Rib Roast with Horseradish Sauce
Horseradish can be divisive, but for fans of the flavor, this dish is sure to please.
KC Strip Steak Over Pearled Sorghum Pilaf
No list would be complete without a nice steak! Be sure to note the internal temperatures included for each level of doneness. 
Recipes for an Easy Date Night In
If you'd like to spend more time together and less time in the kitchen, try one of these hassle-free recipes without sacrificing taste.
One-Pot Lasagna
Italian has never been so simple. Not only is this recipe easy to prepare, "one-pot" makes cleaning a breeze!
BBQ Meatballs
Dig into these meatballs with all the goodness of BBQ minus some of the mess. Created by Flint Hills ranchers, this recipe will hit the spot.
Pressure Cooker Pulled Pork Tacos
Have your pressure cooker do the work for you! Toss in the ingredients, wait an hour, then enjoy these tasty tacos.
Recipes for Date Night In, with Kids
If kids are part of the mix, make one delicious meal to please the whole family — even picky eaters.
Bacon Cheeseburger Tater Tot Casserole
A true comfort food, this casserole will be a hit with everyone. To get the kids involved, have them line the tots in rows, or create a fun pattern!
Spicy Cheeseburger Sliders
We know what you're thinking! Not all kids are on board with spicy, which is a-okay. To tone down the heat, simply remove the chili powder from the kids' hamburger — they'll still be left with a tasty slider. 
Bierocks
Not only are bierocks delicious, but the bread pocket keeps messes to a minimum. The kids will be happy with the taste, and you won't need to spend extra time on cleanup duty. 
Bonus Tip: If you want a little alone time, check out these six ideas for keeping kids entertained indoors.
Enjoy Quality Time 
Don't worry about paying the tab, getting a babysitter or calling a ride — have the perfect date without leaving the house. And, of course, appreciate the company of your person!
Farm Love Stories
Want a little love inspiration? Hear about the love stories of some of the cutest Kansas farmers out there!