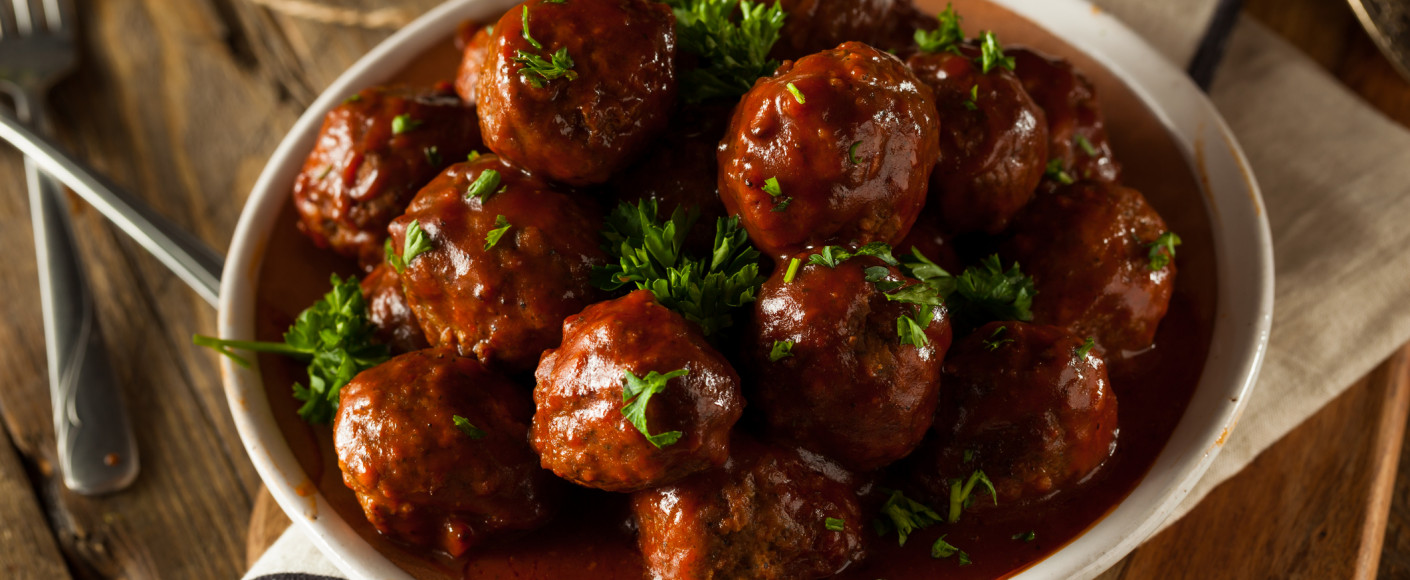 This recipe came from Jill and Isaac Carr who ranch in the Flint Hills. They background cattle which means they care for cattle before they're taken to the feedlot. Isaac also runs a cow/calf operation with his dad. Jill works in town at a lending institution for farmers and ranchers.
Together they blog over at Our Beef Kitchen. You'll definitely want to check out their blog for tasty recipes and lots of great information about raising cattle. 
They shared this recipe with us just in time for spring and summer picnics, family reunions and barbecues. Jill says they're simple to make and taste great — that's a perfect reason to try it out! If you need a side to go with them, check out their cheesy potato recipe.
On a specialized diet? This recipe works well for folks following a gluten-free diet — and, of course, omnivores!
Ingredients
Meatballs
3 pounds ground beef
2 eggs
1 cup oatmeal
10 ounces evaporated milk
1/2 teaspoon garlic powder
2 teaspoons salt
2 teaspoons chili powder
1/2 teaspoon black pepper
Barbecue Sauce
1 1/2 cups brown sugar
2 cups ketchup
2 tablespoons liquid smoke
1/2 teaspoon garlic powder
Directions
Preheat oven to 350° F.
In a large bowl, lightly beat the eggs.  Add the oatmeal, milk and other meatball seasonings and combine.
Add the ground beef and combine thoroughly but do not overmix.
Grease two 9x13 pans.
Roll the meat mixture into 2" balls and place side-by-side in the pans.
Combine the BBQ sauce ingredients in a separate bowl and spoon sauce onto each meatball.  Reserve some sauce for dipping.
Bake, uncovered, for 1 hour.
More Great Beef Recipes
---