KC Strip Steak over Pearled Sorghum Pilaf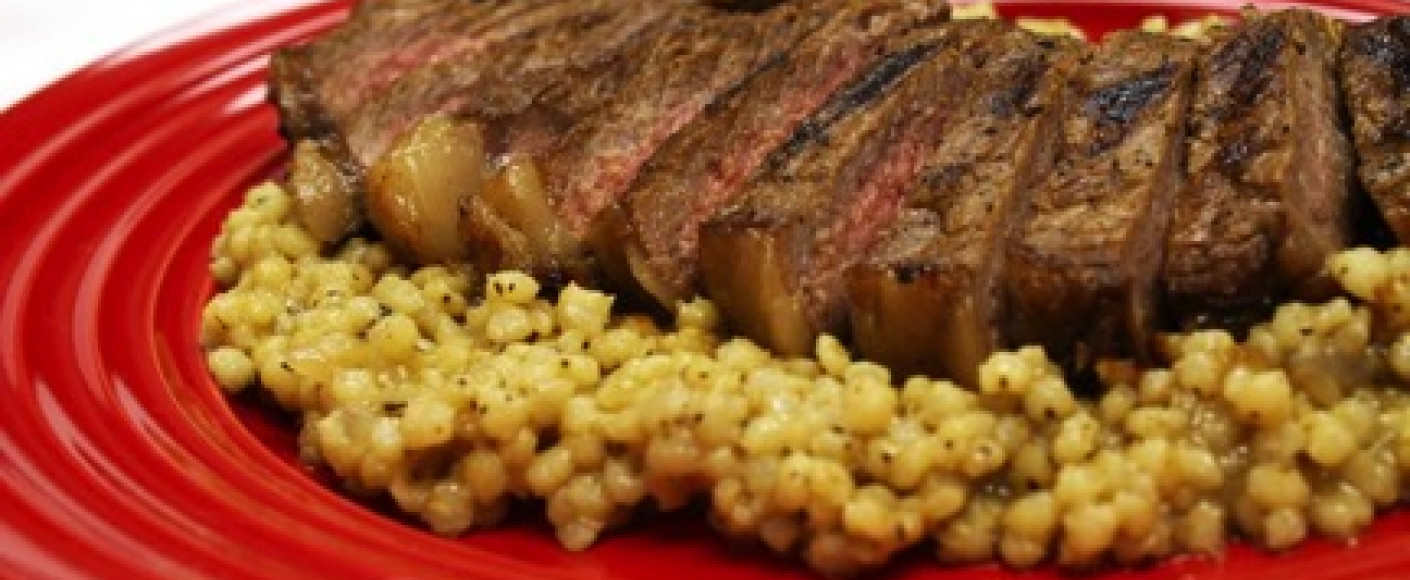 Brighten up your steaks this summer (or any time of year!) with this classic marinade and a fresh take on the side dish—sorghum!
Ingredients
2 cups Nu Life Market's Pearled Sorghum Grain 
2 8-ounce KC Strip Steaks 
2½ cups water, divided 
2½ cups unsalted beef stock, divided 
2 tablespoons butter flavored palm shortening 
½ cup chopped onions 
1 teaspoon minced garlic 
1½ teaspoons salt 
1 teaspoon basil
Marinade
¼ cup Worcestershire sauce 
¼ cup olive oil 
¼ cup balsamic vinegar 
1 teaspoon salt 
1 teaspoon garlic 
1 teaspoon pepper
Directions
To marinate the steaks, place all of the marinade ingredients and two steaks in a gallon baggie. Marinate overnight or for several hours in the refrigerator. 
Combine the following ingredients in a pressure cooker: Nu Life Market's Pearled Sorghum Grain, two cups of water, and two cups of beef stock. Cook on low pressure for 30 minutes. Remove pearled grain from pressure cooker, rinse, and drain. 
Over medium heat, in a large skillet, melt the palm shortening. Once melted, sauté the onions and garlic for approximately four minutes or until the onions are translucent. Add in the cooked Pearled Sorghum Grain, ½ cup water, ½ cup beef stock, salt, and basil. Cover and simmer for 20 minutes. 
In a grill pan, over medium-high heat, cook the KC Strips until the internal temperature reaches desired temperature. Cook four minutes on each side to achieve an internal temperature of 160° or medium. 
The USDA recommends: 
Rare: 140° 
Medium Rare: 145° 
Medium: 160° 
Well: 170° 
Very Well Done: 180° 
Serve the KC Strip over a bed of pearled sorghum pilaf.
More Meaty Recipes
---