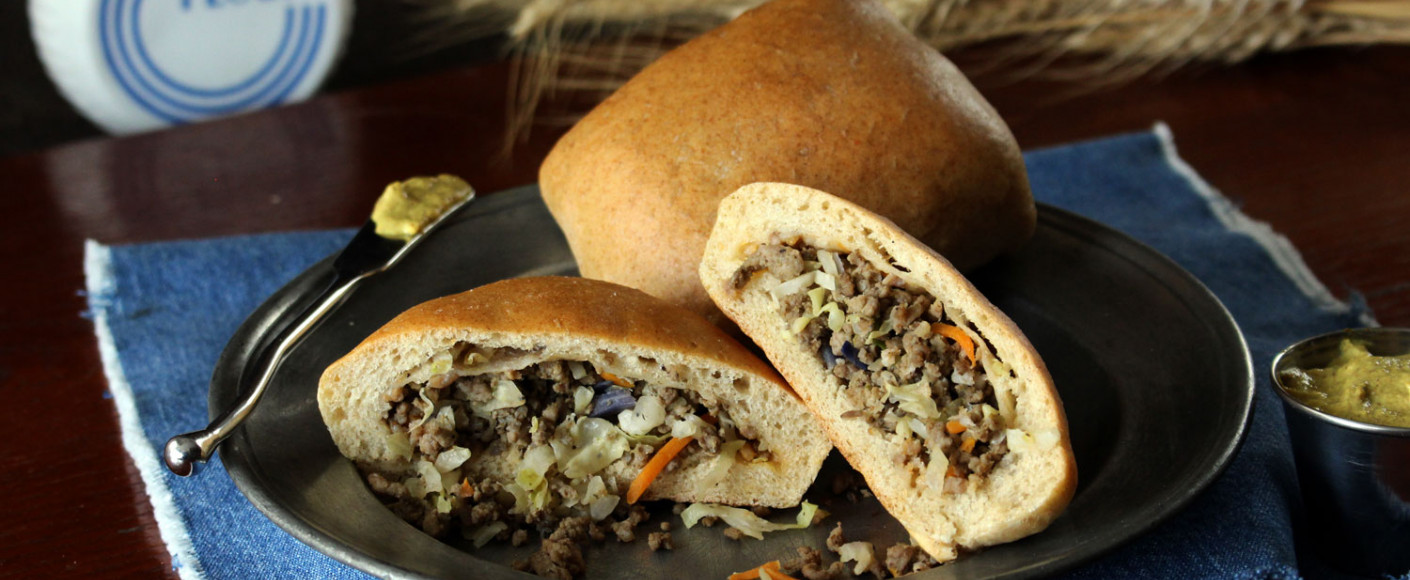 Bierocks, a Russian/German meat-filled bread dough, make a perfect sandwich. Make these sandwiches ahead of time, freeze, then warm in microwave for a quick meal.
Ingredients
Bread Dough*
1 ½ cups water (110°F - 115°F)
1 (¼ ounce) package instant yeast
3 tablespoons sugar
4 – 4 ½ cups all-purpose flour, divided (may be part whole wheat flour)
1 teaspoon salt
3 tablespoons unsalted butter, softened
* Or use 2 pounds frozen bread dough, defrosted.
Traditional Bierock Filling
1 pound lean ground beef
6 cups finely shredded cabbage**
1 ½ cups finely chopped onion (1 large)
1 teaspoon black pepper
¼ teaspoon salt
Bottled hot pepper sauce (to taste)
1 cup shredded cheddar cheese (optional)
1 tablespoon butter, melted (optional)
** Time-saver tip: substitute coleslaw mix
Directions
In the bowl of a stand mixer fitted with paddle, combine water and yeast. Wait 5 minutes for mixture to foam (proof).
Stir in sugar, 3 cups flour, salt and butter. On medium speed, beat 2 minutes. Exchange paddle for dough hook. Gradually add enough remaining flour to form a workable dough. Knead on low speed 6- 8 minutes, or until smooth and elastic.
Transfer dough to a greased bowl. Cover and let rise 30 minutes.
To make filling: brown ground beef and thoroughly drain. Add cabbage, onion, black pepper, salt and hot pepper sauce. Cook on low until vegetables are tender.
Deflate the dough and let rest 10 minutes. Preheat oven to 400°F.  Line two baking sheets with parchment.
Transfer dough to lightly floured work surface. Divide in half.  Roll half into a 15" x 10" rectangle. Cut into six 5" squares.
Portion about ½ cup filling in the center of each square. If desired, top with shredded cheese.  Pick up corners of each square and pinch together. Pinch each diagonal seam so square is sealed well. Place seam-side down on baking sheet. Repeat with remaining dough and filling.
Bake 15-18 minutes or until golden brown. Remove bierocks from oven and if desired, brush with melted butter. Serve warm or freeze and reheat.
Yields: 12 large bierocks.
For slider-size bierocks: roll half of the dough into a 14" x 18" rectangle. Cut into 12 squares and portion on half of the filling.  Repeat with remaining dough and filling to make 24 bierocks.
More Unique "Sandwich" Recipes
---