New Year's Eve Survival Guide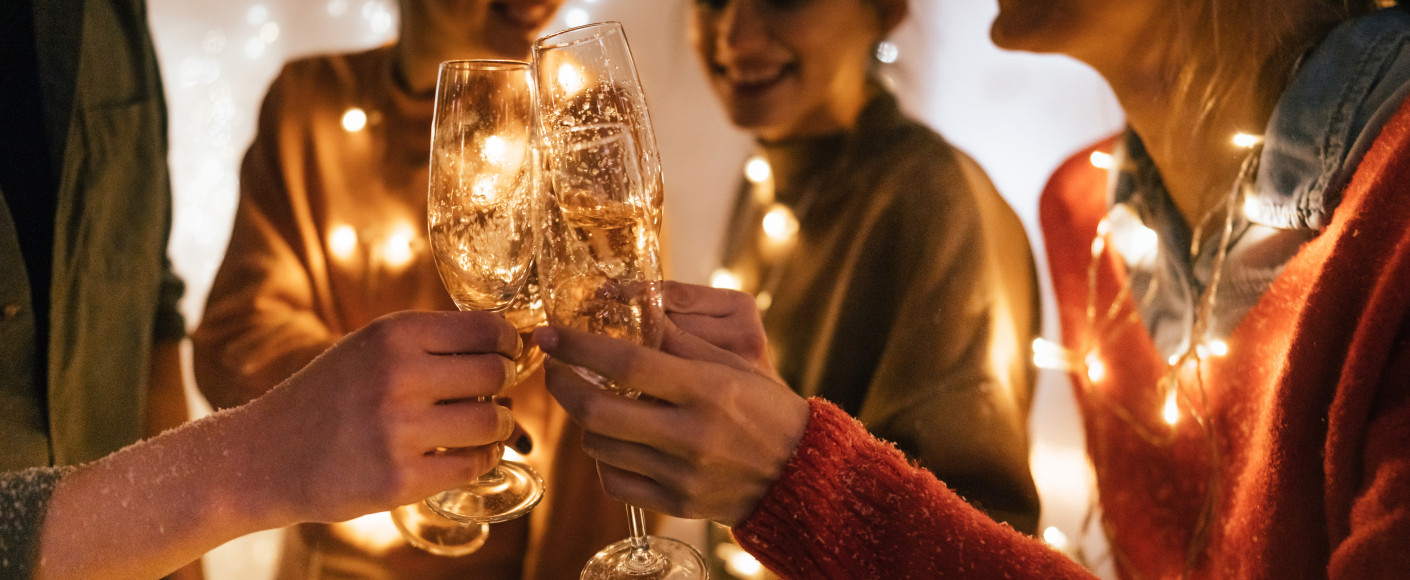 We say this every December, but can you believe another year has passed? It seems like only yesterday we were taking down our Christmas tree and writing this year's resolutions. And while the promise of a new start is exciting, the pressure of hosting a New Year's Eve party can be daunting — especially if you're throwing a Christmas party, too.
If you feel like a ticking time bomb is counting down to New Year's Eve instead of a clock, try these tips to host the perfect party in celebration of the new year. 
Create the Perfect Dining Experience
First on our list for a reason, food is the star of any holiday get together. But unlike Thanksgiving or Christmas, New Year's Eve lends itself better to snacking than a plated meal. Luckily for you and your guests, this means you can whip up multiple, smaller dishes and experiment with a variety of flavors to please many palettes. 
Another benefit to making a bunch of recipes is you can spread the food throughout your party space to avoid congestion in one area. Locate a few spots where you have room to put utensils and a couple food options for your guests to serve themselves — think coffee tables, hutches, bar carts and others. Once you have the food stations in mind, consider putting a festive tablecloth on each surface as decor and as a safety precaution in case little spills happen. 
Don't be afraid to get playful with the menu! While you're always welcome to stick to a specific type of food, it can be fun to offer a smorgasbord of dishes with only their deliciousness in common. Here are a few of our favorite self-serve options. 
Antipasti Holiday Skewers 
Even though this dish features Christmas colors from tomato, pepperoni and spinach, its ingredients are tasty all year round. 
BBQ Beef Biscuit Sliders
Tender tri-tip roast and hickory-flavored barbecue sauce are a match made in heaven in this mouthwatering recipe.
Fruit and Pasta Toss
With pops of color from grapes and pineapple, this fruity dish will add a little brightness to your table. 
Honey Pecan Goat Cheese Appetizer
A semi-sweet and extremely creamy spread, this appetizer can be prepared the day before and stored in the fridge, making it perfect for those looking to get ahead.
Honey and Spice Sauteed Pork Hand Tacos
You may need to double or triple this sweet, smokey crowd pleaser. If you're hosting folks with a love for spice, try upping the quantity of chipotle pepper. 
No menu is complete without drinks! Take a look at these recipes for a mix of adult favorites and kid-friendly options. 
Mulled Drinks and Other Toasty Beverages 
Set the Stage 
While not required, decide if you'd like to set a theme for the evening. Themes do require planning and participation from your guests, but they can add an extra layer of fun. Consider a masquerade, Western, black and gold, Hollywood or other theme to take your party to the next level. When in doubt, a classic gold or silver color palette is perfect for New Year's Eve.
Whether you go all in on a theme or not, decorations are always a plus. Think about small, affordable ways you can add festive touches to your party space. Is there a blank wall you can cover with streamers or a photo backdrop from a local party store? Are there corners where you can pile up or hang balloons? Can you put photos around the house showcasing this year and featuring your guests? Get creative! 
Plan Activities 
Whether you're hosting a small cocktail party or a large shindig, it's fun to give your guests something to do — especially if it facilitates laughter and conversation. 
Like the Thanksgiving tradition of going around the table saying what each person is thankful for, try sharing everyone's New Year's resolutions. Not only will you be able to encourage each other, but you may get inspired to join a loved one on their journey. To take this activity up a notch, ask your guests to write down their resolution on a small piece of paper, put all the pieces into a bowl and take turns choosing a resolution and guessing whose it is! 
Before jumping into next year, it can be nice to reflect on the year we're leaving behind. Go around and share your favorite moments from this year — bonus points if you have pictures to show. 
Enjoy the Celebration
We know hosting can be a stressful job, but we hope your New Year's Eve celebration is one for the books! Here's to you, your loved ones and kicking off another chapter. 
Resolution Inspiration