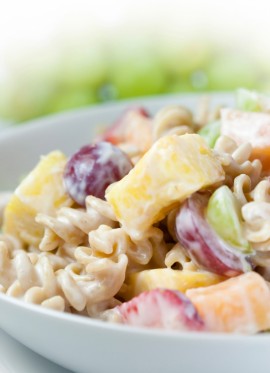 Sweet pasta might sound a little odd, but hear us out. This pasta recipe is bound to be a new family favorite and also makes a great dish to take to potlucks. It's great served as a light meal or delightful side dish. Even better, it's nutrient-rich and very colorful, thanks to the array of fruits.
Feel free to experiment with different fruits depending on your preference or the season. While there's nothing like enjoying fresh fruit at peak ripeness, this dish can add some much-needed sunshine to your menu any time of year.
Ingredients
8 ounces whole wheat spiral pasta, uncooked
1 ½ cups cubed cantaloupe (about ½ of cantaloupe)
1 ½ cups cubed pineapple (about ½ of pineapple)
1 ¼ cups strawberries, sliced
1 cup halved seedless grapes
1 ½ cups (12 ounces) low-fat vanilla yogurt
Directions
Cook the pasta according to package instructions, drain and cool in the refrigerator for 10 minutes.
While the pasta is cooking, prepare the fruit and place it in a large serving bowl.
Once the pasta has cooled, add it to the bowl. Gently mix the yogurt into the pasta mixture. Chill for 30 minutes in the refrigerator before serving.
More Great Fruit Recipes
---