Rainbow Fruit Bowl with Lemon Honey Dressing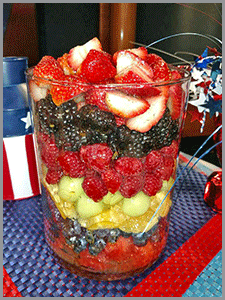 Refreshing and light, this makes the perfect summer side dish. 
Ingredients
½ cup honey
2 tablespoons fresh lemon juice
2 tablespoons vegetable oil
2 oranges peeled and sliced crosswise
1½ cups blueberries
1½ cups honey dew melon
1½ cup blackberries
1½ cups strawberries
1½ cups watermelon balls
Directions
Combine honey, lemon juice and vegetable oil; mix thoroughly. Layer fruit in large bowl or container. Pour honey dressing over fruit.
Serves 10.
More Great Fruit Recipes
---