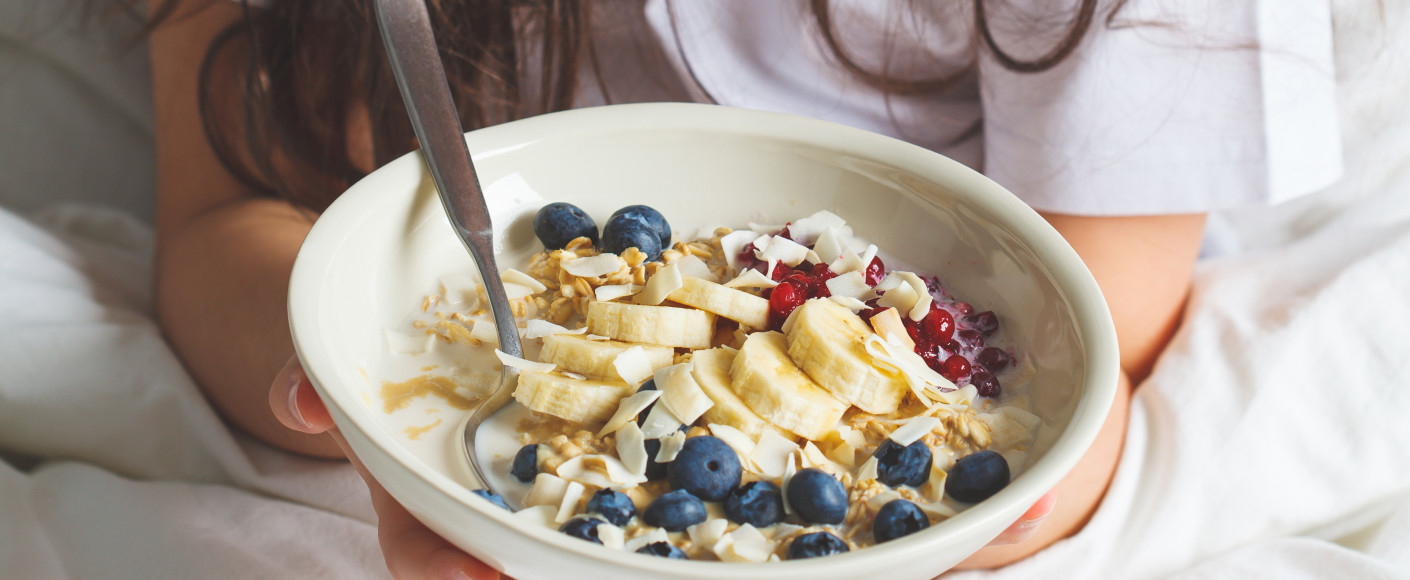 Seeing your kids head back to school is an exciting time — meeting your children's teachers, shopping for supplies and clothes — it's the start of a new chapter. But with the excitement comes a little stress. From busy mornings rushing out the door to shuttling kids to and from practices, it can be hard to find time to think about meals. To save you some headspace, we've compiled a list of quick and easy recipes for each part of your day. 
Breakfast Recipes 
A filling breakfast is a key component to your child's success at school. Higher test scores and fewer trips to the nurse are just a few of breakfast's many benefits. We know mornings can be hectic, so try one of these simple recipes to fill your child's tummy and send them to school ready to face anything — even math! 
Overnight Oats
Prepped the night before, these oats make mornings a breeze and pack a ton of flavor. The best part? You can customize the ingredients to please even picky eaters. 
Sheet Pan French Toast Bake
For a sweeter option, try this spin on classic French toast. The recipe takes about 40 minutes to make, but a majority of the time is in the oven, so you'll be able to tackle other projects like fixing hair and finding homework while it bakes. 
Ham and Egg Cups
These cups are easy to eat with your hands, aren't sticky and won't make a huge crumbly mess, so they're great to hand kids as they run out the door. Pro tip: Make a larger batch than you need, then keep the extras in the fridge. Warm the leftovers up in the microwave the following morning for an even quicker breakfast. 
Lunch Recipes
If your kids prefer a lunch packed from home, try one of these delicious recipes. Not only are they drool-worthy, but the following meals are also filled with protein to keep your kids full for the rest of the school day. 
Taco Pinwheels
Best served at room temperature, these pinwheels are just as tasty as traditional tacos, but much less messy. Feel free to customize the recipe to your family's taste — add beans, nix the green chilies, etc. 
Waffle-wiches
Another fun spin on a classic, these sandwiches are cooked in a waffle iron to give the bread a nice texture and enhance the flavors as the ingredients melt together. 
Mediterranean Beef and Veggie Wraps
Packed with the beef of your choosing and filled with leafy greens, these wraps are super filling and will ensure your child makes it through their lessons without a rumbling stomach. 
Dinner Recipes 
Getting through a long day only to be rewarded with the task of making dinner can be a real bummer. For a stress-free meal, whip up one of these recipes. 
Braised Barbecue Brisket
This dish can be prepared in a stock pot, pressure cooker or slow cooker — whichever you have on hand! A beautiful balance of sweet and spicy, you can turn up the heat by adding more chile powder if you'd like more of a kick. 
Pork Tenderloin and Sweet Potato Sheet Pan Dinner
One-sheet dinners are fantastic for exhausted parents — they're straightforward to prepare, most of the recipe's time is spent in the oven and cleanup is a breeze. This pork tenderloin and sweet potato dish has all of those benefits and is loaded with flavor. 
One-Pot Lasagna
As cozy as a day spent snuggled up on the couch, this recipe will warm your insides and thrill your taste buds. Plus, "one-pot" means less to clean. 
Snack Recipes
An after-school snack is the unofficial fourth meal for kids. For a speedy answer to "What is there to eat?!", try one of these recipes. 
Banana Wraps
Simple enough for kids to make on their own depending on their capabilities, this recipe features the banana and peanut butter combo everyone loves. 
Granola Fruit Bars
As yummy as they are easy to make, these chewy granola bars will quickly become a fan favorite. To prep for especially busy weeks, make a large batch and store the extras in the fridge. 
Cinnamon Vanilla Energy Bites
This nutritious snack is perfect for families on the go. Without any added sugar, this is a great option for health-conscious parents who don't want to sacrifice flavor. 
No matter what your schedule looks like this school year, we hope you're able to find joy in the madness and enjoy a few bites as a family. 
More Back-to-School Reads
---