Roast Pork Tenderloin and Sweet Potato Sheet Pan Dinner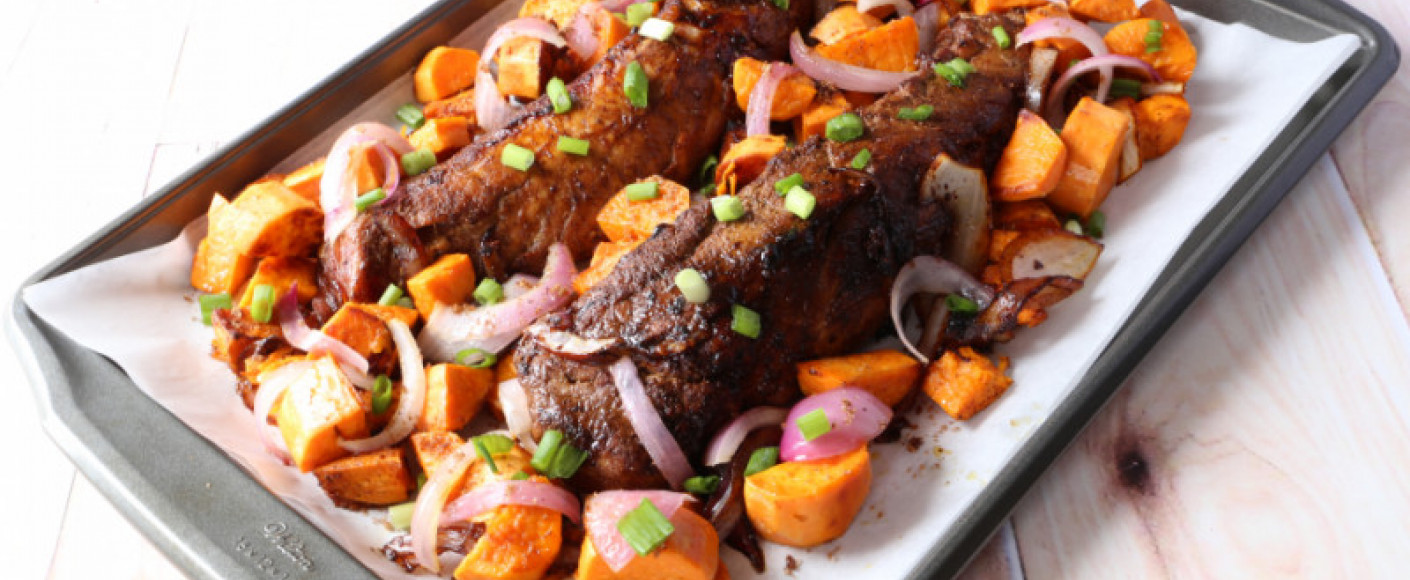 Sweet, savory and easy — three things we love in a recipe! This simple, yet flavorful meal is sure to be a hit with the whole family.
Ingredients
1/3 cup packed dark brown sugar
2 teaspoons chili powder
1 1/2 teaspoons kosher salt
1/2 teaspoon ground cinnamon
1/2 teaspoon granulated garlic
2-3 large sweet potatoes, peeled and cut into 1-inch cubes
1 red onion, cut into thin wedges
2 tablespoons unsalted butter, melted
2 pork tenderloins, approximately 1 pound each
Directions
Preheat the oven to 400 F.
In a large bowl, combine brown sugar and spices; remove and reserve two tablespoons of this mixture. Add sweet potatoes, onion and melted butter to bowl; toss well to coat. Line a rimmed sheet pan with foil or parchment paper and spray with non-stick cooking spray. Spread sweet potato mixture onto pan. Roast for 10 minutes.
Meanwhile, rub pork tenderloins with the reserved 2 tablespoons of the seasoning mixture. Push sweet potatoes and onions to the sides of the sheet pan, placing the pork tenderloins in the center.
Roast the pork tenderloins with potatoes and onions for 20-22 minutes or until tenderloins are 145 F at the center when tested with an instant-read meat thermometer, and sweet potatoes are fork-tender.
Tent pork tenderloins with foil and let them rest for three to five minutes before slicing them into medallions.
Serve with sweet potatoes and onions alongside.
This recipe was provided courtesy of Kansas Living Magazine through a partnership with Chef Alli.  Read the original recipe here.
More Family-Friendly Dinners
---