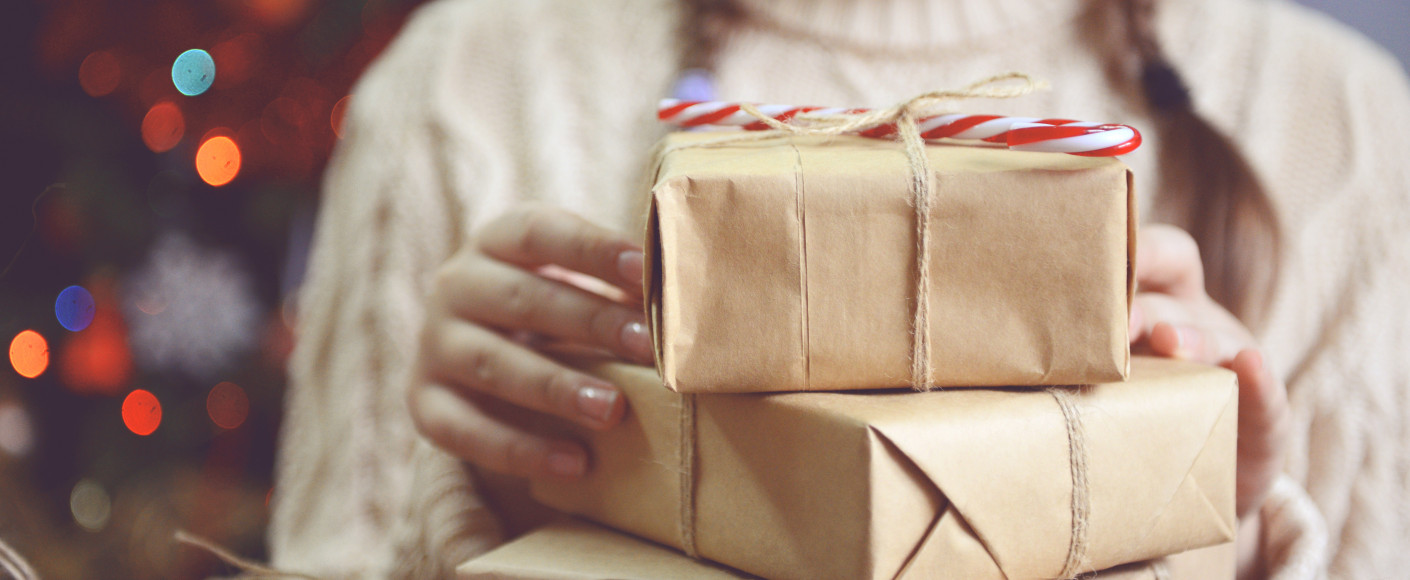 The gift-giving season is here! And as much as we love to spread holiday cheer, sometimes finding the perfect present can feel more like searching for a needle in a haystack…
...until now! To help you on your shopping journey, we've put together a few suggestions for stocking stuffers, corporate gifts, things to give family and friends or even ways to treat yourself.
Made in Kansas
Not only do locally grown and made products make thoughtful gifts, they're also a great way to support fellow Kansans. Trust us, each order for a small business results in a little happy dance from the owner. Buying local also means money invested back into our communities and state.
From the Land of Kansas
This is the spot to find Kansas-made goods like honey, cheese, mustard, candles, pet treats and more, all year round. During the holidays, though, From the Land of Kansas also offers gift boxes packed with goodies! With nationwide shipping, you'll be able to deliver a little love from the Sunflower State to any state that's home to someone on your list. 
Browse From the Land of Kansas
Kansas Originals
Offering a large selection of items made in Kansas, this website promotes artists, authors, winemakers and more. You'll find a variety of options to choose from as well as seasonal gift baskets.
Shop Kansas Farms
Offering a direct-to-consumer connection with Kansas ag producers, Shop Kansas Farms lets you search by region for just about any food product you can imagine, many of which would make outstanding and unique gifts.
To Use in the Kitchen
For a practical present, get the cook in your life a new gizmo or gadget. If you're lucky, they'll invite you over for dinner for a taste-test of the gift in action!
Perfect for the head chef of any family, these cutting boards give the countertop a personal touch. Since chopping something is a must in most recipes, whoever is lucky enough to receive this gift will think of you as they use sharp tools (yikes?).
These babies are at the top of many wish lists this year. Providing all the texture and crunch of deep-fried foods without all the oil makes this a great gift for a health-conscious foodie. To help you sort through the many shapes, sizes and price ranges out there, we've attached a list for you to browse.
If roundtrip flights to Italy are a little out of your budget, bring the taste of Tuscany to your loved one instead! Whipping up fresh noodles will be a fun, tasty activity they can enjoy all year long.
To Be Eaten
Who doesn't love a tasty treat? Don't worry, we won't judge if you use the old "one for them, one for me" method. 
The foundation of a delicious meal AND getting to skip the grocery store? This gift checks all the boxes. Choose between a variety of cuts and combos to send a mouthwatering surprise.
Whether you're buying for someone who craves the bitter taste of dark chocolate or the silky texture of milk chocolate, send some holiday sugar. Based in Topeka, Hazel Hill Chocolate offers everything from geometrically shaped handcrafted truffles to the classic chocolate bar.  
This organic cherry tomato plant is grown inside a mason jar and can be cared for completely indoors. Not only is this a neat gift for veggie lovers, it also adds a nice pop of color to any kitchen. 
To Be Sipped
Skip the overpriced drinks at restaurants and bring your special someone a more interesting drinking experience.
Give the gift of happy hour with this interactive kit, which comes with herb-centric cocktail recipes and everything you need to grow a few of the ingredients. 
Customizable Glassware
Adding a personal touch to wine or whiskey glasses makes this practical gift even smoother. If the traditional initials seem a little ho-hum, customize using a map instead. Does your loved one have a special connection to a town or city? Maybe where you met? Decorate a glass with that city's streets! Many websites like Etsy and Amazon have a selection of places to choose from, so you just need to select the burg — no uploading or designing required. 
To Be Experienced
Getting out of the house might be difficult, but you can still partake in interactive experiences. Think outside the box with a virtual gift to take someone on a trip without leaving the house. 
This program offers hundreds of hours of classes in baking, cooking, knife techniques and more. A subscription service, you could purchase a few months of the platform as a present and bring these expert teachers into someone's home. 
Classes begin at just $10 each on this platform and include a variety of topics. Browse through lessons like Canning 101, Efficient Weeknight Cooking, Slow Cooker Made Fresh and more to find the best fit for your person. 
Of course, showing our family and friends every day how much we appreciate them is better than anything they can unwrap. We're wishing you and your loved ones the happiest of holidays! 
More Holiday Inspiration
---