Mulled Drinks and Other Toasty Beverage Recipes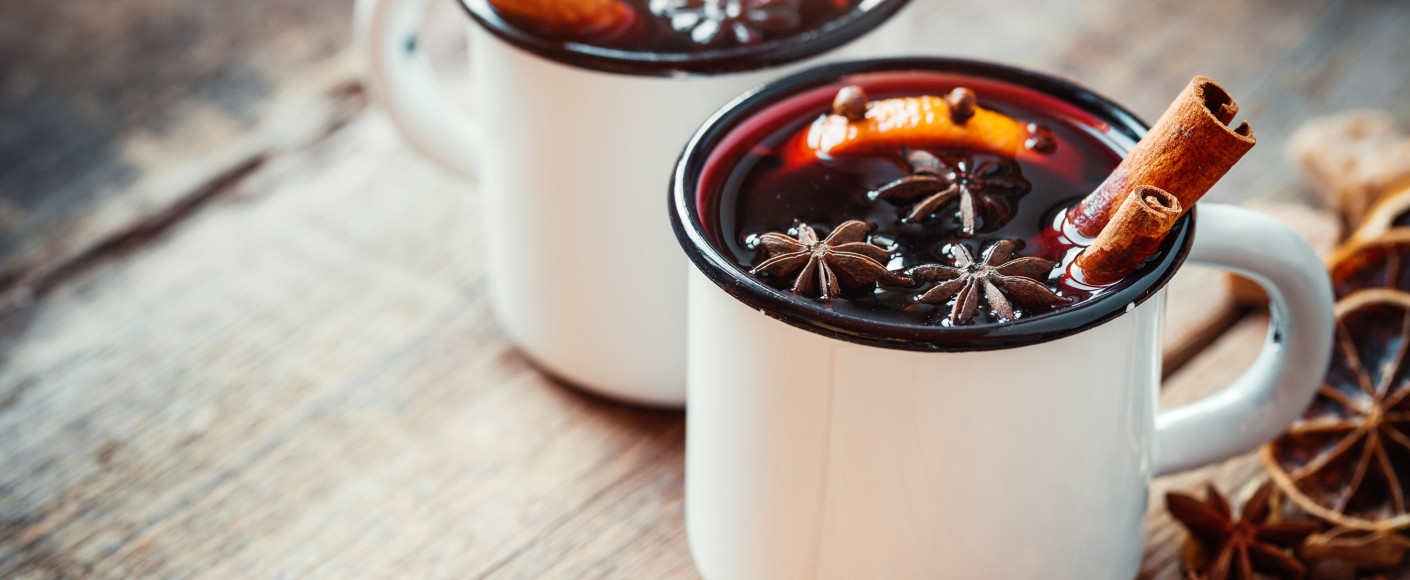 Fall has pumpkin spice everything — are you over it yet, or still going strong? But what about winter? We don't mind there's no single go-to flavor for these chilly months because we get to enjoy different flavors all season long! From the tangy citrus flavors of homemade ciders to the mellow smoothness of a steaming mug of hot chocolate, there's so much to enjoy. So, grab a blanket, light the fire or watch the snow fall gently outside as you cozy up with these toasty beverages (and even a few frosty ones) this winter.
Mulled Drink Recipes
Many people love making family recipes for cider, mulled wine and wassail this time of year and we know why! These drinks do more than warm you up. They make your whole house smell divine. If you don't have a tried-and-true formula, we've got some winners to tempt your taste buds. Whether you want a kick or something kid-friendly, give these simmering sips a try.
Mulled Wine
If you're looking for a classic recipe, this one from Cookie and Kate is everything we love about mulled wine. It features the timeless flavors of cinnamon and cloves, plus advice on which wines work best.
Or you can shake things up with this recipe that incorporates pomegranate for a sweet, silky flavor.
Want the decadence of red wine without the alcohol? Rural Mom to the rescue with this mocktail featuring a non-alcoholic mulled "wine."
Wassail
Wassails are like mulled wine, except they're made with liquor or beer. Cookie and Kate has us covered yet again with her homemade wassail recipe featuring bourbon and a beer variation you can try.
Although bourbon, brandy and rum are favorites among wassail lovers, this gin warmer with orange and pineapple has a sweet zest to it.
Cider
Put a spin on the classic apple cider with this mixture featuring the bright, sharp flavors of cranberries. And if you want a version for the adults, spice it up with this spiked alternative. We won't judge!
Mulled Cocktails
If you're looking for a signature cocktail for the holiday season (and beyond), take your mulled beverages to the next level with these cocktail creations.
This apple cider mimosa is the perfect treat — not too light, not too heavy — to enjoy from December through New Year's.
Pear and rum bring a unique spin to this versatile cocktail that can be served warm or cold.
If you want to get super-fancy, try this signature drink called "The Marcus."
Hot Chocolates and Frothy Beverages
From hot cocoa to coffees to milk warmers, you can't go wrong with something a little creamier this time of year.
Hot Cocoa Recipes
Start with a classic (and oh! so decadent) hot chocolate or heat things up with a spicy variation.
If the thought of melting chocolate bombs makes your mouth water, try this recipe from Kids Are a Trip, which combines the spice of Mexican hot cocoa with the fun of a melting bomb.
Coffee and Creamy Recipes
This creamy Indian whipped coffee from Kitchen Docs is perfect for curling up with a book or sipping while snacking on some cookies.
If you want to kick things up a notch, this bourbon salted caramel latte from Savory Spin is like a grown-up frappe. You can make it with or without bourbon and serve it iced or warm.
Kids and adults alike will love this golden milk recipe which features turmeric, an immune-boosting spice, to help you keep chilly temps and common colds at bay.
Frosty Drinks
Snowmen aren't the only frosty things this time of year. If you need a break from all things warm, these festive blended beverages are sure to delight the whole family.
Want the best of both worlds? Hot meets cold in this toasted marshmallow milkshake. It's got the fun of the fire with a snowy sort of sweetness.
Get the cozy warmth of hot chocolate with a smoothie spin in this frozen hot chocolate recipe from Funtastic Life.
Once Thanksgiving is past, the beloved pumpkin spice latte goes into hibernation (maybe!) while mint takes center stage. Sarah Scoop's peppermint milkshake is sure to wake up your taste buds with its refreshing flavor.
Whether you want to indulge in a favorite flavor or test the waters of a creative concoction, we hope you and your family will eat, drink and be merry this season. Cheers!
You Might Like
---