Easy Dinners for Busy Days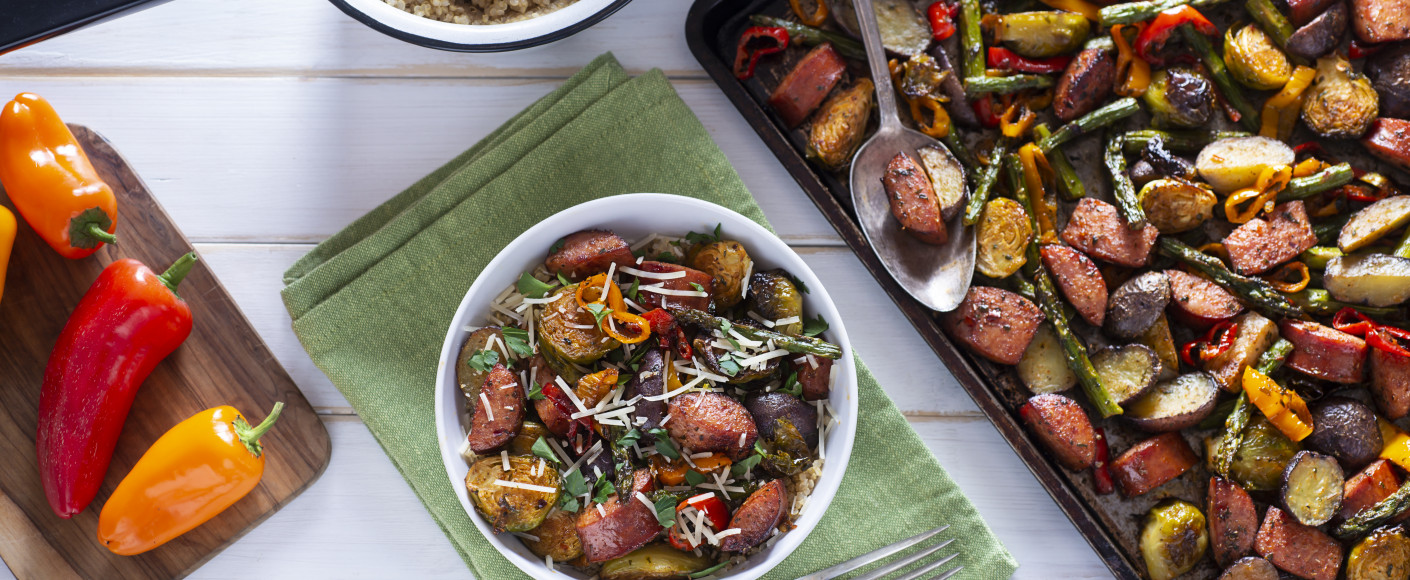 You know those days when your ducks run amok despite your best efforts to get them all in a nice, neat row? Errands, work, kids' sport practice, chores — don't you wish there were an "easy button" for dinner?
We've got some simple strategies and delicious recipes to help you conquer dinner on days with the toughest schedules.
Meal Planning and Prep
We all have those friends who post stunning photos of freezer bags full of freshly chopped ingredients they'll turn into a hearty dinner just by tossing them into the slow cooker. They make it sound so easy. If you don't have time for all that prep, even 10 minutes of planning (before you go grocery shopping!) can be a game-changer.
If you're lucky enough to share cooking responsibilities, plan who will cook which nights. For your nights (even if it's all of them), pick a recipe to prepare. (Bonus points if it makes leftovers.) On days with particularly busy schedules, plan a simple dish like pasta or use frozen leftovers. Update your shopping list with any ingredients you don't already have on hand.
Simply having a plan can spare you a lot of stress. If you're up for taking things one step further, leverage the food momentum you have from your grocery shopping and do your food prep right away as you unpack your bags. Who knows? You just might become one of those uber-organized people who posts drool-worthy photos to social media.
For instance, you can go ahead and roast those chicken breasts and thighs, then keep some in the fridge to use during the week in salads, pasta, tacos, whatever. Freeze the others, then when you need a great protein for a weeknight dinner, put them in the fridge to thaw in the morning. They'll be ready to use as a main ingredient when you get home from work! 
One-Pot Dinners
For some reason, preparing two things so they're ready at the same time is a skill I've never mastered. With one-pot dinners, timing isn't a problem. Just throw everything into a pot (or skillet or sheet pan) and let heat and time work their magic. The best part? Fewer dishes to wash! Win-win.
Here are a few of our favorites.
Also check out this hearty Roasted Vegetable, Sausage and Tahini recipe, which has both sweet and savory flavors.
Make-Ahead Meals
Wish you could afford a chef to whip up a warm, hearty dinner for you each night? A slow cooker is the next best thing. Add your ingredients in the morning and — voila! — dinner is ready by the time you get home.
Here are some filling favorites from Kansas farms.
If you want to add a little zest, green chili enchilada soup is a favorite. Make it brothy or creamy depending on your taste. Dress it up with some chips and avocado.
Fast Crowd-Pleasers
On the opposite end of the spectrum is the pressure cooker. If you love your instant pot (which often doubles as a slow cooker), you know the joy of having a hearty dinner ready in 30 minutes or less.
If you're not sure where to start, we have you covered with these tried-and-true recipes.
Want to go out on a limb? This Indian dish featuring salmon is a flavorful take on tikka masala.
Freezer Surprise
When life gets really busy, turn to your freezer. In my house, we don't mark our leftovers, so I've come to call these dinners "freezer surprise." (Sometimes I sniff them and try to guess the dish. I usually get it wrong.) Whenever you're lucky enough to have leftovers, freeze them for a rainy day and enjoy a homecooked meal without having to cook.
If all else fails, there's always takeout. Stay sane out there!
---