What Happens in the Kansas Wheat Test Kitchen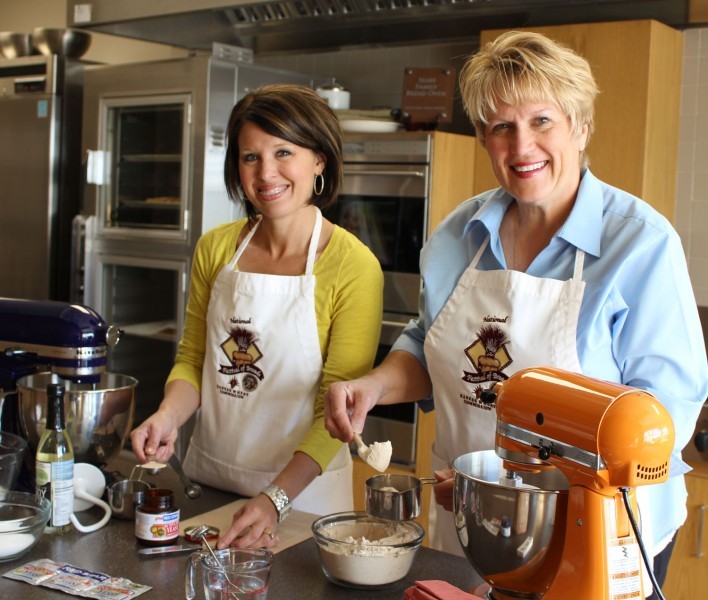 Kansas produces more wheat than any other state and ranks among the top in flour milling. From farmers to foodies, there are many wheat champions in Kansas. One we're especially fond of is the Kansas Wheat Test Kitchen.
The test kitchen is dedicated to helping people transform that wholesome wheat into something delicious and nutritious for the table. When you think of going farm to fork, that's what the test kitchen is all about. They make the connection by creating and promoting delicious recipes, educating consumers and even dreaming up fun crafts.
Here are a few of the test kitchen's programs.
Recipe Books
Each year, the test kitchen publishes a limited run of books featuring mouthwatering recipes from various sources. Some are from the National Festival of Breads and the domestic arts category winners at the Kansas State Fair. Others showcase special techniques like sculpting with bread.
The books debut at the Kansas State Fair and are then made available by request online.
"These little books are collectibles," said Cindy Falk, nutrition educator at Kansas Wheat who oversees the test kitchen. "When we run out, they are gone."
Best of all, the books are free! All you have to do is request a copy online and Kansas Wheat will mail you a copy while supplies last.
National Festival of Breads
The National Festival of Breads is a baking competition, which takes place every two years in Manhattan. Amateur bakers submit original recipes for a chance to be considered to compete as finalists during the festival. The 2019 festival will feature an additional category for food bloggers to participate.
"Our goal is to promote our wheat industry and Kansas through delicious bread made possible by quality ingredients including items grown by our farmers and items produced by our partner sponsors," Cindy said.
In addition to the baking competition, the festival has featured barbecue, music and activities for children in the past. Each festival, the planners change things up to keep it fun and interesting, Cindy said.
If you're interested in entering the 2019 festival, get more details here.
Demonstrations and Workshops
The test kitchen also hosts hands-on baking workshops for kids of all ages from 4-H and scout groups to civic organizations.
Two of Cindy's favorite projects to do with kids are pizza in a bag and making pretzels.
"These are age-appropriate recipes and simple kitchen tasks they can handle," she said. "It's fun for them because it's like a science experiment. There are a lot of skills that go into making the dough: problem-solving, critical thinking and taste-testing. It really builds confidence."
In addition to making something yummy to eat, kids practice math, learn about food safety and help clean up. (Bonus!)
To learn more or arrange a workshop, call the test kitchen office at 785-539-0255.
(Note: The kitchen doesn't host workshops during recipe testing for the National Festival of Breads.)
More About
Where You Can Find It: Manhattan, Kansas
Likes: Farms, flour, wheat, food and crafts 
More Wheat Goodness