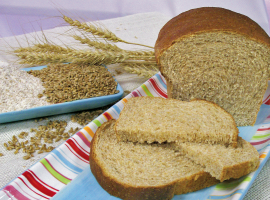 You'll want to sink your teeth into this wonderful bread recipe that uses all whole-wheat flour.
Ingredients
1 cup lukewarm milk (110-115°F)
2 packages RED STAR® Active Dry Yeast
1 cup lukewarm water (110-115°F)
⅓ cup honey
2 beaten eggs
5 ¼ - 5 ½ cups whole wheat flour
2 tablespoons vital wheat gluten (optional)
2 teaspoons salt
¼ cup vegetable shortening
Directions
Scald milk by heating until tiny bubbles form around edge and milk reaches 180°F, then let cool until lukewarm. OR use ⅓ cup dry milk powder and warm water to make 1 cup.
In mixing bowl, dissolve yeast in water. Beat in warm milk, honey, eggs, 3 cups flour, and wheat gluten. Beat for 3 minutes on medium speed. Cover and allow sponge to rest for 30 minutes.
Stir in salt and enough remaining flour to form a slightly sticky dough. To avoid adding extra flour in the kneading process, gradually knead in shortening by hand or using dough hook(s). Knead dough by hand or with hook(s) for 12 to 13 minutes or until dough is smooth and elastic.
Place dough in an oiled bowl and turn to coat. Cover and let rise in an area with a room temperature of 80°F until dough doubles in size. Punch down. Cover and let rise again until it doubles.
Punch down and divide in half. Cover and let rest 10 minutes while greasing two 9 x 5-inch bread pans. Shape by rolling each half into a 14 x 7-inch rectangle. Starting with the shorter side, roll up tightly, pressing dough into roll. Pinch edges and ends to seal. Place in pans, cover with a damp cloth; let rise in a 90°F place until it doubles and indentation remains after touching.
Bake in a preheated 400°F oven for 10 minutes, then lower the temperature to 375°F and continue to bake another 25 to 30 minutes. Tent with foil to prevent over-browning. Remove from pans and cool on wire racks.
Makes 2 loaves, 18 slices each.
Nutrition information per serving (one slice): 90 cal, 2 g fat, 12 mg chol, 138 mg sodium, 16 g carbo, 2 g fiber, 3 g pro, 18 mcg folate.
---