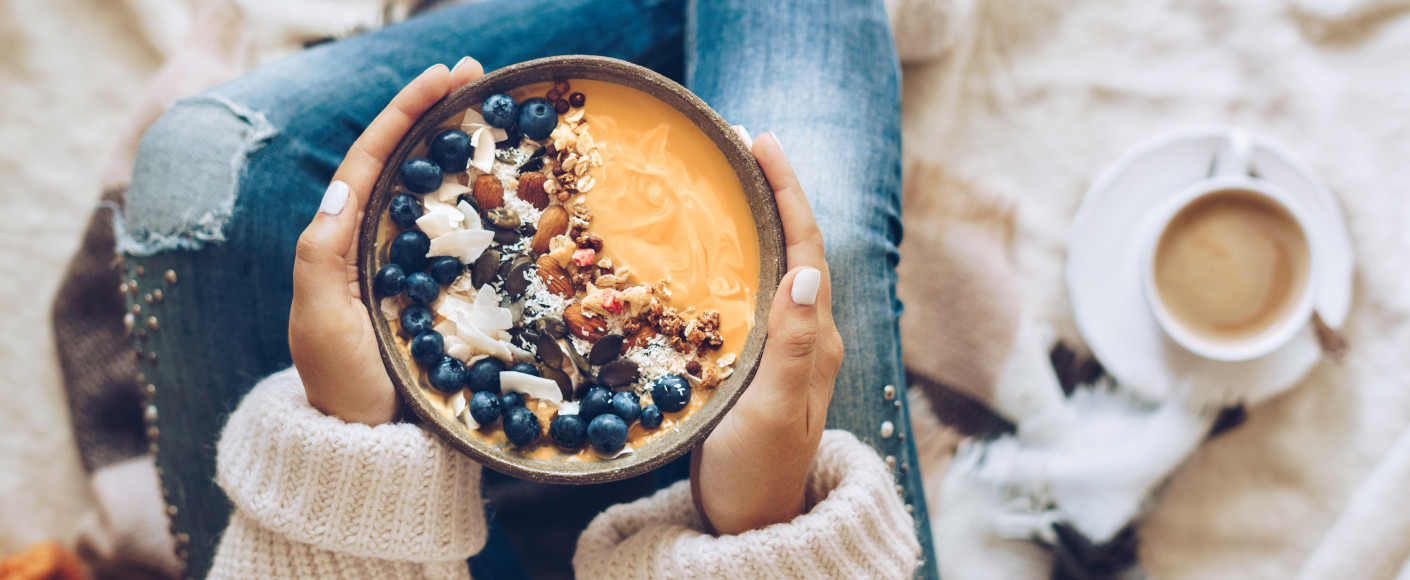 As cold weather creeps into Kansas bringing cozy sweaters, pumpkin lattes and fuzzy blankets, we can't help but cheer for the turn of another season and the upcoming holidays. The last few months of the year have a lot to celebrate, but admittedly, there's one thing we're not looking forward to: dry, cracked, rough skin. 
Any day now, the first flake of dry skin will appear, accompanied by the slightest hint of a red undertone. Instead of applying another layer of makeup or a pricey cream, try incorporating these vitamin-packed foods and DIY face masks into your routine to keep your skin healthy from within. 
Vitamin A
There are two forms of vitamin A: retinol and carotenoids. The former helps to plump the skin and decrease the appearance of wrinkles. Carotenoids can protect skin from UV damage — yes, the sun still poses a threat even after summer is over — and improve tone and brightness. Vitamin A also aids skin cells as they turn over and repair. With a healthy amount of this vitamin, your skin will regenerate at the correct pace, bringing newer, fresher skin to the surface.
Foods rich in vitamin A include:
Sweet potato
Carrots
Spinach
Milk
Mangos
Peppers
Berries
Vitamin E
Vitamin E has many wondrous properties to help your skin look its best. As an anti-inflammatory and antioxidant, it may reduce puffiness and help with signs of aging. Like vitamin A, vitamin E can also act as a natural combatant to sun damage.
Foods rich in vitamin E include: 
Almonds
Cooking oils (soybean, sunflower, olive, etc.)
Spinach
Broccoli 
Sunflower seeds
Shrimp
Vitamin D
Most of us know vitamin D is crucial for bone development, but did you know it could also help protect your skin from signs of aging like wrinkles and fine lines? Vitamin D gives our cells a hand during growth and repair, which can lead to younger-looking skin. 
Foods rich in vitamin D include: 
Salmon
Milk
Cheese
Eggs
Yogurt
Mushrooms
Food-based Face Masks
If you're in the mood to play with your food instead of eat it, an at-home face mask might be the relaxing activity you've been craving. 
Yogurt Face Mask
With only two ingredients, this mask is a fail-proof option for anyone short on time. The soft, nourishing yogurt is said to improve skin tone and might even help with pesky acne spots. 
Milk and Honey Face Mask
If your skin is thirsty for moisture, this mask is the answer. Perfect for the dry winter months, milk and honey work together to bring hydration. 
Milk and Honey Face Mask Recipe
Chocolate Face Mask
Packed with antioxidants, chocolate can be more than your go-to dessert dish. Use this face mask to possibly boost skin cell restoration and increase moisture levels. 
Armed and ready to fight dry skin with versatile, nutritious foods, we hope you're able to enjoy the cool weather and coming months. 
Ready to get started? Chow down on these recipes rich in vitamin A, E or D.