Beef and Blue Cheese Stuffed Mushrooms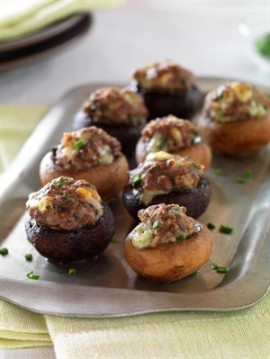 These delicious bite-sized mushrooms are stuffed with a savory blend of ground beef, blue cheese and chives.
Ingredients
½ pound ground beef
¼ teaspoon salt
36 to 40 small button or cremini mushrooms (about 1-1/2 to 2-inch diameter)
⅓ cup crumbled blue cheese
¼ cup soft whole wheat bread crumbs
3 tablespoons minced chives
½ teaspoon steak seasoning blend
Minced fresh chives (optional)
Directions
Preheat oven to 375°F. Remove and reserve stems from mushrooms. Season mushroom caps with salt and set aside. Mince stems to yield 1/2 cup and discard remaining stems.
Combine ground beef, minced stems, blue cheese, bread crumbs, 3 tablespoons chives and steak seasoning. Spoon beef mixture evenly into mushrooms.
Place stuffed mushrooms on rack in broiler pan. Bake in 375°F oven 15 to 20 minutes. Sprinkle with additional chives, if desired.
Total Recipe Time: 40-50 minutes
Makes 36-40 mushrooms
---