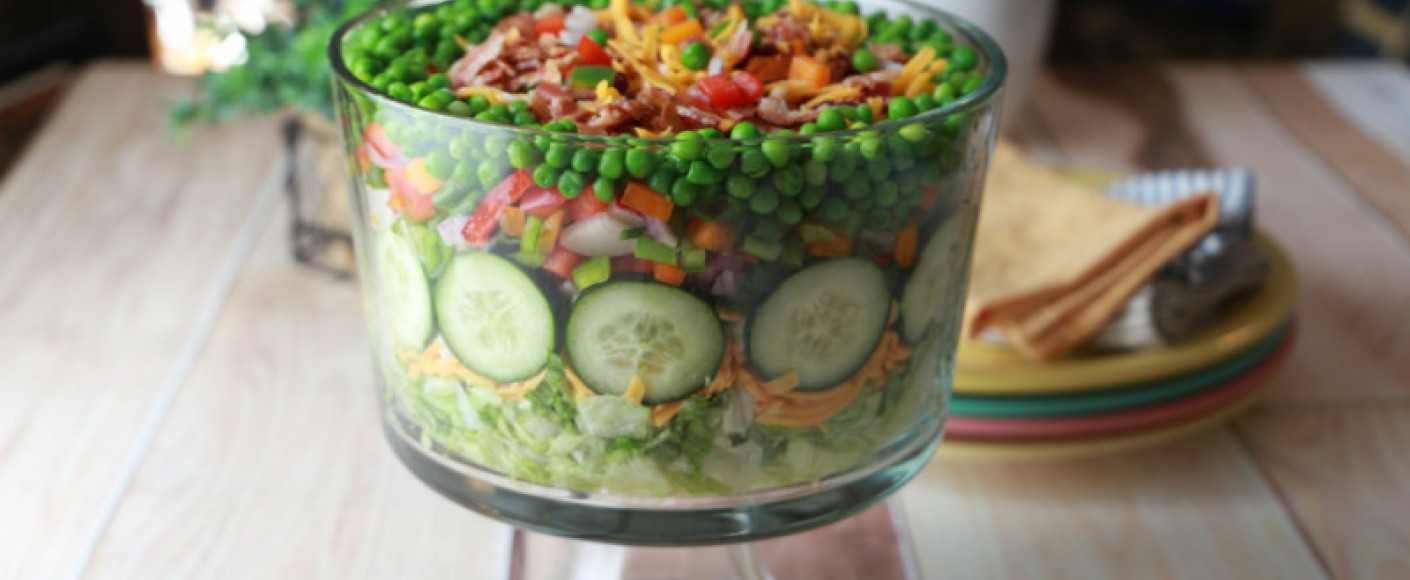 Looking for a refreshing recipe for spring? You can't go wrong with this layered salad full of tastes and textures!
On a specialized diet? You can customize this recipe so it works well for anyone following a plant-based (vegetarian if you skip the bacon), gluten-free, dairy-free, low-carb, low-fat or DASH diet — and, of course, omnivores!
Ingredients
Salad
1 head iceberg lettuce, chopped into bite-sized pieces
1 green bell pepper, diced
1 red bell pepper, diced
1 red onion, diced
2 cups frozen peas
1 cucumber, thinly sliced
1 cup shredded cheddar cheese
12 bacon strips, cooked and crumbled
3/4 cup dried cranberries
Dressing
1 cup mayonnaise
2 tablespoons sugar
1 Tablespoons red wine vinegar or cider vinegar
Salt and pepper
Directions
In a small bowl, whisk the mayonnaise, sugar and vinegar until smooth; season with salt and pepper.
In a large glass trifle dish, layer half of the first five ingredients (lettuce to peas); top with half of the cheddar cheese and bacon, then half of the prepared dressing.
Position the cucumber slices on their sides flat against the edge of the trifle dish.
Repeat the layering of ingredients, adding the dried cranberries to the top of the salad with the cheese and bacon.
Refrigerate the salad, covered, overnight or for eight to 10 hours. Salad can also be layered into a 9x13 casserole dish instead of the trifle dish.
This recipe was provided courtesy of Kansas Living Magazine through a partnership with Chef Alli.  Read the original recipe here.
More Salad Recipe Inspiration
---