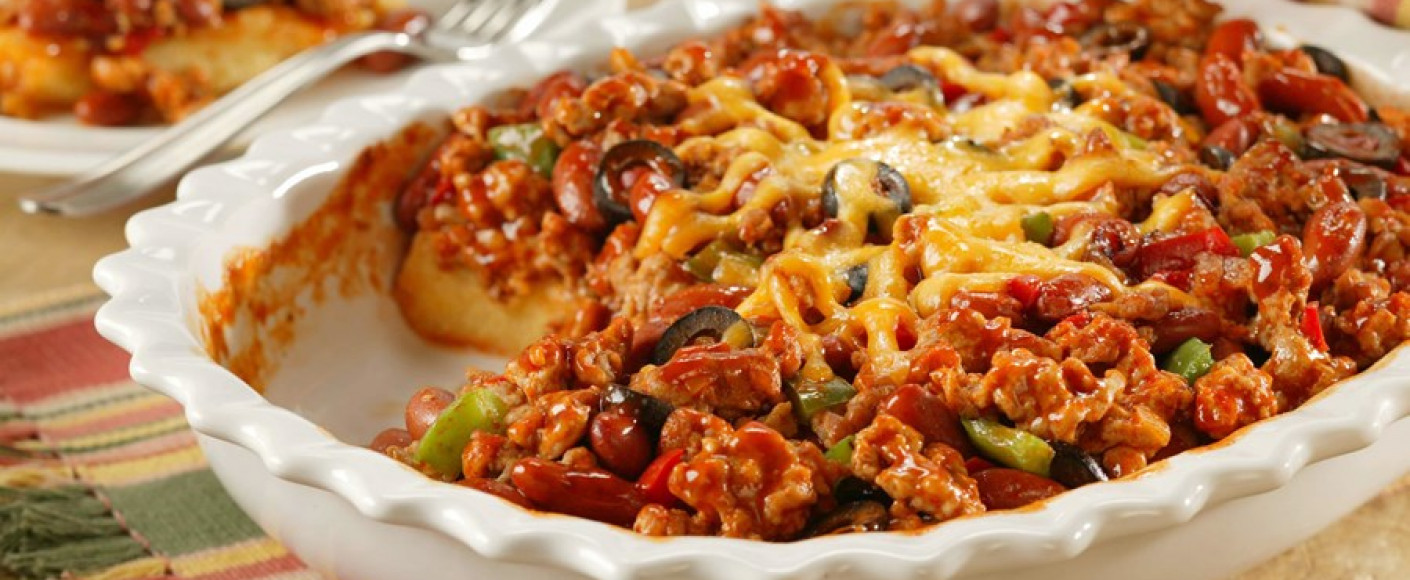 This tamale pie recipe is a winner! It's a fun, easy casserole recipe with plenty of Southwest persuasion. It's sure to be a popular Tex-Mex dinner with your loved ones!
Ingredients
1 pound ground pork
1/2 cup yellow cornmeal
1/2 cup cold water
1/4 teaspoon salt
1/4 teaspoon ground cumin
1/8 teaspoon ground red pepper (cayenne)
1 1/3 cups water
1 large onion chopped
1 red bell pepper OR yellow bell pepper, chopped
1 15-1/2-ounce can red kidney beans drained
1 10-ounce can enchilada sauce
1 2-1/2-ounce can sliced black olives drained
1/4 teaspoon salt
1 cup Cheddar cheese or Monetery Jack cheese, shredded
Directions
In a bowl combine the cornmeal, 1/2 cup cold water, salt, cumin and red pepper. In medium saucepan bring the 1 1/3 cups water to a boil. Slowly add cornmeal mixture; stirring constantly to make sure it does not lump. Return to a boil, stirring constantly. Lower heat and cook for 10 minutes or until very thick, stirring occasionally. Spread the hot cornmeal mixture into a greased 7x12-inch casserole.
Meanwhile, in a large nonstick skillet cook the pork, onion and sweet pepper until pork is browned and vegetables tender. Stir in beans, enchilada sauce and olives. Bring to a boil. Spoon the pork mixture over the cornmeal layer in the casserole, cover and bake in a 350 degree F. oven for 20 minutes.
Sprinkle with cheese; bake uncovered for 3 minutes longer or until cheese melts.
Makes 6 servings.
Recipe provided courtesy of Kansas Pork Association.
More Great Pork Recipes
---