Honey Cinnamon Apple Pie Salad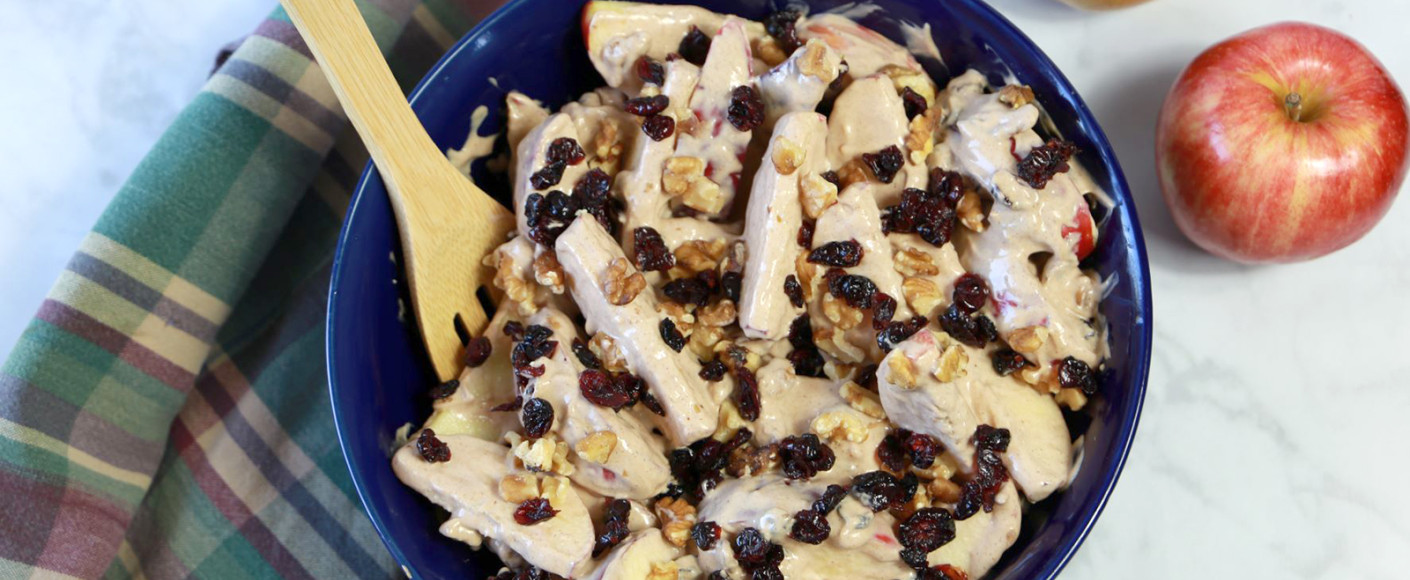 The decadence of an apple pie in a crisp, refreshing salad? Yes, please! The rich, creamy dressing offsets the bright flavors of the apples and cranberries, with some nutty crunch thrown in for good measure.
On a specialized diet? This recipe works well for folks following a plant-based (vegetarian) diet — and, of course, omnivores!
Ingredients
Dressing
8 ounces low fat cream cheese, softened
3 tablespoons dark brown sugar (You can substitute your favorite sweetener and adjust the amount to taste.) 
1/4 cup honey
2 teaspoons cinnamon
1/8 teaspoon ground nutmeg
1/8 teaspoon kosher salt
1/2 cup low fat sour cream
1 teaspoon vanilla extract
Salad
4 pounds of your favorite apples (Jonathon, Pink Lady, Gala, Jazz, Honeycrisp or a combination of varieties work well), skin on, cored and chopped
2/3 cup chopped walnuts 
2/3 cup dried cranberries
Directions
Using an electric mixer, beat the cream cheese, brown sugar, honey, cinnamon, nutmeg and salt in a bowl until light and fluffy. Fold in the sour cream and vanilla, gently stirring by hand until smooth. Chill the dressing until you are ready to serve the salad.
Place the chopped apples into a large serving bowl along with half of the walnuts and cranberries. Top with the prepared cream cheese dressing, tossing to coat all the ingredients evenly.
Sprinkle the remaining walnuts and cranberries over the top and chill. The salad is best served within 3-4 hours for best flavor and texture.
This recipe was provided courtesy of Kansas Living Magazine through a partnership with Chef Alli.  Read the original recipe here.
More Great Apple Recipes
---