Baked Apples with Cinnamon Yogurt Topping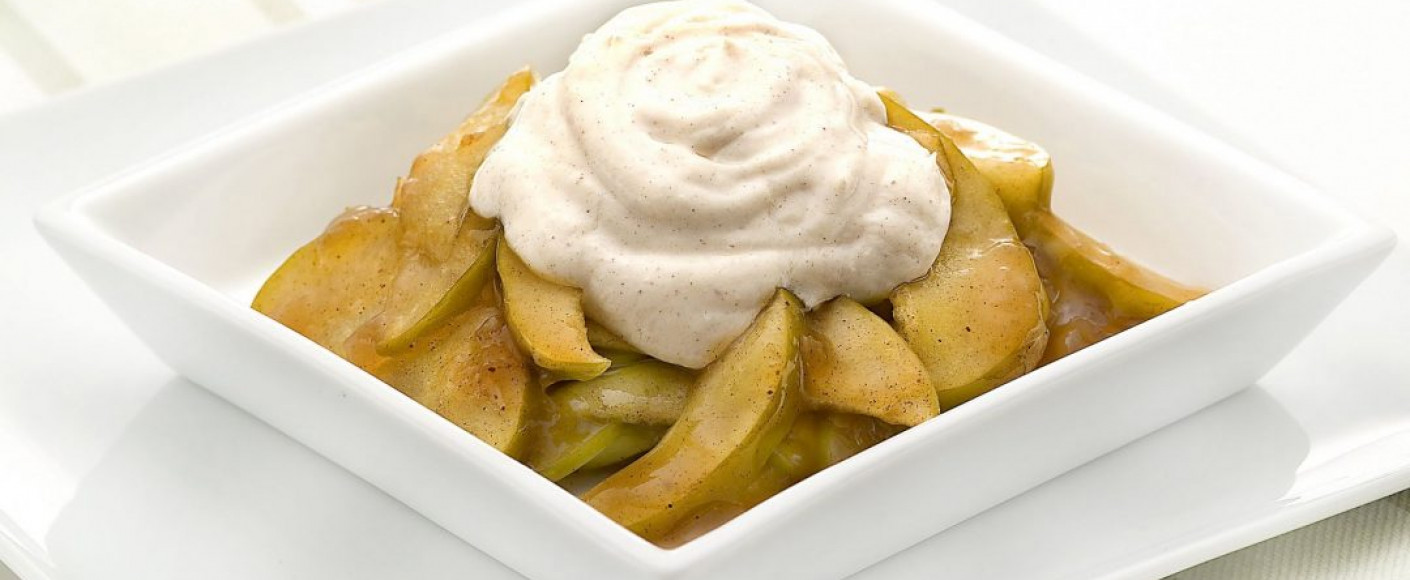 Baked apples are the perfect dessert for fall! Top this dish off with cinnamon and yogurt for a delicious, nutritious substitute for ice cream.
On a specialized diet? This recipe works well for folks following a plant-based (vegetarian), gluten-free or low-fat diet — and, of course, omnivores!
Ingredients
For Baked Apples
4 Granny Smith or Gala apples with or without skin
1/4 cup unsweetened apple juice or apple cider
1/4 cup brown sugar
2 tablespoons cornstarch
1/2 teaspoon cinnamon
1/4 teaspoon nutmeg
1/4 teaspoon salt
For Yogurt Topping
2 1/2 cups low-fat plain yogurt
1 teaspoon honey
1/4 teaspoon cinnamon
Directions
For Baked Apples
Preheat oven to 350° F. Spray an 8×8-inch baking dish with non-stick cooking spray; set aside.
Core and thinly slice apples. Place apples in a medium bowl and toss with apple juice. Mix brown sugar, cornstarch, cinnamon, nutmeg and salt together in small bowl. Sprinkle over apples and stir gently until apples are coated.
Pour apples into prepared baking dish. Bake 40 minutes or until apples are slightly browned at edges and sauce is bubbling.
For Yogurt Topping
Line a colander with several paper towels and place over a bowl to catch drips. Pour yogurt into colander and allow to drain, refrigerated, about 30 minutes. Spoon yogurt into a small bowl and stir in honey and cinnamon.
For each serving, top ¼ of the warm apples with ¼ of the yogurt topping.
More Apple Recipes
---