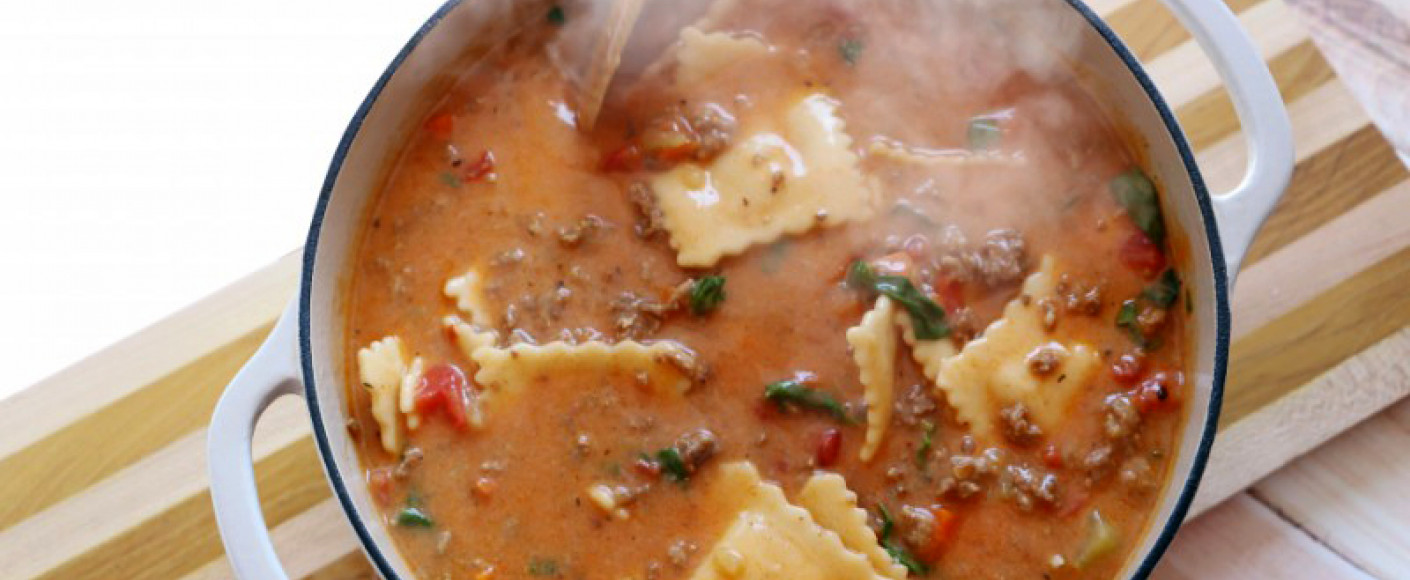 This simple soup is as delicious as it is beautiful. Warm up on cool, crisp days with a steaming bowl of hearty ravioli soup. This recipe from Chef Alli is perfect for fall and winter (but we won't judge if you make it in spring or summer). Even better, this one-pot dish is made in a Dutch oven, so it's easy to prepare and cleanup is a breeze!
Ingredients
1 pound bulk Italian sausage
1/2 teaspoon dried basil
1 yellow onion, diced
4 ribs celery, diced
4 carrots, diced
3 tablespoons tomato paste
½–1 teaspoon chipotle sauce (or use minced chipotles in adobo) 
4 cups chicken broth
1/2 pound. frozen cheese ravioli, thawed
1/3 cup heavy cream
Parmesan cheese, for garnish, optional
Directions
In Dutch oven over medium-high heat, crumble Italian sausage, then add dried basil, onion, celery, carrots and tomato paste; cook for six to eight minutes or until tomato paste turns a deep reddish-brown color, stirring often and adding a bit of chicken broth as needed to keep tomato paste from sticking to the bottom of the Dutch oven. 
Stir in chipotle sauce, broth and ravioli and bring soup to a boil; reduce heat and simmer for 20-25 minutes. Stir in heavy cream, cooking just until hot throughout. 
Garnish soup with Parmesan cheese and serve at once. 
More Great Family-Friendly Recipes
---