Drunken Italian Noodle Pot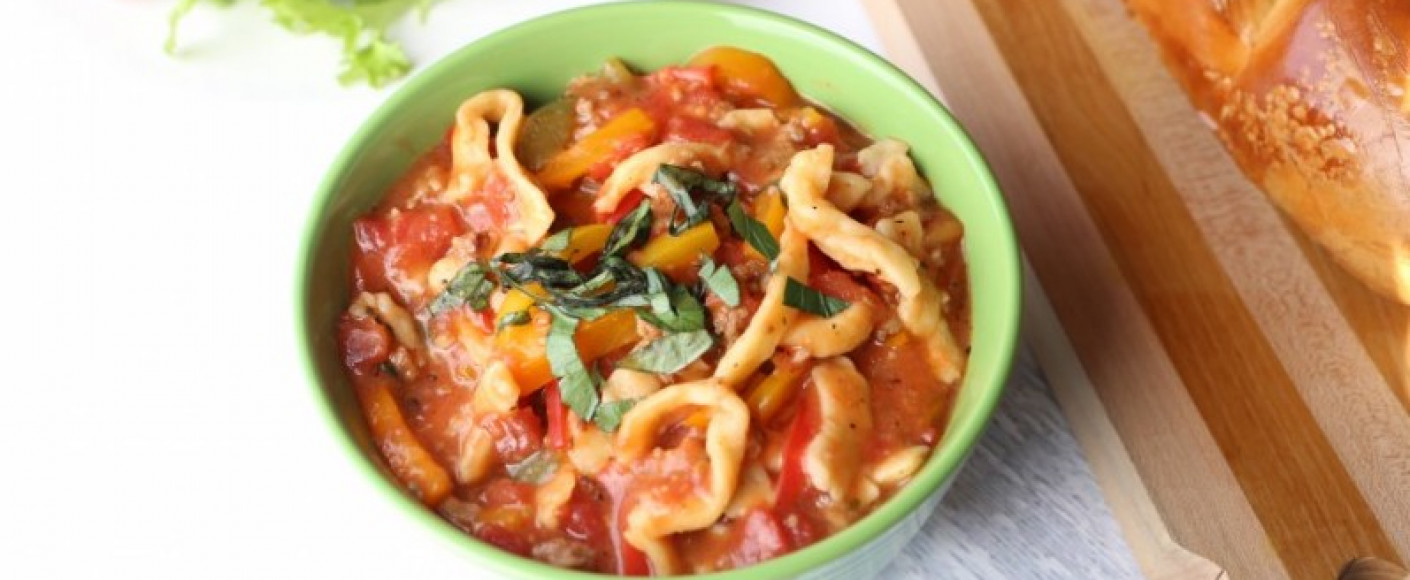 We love cozying up with a warm bowl of this zesty soup. It requires a little extra handling than a typical one-pot, but it's so worth it!
On a specialized diet? This recipe works well for folks following a dairy free (skip the cheese garnish) diet — and, of course, omnivores!
Ingredients
Olive oil, for browning the sausage
1 pound of Italian sausage
1 teaspoon Italian seasoning
1 sweet red pepper, seeds and membranes removed, diced
1 sweet yellow pepper, seeds and membranes removed, diced
1 sweet orange pepper, seeds and membranes removed, diced
3-4 cloves garlic, crushed
1/2 cup white wine
1 28-ounce can petite diced tomatoes, with juice
2 cups chicken broth
2 tablespoons chopped Italian parsley
1/4 cup fresh basil leaves, julienned
2-3 cups uncooked egg noodles (can use store-bought, or try your hand at making your own)
Parmesan cheese, for garnish
Directions
In a large Dutch oven over medium-high heat, add a quick swish of oil to the pot.
When the oil is hot, add the sausage, crumbling it into chunks. Let the sausage brown well, then remove it to a plate; reserve.
Add the bell peppers to the drippings in the Dutch oven, along with the Italian seasoning; sauté for three to four minutes over medium heat, or until peppers have softened a bit.
Stir in the garlic; when the garlic is fragrant, add the white wine, letting it reduce a bit. Add the tomatoes with their juices along with the chicken broth; return the Italian sausage to the pot. Stir in the noodles, then let the mixture simmer to allow noodles to cook and become tender.
To finish, drizzle in one to two tablespoons of the olive oil, then add the parsley and half of the basil; season to taste with salt and pepper.
To serve, place the Drunken Italian Noodles into serving bowls; garnish with additional basil and Parmesan. Serve with warm slices of crusty bread.
This recipe was provided courtesy of Kansas Living Magazine through a partnership with Chef Alli.  Read the original recipe here.
More Great Soup & Stew Recipes
---