Chunky Baked Potato Chowder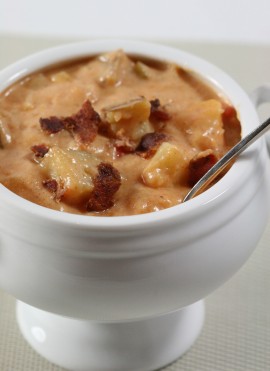 This soup delivers the perfect amount of nutrition and warmth for a simple family meal on a cold weather day.
Ingredients
2 slices bacon
1 cup chopped onion (about 1)
½ cup chopped onion carrot (abot 1)
½ cup chopped celery (about 2 stalks)
4 cups low fat 1% milk
2 tablespoons flour
2 teaspoons paprika
¼ teaspoon salt
¼ teaspoon black pepper
1 cup shredded Cheddar cheese
3 russet potatoes, baked and cut into bite size pieces
Directions
In a large skillet, cook bacon until crisp. Remove from pan, crumble and set aside. Add onion, carrot and celery to bacon drippings and sauté over medium heat until onions are soft (about 10 minutes).
Meanwhile, in a large pot over medium heat, whisk together milk, flour, paprika, salt and pepper. Bring to a boil and stir for one minute. Reduce heat and slowly add in cheese, stir constantly until melted. Add cooked onions, carrots, celery, and potatoes. Stir well. Heat until all ingredients are warm. Serve with a sprinkling of bacon crumbles.
Variation: For a thicker, creamier soup, remove two cups of chowder and puree in a blender. Then pour back into the pot and stir thoroughly.
More Soup Recipes
---