Chinese Beef Pot Stickers with Dipping Sauces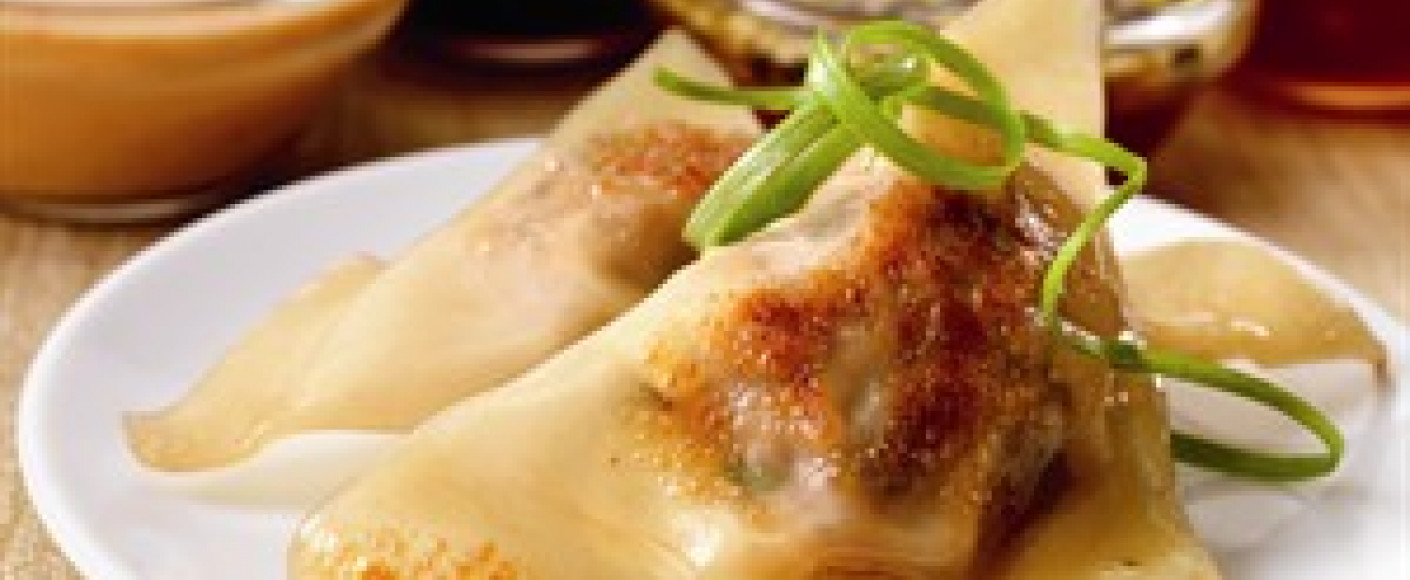 There's nothing like homemade pot stickers! The hardest part about making this recipe will be deciding which sauce is your favorite.
Ingredients
Pot Stickers
Makes 40
1 pound ground beef (95% lean)
1 tablespoon sesame oil
1-1/3 cups finely chopped button mushrooms
1 tablespoon minced garlic
1/4 cup chopped green onions
1 tablespoon minced fresh ginger
1/2 teaspoon pepper
1/4 cup reduced-sodium soy sauce
40 wonton wrappers (3-1/4 to 3-1/2-inch squares or 3-1/2-inch rounds)
2 cups water, divided
Dipping Sauces
Check out the recipes below for the dipping sauces:
Maple-Wasabi
Citrus
Thai Peanut
Spicy Sweet-and-Sour Dipping Sauces
Directions
Prepare desired Dipping Sauce(s); set aside.
Heat oil in 12-inch nonstick skillet over medium heat until hot. Add mushrooms and garlic; cook and stir 3 to 5 minutes or until tender and liquid has evaporated. Remove from heat. Transfer to large bowl; stir in green onions, ginger and pepper. Cool to room temperature. Add ground beef and soy sauce; mix lightly but thoroughly.
Spoon 1 level tablespoon beef mixture in center of 1 wonton wrapper. (Keep remaining wonton wrappers covered with clean, damp kitchen towel to prevent drying out.) Moisten edges of wonton wrapper with fingertip dipped in water. Fold wrapper diagonally in half, sealing edges and pressing out air. Place on baking sheet lined with parchment or waxed paper. Repeat with remaining wonton wrappers and filling to form 40 pot stickers. 
Wipe out same 12-inch nonstick skillet; spray liberally with nonstick cooking spray. Heat over medium heat until hot. Arrange 10 pot stickers in single layer in skillet; pan-fry 4 minutes, turning once. Carefully add 1/2 cup water. Cover; cook 2 to 3 minutes. Remove pot stickers keep warm. Repeat with remaining pot stickers. (Wipe out skillet and spray with additional cooking spray between batches to prevent sticking.) Cooking times are for fresh or thoroughly thawed ground beef. Ground beef should be cooked to an internal temperature of 160°F. Color is not a reliable indicator of ground beef doneness.
Serve pot stickers with dipping sauce(s).
Directions for Dipping Sauces
Maple-Wasabi Dipping Sauce
Combine 6 tablespoons maple syrup, 1/4 cup reduced-sodium soy sauce, 1 tablespoon wasabi paste and 2 teaspoons minced fresh ginger in small bowl. Makes about 2/3 cup
Citrus Dipping Sauce
Combine 1/2 cup fresh tangerine or orange juice, 1/4 cup mirin (sweet rice wine), 2 tablespoons reduced-sodium soy sauce, 1 tablespoon chopped green onion, 2 teaspoons sesame seeds and 1 teaspoon minced fresh ginger in small bowl. Makes about 1 cup
Thai Peanut Dipping Sauce
Combine 1/3 cup light coconut milk, 1/4 cup creamy peanut butter, 2 teaspoons fresh lime juice, 2 teaspoons reduced-sodium soy sauce, 1 teaspoon minced garlic, 1 teaspoon minced fresh ginger and 1/4 teaspoon ground red pepper in small bowl until smooth. Makes about 2/3 cup
Spicy Sweet-and-Sour Dipping Sauce
Combine 1/2 cup water, 1/4 cup sugar, 1 tablespoon rice vinegar, 1 tablespoon reduced-sodium soy sauce, 1 teaspoon cornstarch, 1 teaspoon minced fresh ginger and 1/2 teaspoon chili garlic sauce in small saucepan; bring to a boil, stirring occasionally. Boil about 2 minutes or until slightly thickened; cool slightly before serving. Makes about 1/2 cup
Source: www.beefitswhatsfordinner.com
More Great Finger Foods
---