Healthy Habits for Back to School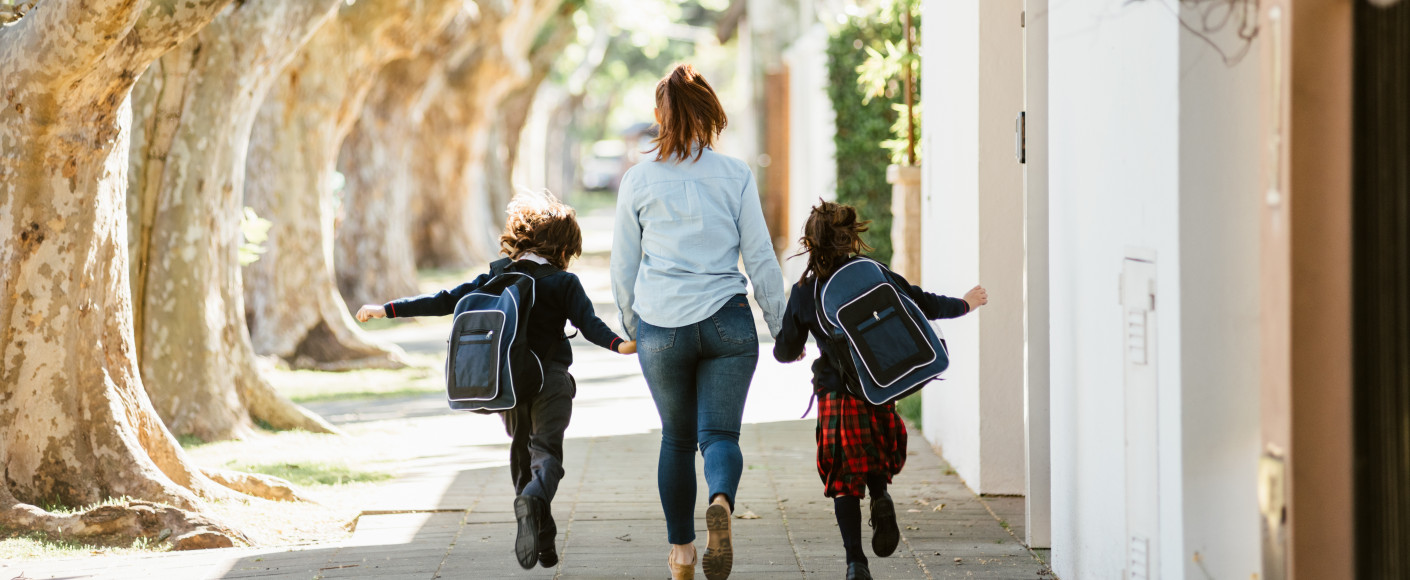 It's time for the kiddos to head back to school, which means the rhythm of summer is about to change. Getting back into the swing of things can be stressful for families. To make the transition as smooth as possible, work these simple habits into your routine.
Breakfast and Snacks
You've probably heard breakfast is the most important meal of the day. For children, that's especially true! Breakfast helps fuel growing brains and research has shown kids who have breakfast perform better on tests and other tasks. By getting key nutrients at the start of the day, they're also more alert and able to concentrate better.
If having breakfast at home isn't an option for your family, many schools offer breakfast programs. Schools participating in these programs report better attendance and healthier childhood weights for the kids who participate.
In addition to three square meals a day, snacks are key to keeping kids going as they navigate their new schedules. Think of snacks like a kid's version of a coffee break (minus the caffeine). Taking time to add a little fuel can help tide them over from lunch to dinner, especially when they're going straight from school to another activity. A snack with protein and carbohydrates is just the ticket to give them the boost of energy they need.
Eating Together as a Family
There's nothing like coming together over food. Make time to sit down over dinner — or any meal! — and talk about your day. We know how crazy schedules can get with sports and other extracurricular activities, so this might not be possible to do every day. Do your best to commit to gathering throughout the week, even if it's a breakfast here and a dinner there. Over time this simple act will help you become closer as a family.
By making time for conversations together, you'll get a glimpse into what's on your kids' (and spouse's) minds and even identify any issues that might be cropping up. By taking time to talk, you'll forge stronger bonds with your family.
Research has shown kids whose families share meals together have:
More resilient mental health
Reduced risk of substance abuse
Healthier eating habits later in life
For tips on getting your own family dinner habit started, check out the Family Dinner Project. And, remember, making time for family at any meal is a win!
Sleep Hygiene
Getting a good night's rest has a host of benefits for kids from better mood and mental health to improved focus and increased energy. But sometimes a good night's sleep is elusive. Consider helping your kids build some healthy habits before bedtime to help signal their brains that it's time to rest and ease into slumber. (These tips work just as well for adults as they do for kids!)
These tips from the Sleep Foundation can  improve your and your kids' sleep quantity and quality:
Set a consistent bedtime to help signal your internal clock to wind down.
Limit screen time before bedtime to avoid the blue light that can disrupt sleep hormones.
Deal with any stress by writing in a journal or talking about worries instead of running from them.
Make the bedroom relaxing by adjusting lighting, bedding, thermostat setting, pillows or stuffed animals and anything else that will help your kids (and you) feel more comfortable physically.
Take a few minutes to breathe before settling into bed. Some meditation apps like Headspace (an exception to the limited screen time rule!) have short and simple sessions geared for children.
Moving more during the day can also help improve sleep. From workouts to simple stretches, getting your body going helps release energy and stress which can lead to better ZZZs. If you can find ways to move as a family, even better!
Other Helpful Habits
As kids head back to school, here are a few other ways you can set them up for success:
Regular hygiene: Don't forget the basics of self-care! Teach your children age-appropriate skills to keep clean like brushing their teeth and taking baths or showers. If possible, set aside time in the mornings (or even the night before) for you and your kids to get ready. This will help avoid a mad morning rush. (Parents of teenagers, we know mornings can be a struggle. We feel you! During the teen years, rhythms naturally shift to more of a night owl schedule. Rather than trying to force an early prep, encourage taking a few extra minutes in the evening to get ready for the next day.)
Plan together: Review homework assignments and practice planning with your kids. Help them set aside quiet time and quiet spaces to do their work. As they get older, talk about how much time they might need to work on an assignment due in the future and help them map out how to spend a little time each day on it. (You'll thank us when they don't come to you the night before the science fair, ready to start their project!)
Cook with your kids: Enlist your children's help in the kitchen. There are plenty of tasks suitable for kids of all ages. You'll have helping hands and they'll learn skills at home that reinforce concepts they're learning in school. Win-win!
Reduce screen time: Although this one can sometimes erupt in fights, if you focus on all the other habits, your kids just might forget about their devices (as least momentarily)!
Remember there's no such thing as perfection. There will be ups and downs, good days and bad days. Take the transition back to school in stride.
Back-to-School Recipes
Need some inspiration for easy-to-prep meals and snacks? Check out these ideas!