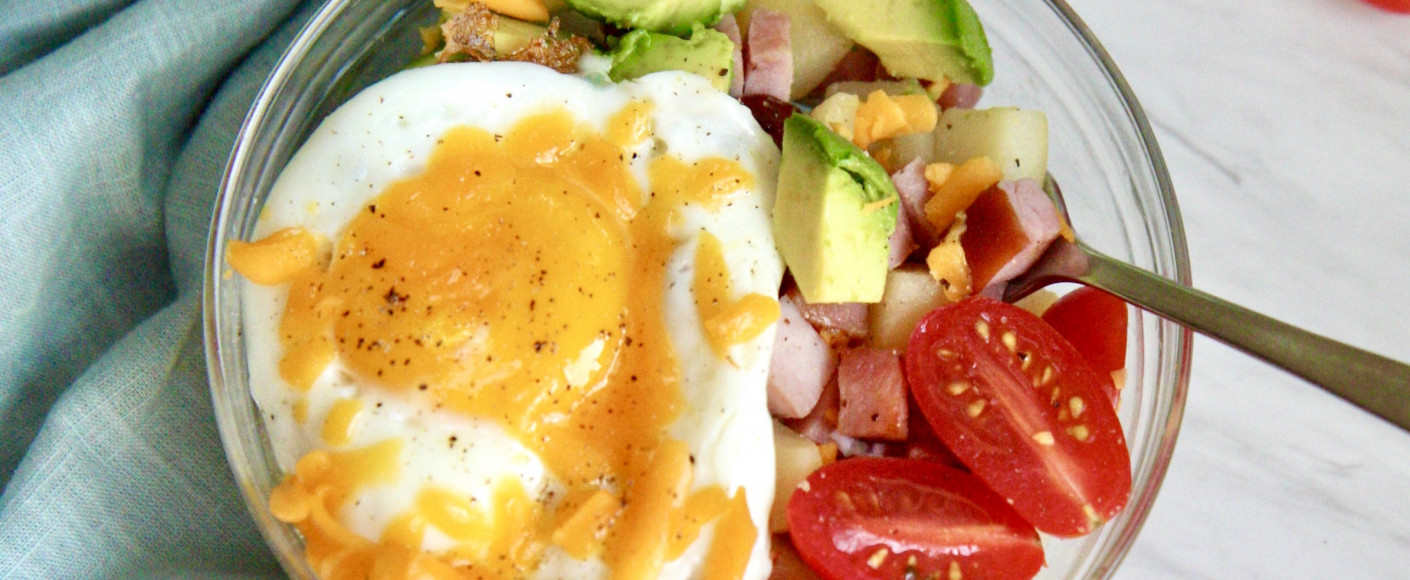 Whether you roll out of bed bursting with energy or hitting the snooze button, breakfast — especially a deliciously filling one — can give you the power to tackle the day. Try whipping up a breakfast bowl packed with protein and flavor!
On a specialized diet? This recipe works well for folks following a paleo, keto (hold the potatoes), gluten-free, DASH or Mediterranean diet — and, of course, omnivores!
Ingredients
3 cups frozen potatoes
1 pound boneless cooked ham, chopped
1 tablespoon melted butter
1 teaspoon black pepper
1 cup cherry tomatoes, halved
2 teaspoons canola oil
4 large eggs
1 cup sharp cheddar cheese, shredded
1 avocado, pitted and sliced
Directions
Preheat oven to 450 degrees. Combine potatoes and ham in a large bowl. Drizzle with melted butter and sprinkle with pepper; toss to coat. Spread evenly on a 15x10x1-inch baking sheet. Bake for 20 minutes or until potatoes are fork-tender, stirring halfway through. Remove from oven, stir in tomatoes; cool slightly.
While potatoes are cooking, heat canola oil in a large skillet over medium-low heat. Add eggs to oil and reduce heat to low. Cook eggs for 3 to 4 minutes or until whites are completely set and yolks begin to thicken.
Divide potato mixture among 4 serving bowls. Top each with cheese, sliced avocado, and egg. Serve with salsa, if desired.
This recipe was provided by registered dietitian Ariel Johnston of The Tasty Balance in partnership with Midwest Dairy. You can find more dairy recipes here.
More Hearty Breakfast Ideas
---