Out-the-Door Breakfast Quesadillas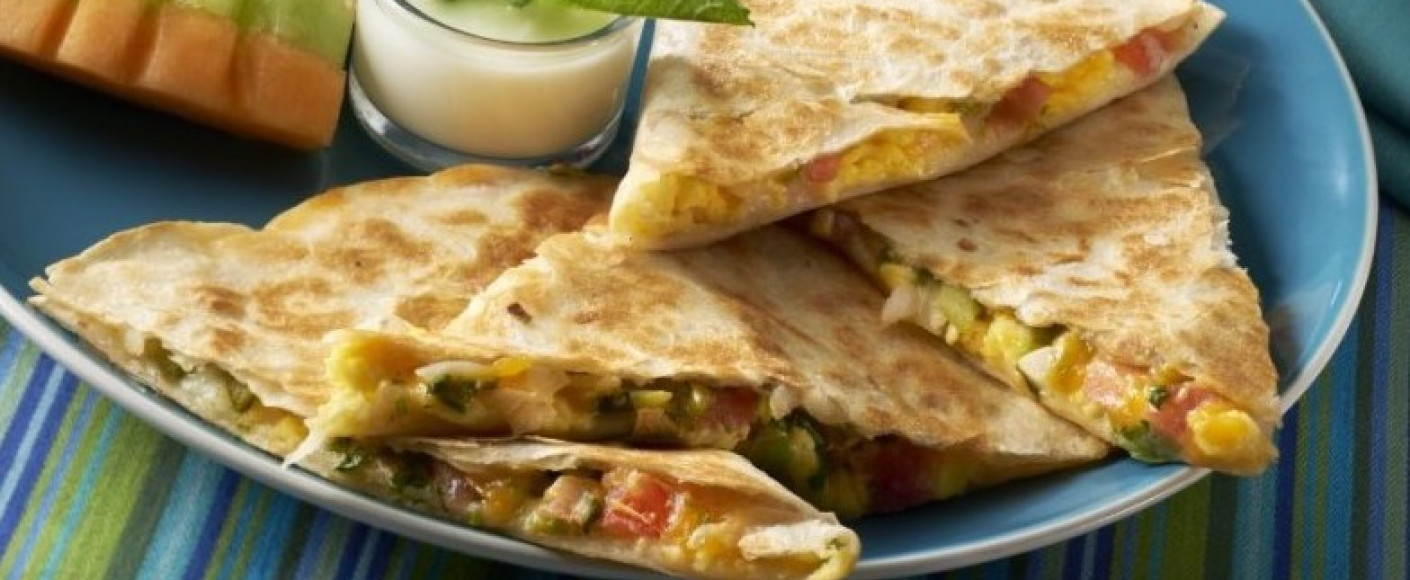 This recipe makes three large quesadillas. Cut them to your desired serving size for a filling meal or protein-packed snack for kiddos and adults alike!
Ingredients
1 lb. bacon or sausage, cooked and drained (if using sausage, crumble it as you cook it) 
Butter, for cooking quesadillas 
1 onion, diced 
1 sweet red bell pepper, seeds and membranes removed, diced
1 jalapeño, seeded and diced
8 large eggs
1/4 cup half and half 
Kosher salt and freshly ground black pepper, to taste 
6 flour tortillas
Shredded cheddar cheese (I love Alma Creamery Cheddar)
Your favorite toppings - guacamole, sour cream, pico de gallo
Directions
In a large skillet over medium high heat, add a tablespoon of butter; when butter is melted and hot, add onions, bell pepper, and jalapeño, cooking and stirring until vegetables are softened and beginning to caramelize. Remove veggies to a plate and reserve. 
Return the skillet to the burner over medium-low heat. Meanwhile, in a bowl, whisk together the eggs, half and half, salt and pepper. Add a bit of butter to the skillet, then add the egg mixture, stirring and cooking until the eggs reach the desired consistency you prefer.
To assemble the quesadillas, preheat a buttered griddle over medium heat;  place a tortilla on the griddle, add a layer of cheese, a layer of cooked veggies, a layer of bacon slices or crumbles sausage (or both!), a layer of eggs, and a final sprinkling of cheese; top with a second tortilla. 
Cook on both sides, flipping carefully, until the cheeses are totally melted, filling is hot and tortillas are golden brown and a bit crispy.  Repeat with remaining tortillas and ingredients. 
Using your handy dandy pizza cutter, slice quesadillas into wedges and serve topped with your favorite toppings. 
Now you're cookin'!
More Mexican Inspired Recipes
---