Make-Ahead Breakfast Casserole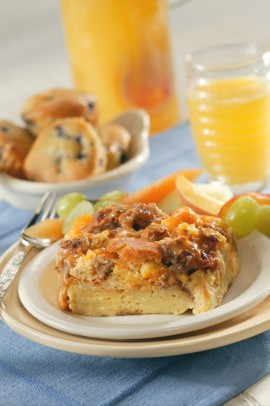 This breakfast classic combines our favorite Kansas flavors to make a meal your family will ask for again and again.
Ingredients
1 pound bulk pork sausage seasoned as desired
8 slices bread cubed
2 cups Cheddar cheese cubed
4 eggs
2½ cups milk
¾ teaspoon dry mustard
1 10¾-ounce can cream of mushroom soup OR golden mushroom soup
½ cup milk
Directions
Cook sausage in large skillet until brown, breaking up with wooden spoon; drain. Pat sausage dry with paper towels. Grease 9x13-inch baking dish. Place bread cubes in baking dish. Sprinkle cubed Cheddar cheese over bread. Sprinkle sausage over cheese. Combine eggs, 2 1/2 cups milk and dry mustard in medium bowl; beat with rotary beater or fork until well mixed. Pour egg mixture over layered mixture in baking dish. Cover with plastic wrap. Refrigerate for 8-24 hours.
Heat oven to 300 degrees F. Stir together cream of mushroom soup and 1/2 cup milk in small bowl. Pour over mixture in baking dish. Place baking dish on baking sheet. Bake, uncovered, about 1 1/2 hours or until center is set when baking dish is slightly jiggled. Let stand for 10 minutes before serving.
Serves 8.
More Breakfast Recipe Ideas
---