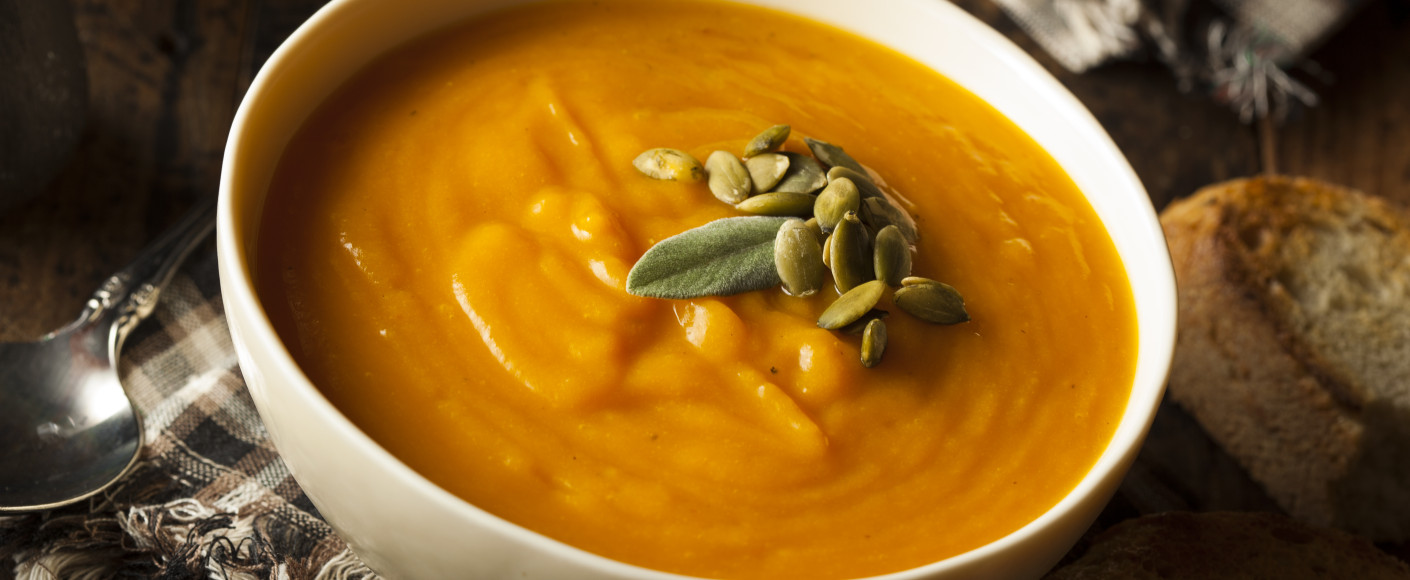 One of our favorite fall flavors is pumpkin. Sweet or savory, we can't get enough. And when the temperature drops, a warm bowl of soup is just the ticket! Cozy up on a crisp fall evening with this delicious recipe for pumpkin soup. 
On a specialized diet? This recipe works well for folks following a plant-based (vegetarian) or vegan diet — and, of course, omnivores!
Ingredients
1 pumpkin (approximately two pounds), halved, with seeds removed and saved
1 teaspoon salt
1/4 teaspoon plus a pinch of freshly ground black pepper
3 tablespoons olive oil
2 teaspoons ground cinnamon
1 teaspoon ground allspice
3/4 cup chopped onion 
1/2 cup chopped carrot
1/4 cup chopped celery
2 tablespoons minced ginger 
1 tablespoon minced garlic
3 1/2 cups vegetable stock
3 tablespoons pumpkin seed oil 
15 to 20 small sage leaves, fried
Directions
Preheat the oven to 400 degrees F.
Line a baking sheet with parchment.
Season the cut side of the pumpkin with 1/2 teaspoon of salt and 1/4 teaspoon of pepper. Turn the pumpkin over, so the cut side down on the parchment-lined baking sheet, and drizzle with 1 tablespoon of olive oil. Place in the oven and roast until the skin is golden brown and the pumpkin is tender, 50 to 60 minutes.
Spread the pumpkin seeds on a foil-lined baking sheet. Drizzle with olive oil and sprinkle with salt. Bake in the oven with the pumpkin for the last 15 minutes of baking time, stirring once to prevent sticking.
Remove pumpkin and seeds from the oven and let cool.
Once cool enough to handle, use a spoon to scoop the pumpkin flesh from its skin and set it aside until ready to use. Discard the skin. Set the seeds aside for garnishing.
Set a medium saucepan over medium-high heat. Add the remaining 2 tablespoons of olive oil and, when hot, add the cinnamon and allspice and cook, stirring constantly, for 1 minute. Add the onions, carrots, celery and ginger to the pan. Sauté, stirring occasionally, until lightly caramelized, about 3 to 4 minutes. Add the garlic, reserved pumpkin flesh and vegetable stock to the pan. Bring to a boil, then reduce to a simmer and cook the soup for 15 to 20 minutes, or until the vegetables are soft.
Remove the soup from heat and process with an immersion blender until smooth. Season with the remaining 1/2 teaspoon salt and a pinch of pepper.
To serve, ladle 1 cup of the soup into 6 warmed soup bowls.
Drizzle some the pumpkin seed oil in each bowl and garnish with 2 or 3 fried sage leaves and pumpkin seeds.
This recipe was provided courtesy of Nutrients for Life who teach us that all great recipes start with great ingredients, and great indegredients come from healthy, fertilized soil. Read the original recipe here.
More Fall Flavors
---