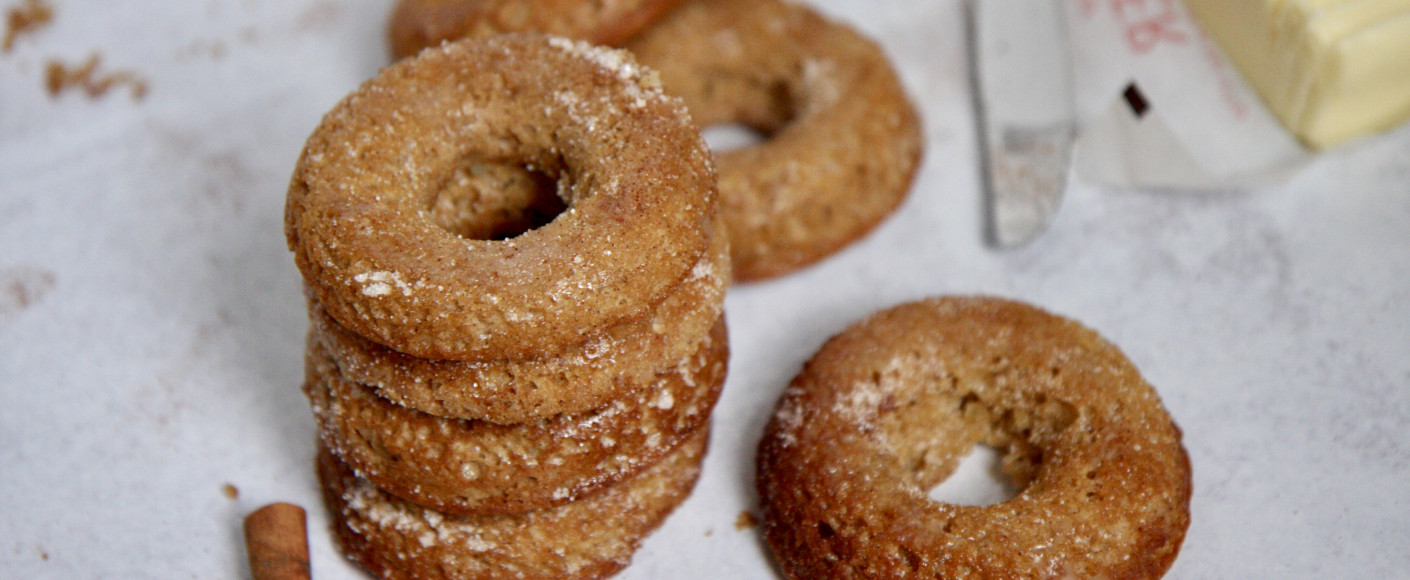 Homemade donuts are one of our favorite breakfast indulgences this season. Give these sweet treats from registered dietitian Ariel Johnston of The Tasty Balance a try!
Ingredients
For the Donuts
1½ cups apple cider
1 cup all purpose flour
1 teaspoon baking soda
¾ teaspoon baking powder
1 teaspoon ground cinnamon
1 teaspoon apple pie spice
¼ teaspoon salt
2 tablespoons butter, melted
1 large egg
½ cup packed light or dark brown sugar
½ cup granulated sugar
½ cup milk, at room temp
1 teaspoon pure vanilla extract
For the Cinnamon Sugar Topping
6 tablespoons melted butter
1 cup granulated sugar
¾ teaspoon cinnamon
¾ teaspoon apple pie spice
Directions
Reduce the apple cider: Stirring occasionally, simmer the apple cider in a small saucepan over low heat until you're left with about 1/2 cup. Start checking at 10 minutes, 15 minutes, 20 minutes, etc. until you have 1/2 cup (120ml). Mine takes about 20 minutes. Set aside to cool for 10 minutes.
Preheat oven to 350°F (177°C). Spray donut pan with non-stick spray. Set aside.
Make the donuts: Whisk the flour, baking soda, baking powder, cinnamon, apple pie spice and salt together in a large bowl. Set aside.
Whisk the melted butter, egg, brown sugar, granulated sugar, milk and vanilla extract together. Pour into the dry ingredients, add the reduced apple cider and whisk everything together until smooth and combined. Batter will be slightly thick.
Spoon the batter into the donut cavities—for ease, I highly recommend using a large zipped-top bag. Cut a corner off the bottom of the bag and pipe the batter into each donut cup, filling about halfway.
Bake for 10-11 minutes or until the edges and tops are lightly browned. To test, poke your finger into the top of the donut. If the donut bounces back, they're done. Cool donuts for 2 minutes then transfer to a wire rack. Re-grease the pan and bake the remaining donut batter.
Coat the donuts: Combine the granulated sugar, cinnamon and apple pie spice together in a medium bowl. Once cool enough to handle, dunk both sides of each donut in the melted butter, then generously in the apple spice topping.
Donuts are best served immediately. Leftovers keep well covered tightly at room temperature for up to 2 days or in the refrigerator for up to 5 days.
Notes
Using apple juice as a substitute will not give the donuts as strong of an apple flavor. Reducing the apple cider gives these donuts big flavor without too much liquid. 
If you don't have a donut pan this recipe can be made into muffins. Simply spray or use cupcake liners in a standard size muffin pan, fill half way, and bake at 350 for 12-15 minutes. If using a mini muffin pan bake for 8-9 minutes. 
No apple pie spice? You can also use pumpkin pie spice, the major difference is that pumpkin pie spice contains cloves. 
This recipe was provided by registered dietitian Ariel Johnston of The Tasty Balance in partnership with Midwest Dairy. You can find more dairy recipes here.
More Breakfast Recipe Ideas
---