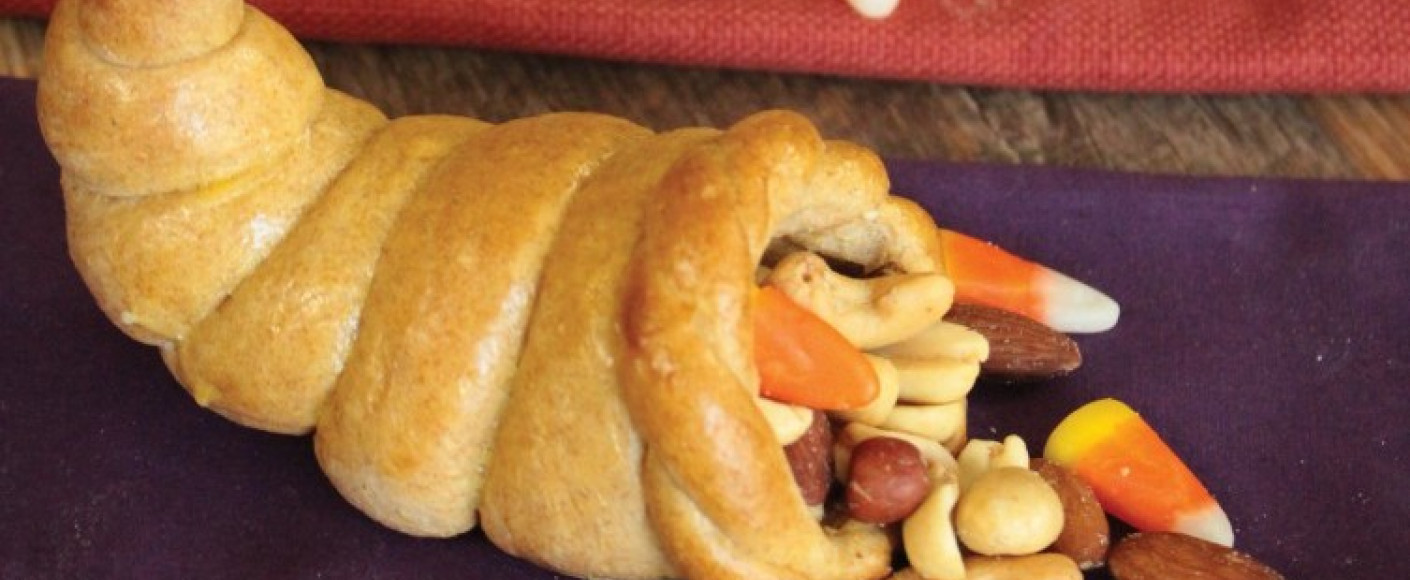 These little dough sculptures are perfect for Thanksgiving! Use them for place settings at your table or for a festive touch on a buffet.
On a specialized diet? This recipe works well for folks following a plant-based (vegetarian) diet — and, of course, omnivores!
Ingredients
2 teaspoons active dry yeast
½ cup lukewarm water (110°F-115°F)
½ teaspoon granulated sugar
½ cup vegetable shortening or butter
½ cup granulated sugar
1 large egg, beaten
1½ teaspoons salt
2 cups milk, scalded and cooled to lukewarm
7 ½ -7 ¾ cups all-purpose flour or bread flour OR 4 cups whole wheat flour plus 3 1/4-3 1/2 cups all-purpose or bread flour
Directions
To Make the Dough
In small bowl, dissolve yeast in lukewarm water, stirring in ½ teaspoon sugar. Let stand 5 minutes.
In mixer bowl, beat shortening with ½ cup sugar; add egg, salt, cooled milk, and dissolved yeast.
Stir in flour a little at a time until dough is stiff enough to knead. Knead by hand or with dough hook 8 minutes or until smooth and elastic. Place in greased bowl; cover and let rise until doubled. Punch down dough and shape.
Note: Dough may be kept covered in refrigerator for several days and used when needed.
To Shape the Dough
Use 3 ounces of dough; divide into 2½-ounce and ½-ounce pieces.
Use a 6" x 8" piece of heavy-duty aluminum foil and make a cone; stuff it with crushed aluminum foil and pinch to make a pointed end. Spray well with nonstick cooking spray.
Roll 2½-ounce dough piece into a rope about 30" long. Loosely coil around cone, leaving ½" aluminum foil exposed. Place on greased baking sheet.
Roll remaining dough into a thin rope; divide in half and twist together. Wrap twist around the opening securely pinching ends.
Beat together 1 egg and 1 tablespoon water; brush on cornucopia. If desired, sprinkle twist with sesame seeds. Bake at 375°F, 20 minutes. Cool slightly and remove aluminum foil.
This recipe originally appeared on the National Festival of Breads website and was provided courtesy of Kansas Wheat.
To get more shapeable bread recipes (like this gorgeous wheat sheaf), request your free copy of the Kansas Wheat 2018 Recipe Book (while supplies last).
More Thanksgiving Goodness
---