Behind the Scenes of Thanksgiving Dinner
We all know there's a lot that goes on behind the scenes—in our kitchens, at the crack of dawn—to prepare a delicious and beautiful Thanksgiving feast. But even before we brine the turkey or roll out the crust for pumpkin pie, a lot of Kansas farmers were up before dawn, every day, to make it all happen.
Let's take a look behind the scenes of a traditional and festive Thanksgiving dinner!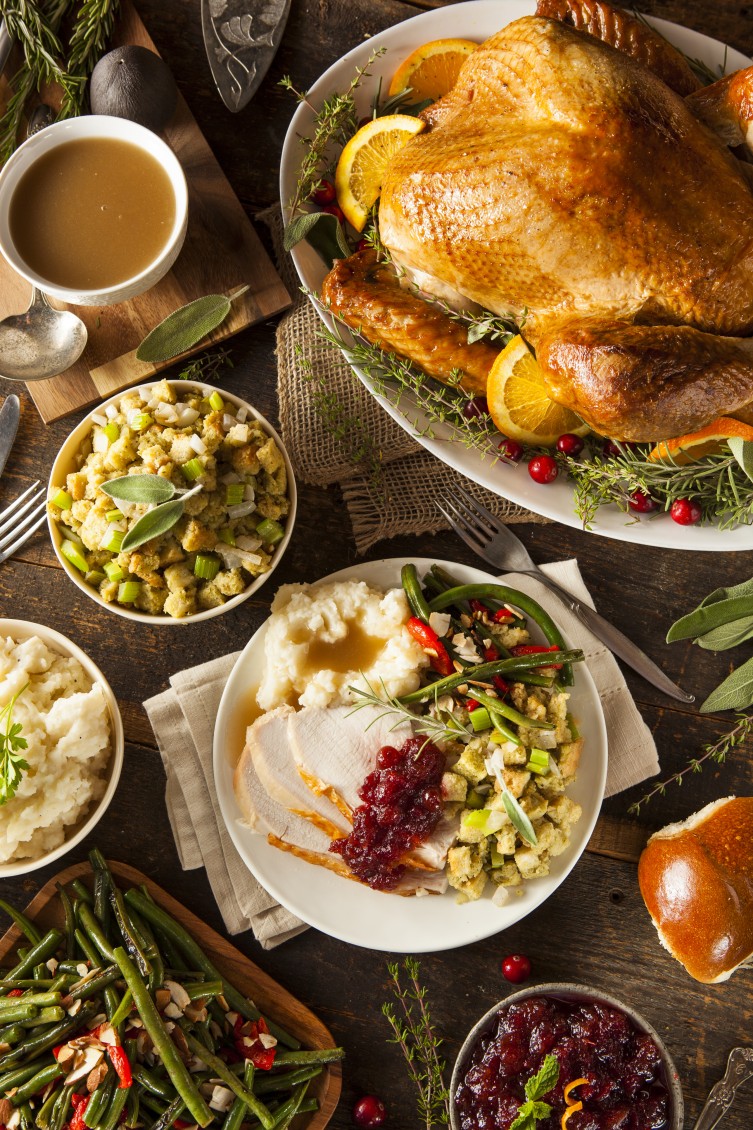 Turkey
The main attraction of any Thanksgiving meal is Tom Turkey. A 12-pound turkey at the store will feed about eight people. The weight at the store is called the dressed weight. On average, dressed weight is about 20 percent lower than the bird's live weight.
A bird that's 16 pounds in live weight will consume about 65 pounds of food over the course of its life. Wild turkeys forage for food and will eat just about anything, including acorns, berries, legumes, insects and grasses. Range turkeys also eat crops like winter wheat and alfalfa, as well as commercial feed.
Commercial feed is a carefully balanced mix of proteins, fiber, vitamins and minerals. The exact balance depends on where in the lifecycle the turkey is. Younger birds need more protein and breeding birds need more fiber. Commercial feed often includes soybeans (including meal and oil) and corn—both of which are major Kansas crops.
Gravy
A standard gravy recipe includes pan drippings (yum!), plus a mixture of vegetable oil, flour, milk, and salt and pepper. What does Kansas have to do with this golden-brown, velvety and scrumptious potato-dresser-upper?
Vegetable oil comes from soybean oil, which comes from soybeans. Kansas produces more than 183 million bushels of soybeans, making it the 8th largest soybean producer in the United States.
On average, Kansas is the largest producer of wheat in the U.S.
Kansas produces about 365 million gallons of milk each year.
We're all about the gravy.
Stuffing
There are so many takes on what is arguably one of the top Thanksgiving dishes—stuffing (or "dressing," depending on what your grandma called it). Bread stuffing, corn bread stuffing, sausage stuffing....We could go on, but our mouths are watering too much. Suffice to say we wouldn't stuff ourselves quite as much if it weren't for Kansas.
Perhaps some of the flour in the bread came from one of the 340+ million bushels of wheat grown in the state! If you're a fan of corn bread, did you know cornmeal is made from field corn, not sweet corn? Less than two percent of the field corn grown in the U.S. is made into corn meal and other cereals.
As the 16th largest milk producer in the U.S., Kansas contributes to all kinds of dairy—like the butter often used in stuffing recipes.
And if you dress it up with sausage, well, there are nearly 2 million hogs and pigs in the state.
Mashed Potatoes
So many flavors and textures delight the senses at Thanksgiving, but mashed potatoes are a staple. If that's your assignment at the family T-day potluck, you better not show up empty-handed.
Kansas is the fourth largest producer of summer potatoes in the U.S.
Thanks to the approximately 143,000 milk cows in the state, Kansas probably has a hand in the milk, butter and sour cream you use to make them extra soft.
And it's the perfect vehicle for the gravy. Just sayin'.
Green Beans
Although green beans aren't a major crop in Kansas, they still have some pretty solid connections.
Farmers like Warren Sutton grow this vegetable in their sandier soil. (Bonus: Warren also grows pumpkins—crucial for the pie, a perfect ending to the meal!)
Although recipes for green beans run the gamut from lemony to earthy, a classic includes cooking the beans with ham hocks. And Kansas has the tenth largest population of hogs and pigs in the U.S.
Rolls
If you haven't already guessed—wheat figures prominently in your flaky dinner rolls. From whole wheat to white rolls, no Thanksgiving meal is complete without these yeasty staples. There are so many variations, allowing you to get fancy and mix in all kinds of whole grains, including some sweet sorghum flour for a spin on the classic recipe. And, don't forget the butter to provide the final delicious touch to your favorite roll.
Winter wheat has already be planted by Thanksgiving. Kansas wheat is planted and sprouts in the fall, becomes dormant in the winter, grows again in the spring and is harvested in early summer.
Kansas is the top producer of grain sorghum in the U.S. with almost 200 million bushels produced each year. Bonus: Sorghum is gluten-free, so it makes a great grain for people with celiac disease.
There are about 300 dairy farms in Kansas that produce milk used to make butter and other dairy products
Hopefully this food for thought will give you a little something extra to chew on this Thanksgiving. Have a wonderful holiday!
More Iconic Meals
---