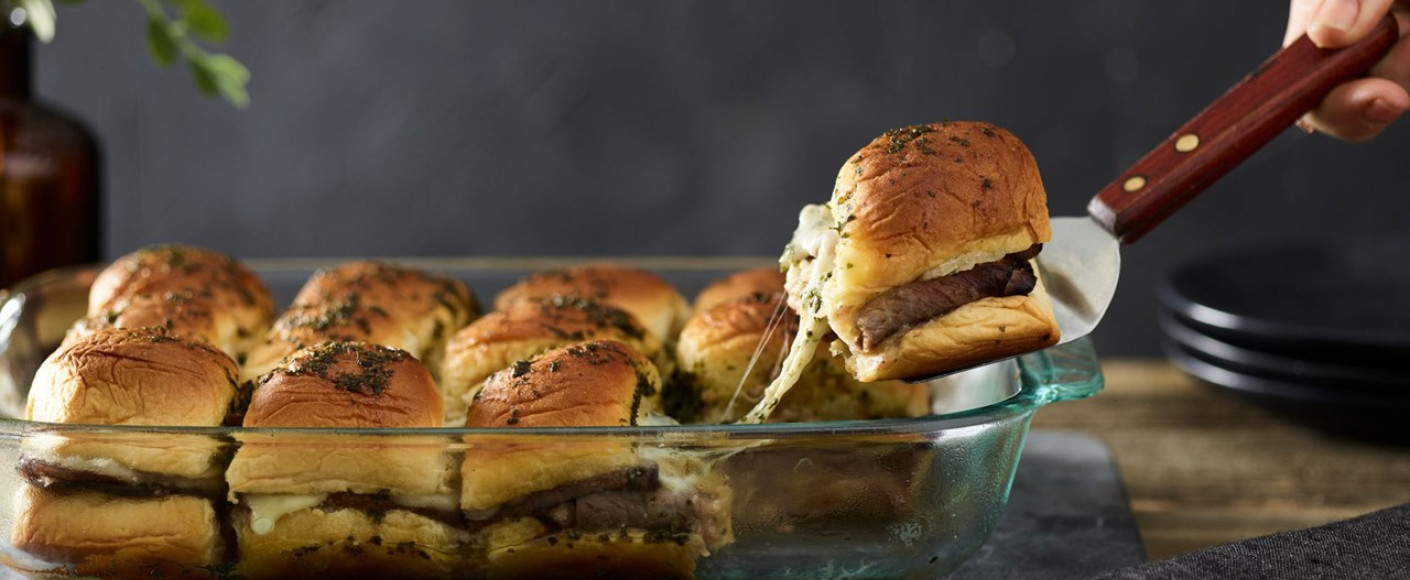 You'll want to try this savory recipe for family dinners, a delicious snack or to feed a crowd. Perfect for potlucks, parties or an easy weeknight dinner! Thinly sliced deli roast beef is sandwiched between rolls and baked with cheese until golden, gooey and delicious.
Ingredients
1 pound thinly sliced reduced-sodium deli roast beef 
1 package Hawaiian rolls (12 count) 
1/4 cup cream-style prepared horseradish 
6 slices reduced-fat provolone cheese 
1/3 cup butter, melted
2 tablespoons Worcestershire sauce 
1 tablespoon dried parsley leaves 
2 teaspoons packed light brown sugar 
1/4 teaspoon onion powder
Directions
Preheat oven to 350°F.
Coat a 9x13-inch baking dish with cooking spray. Cut rolls in half, horizontally. Place bottom half in prepared baking dish; spread horseradish on cut side. Top with deli roast beef and cheese. Close sandwiches. Using a paring knife, cut into 12 sandwiches.
Combine butter, Worcestershire sauce, parsley, sugar and onion powder in small bowl; mix to combine. Pour butter mixture evenly over prepared sandwiches. Cover and refrigerate 1 hour to overnight.
Bake sandwiches, uncovered, in 350°F oven for 15 to 20 minutes or until cheese is melted and rolls are golden brown.
This recipe was provided in partnership with the Kansas Livestock Association and Kansas Beef. Get more great recipe ideas from Kansas Beef.
More Great Beef Recipes
---