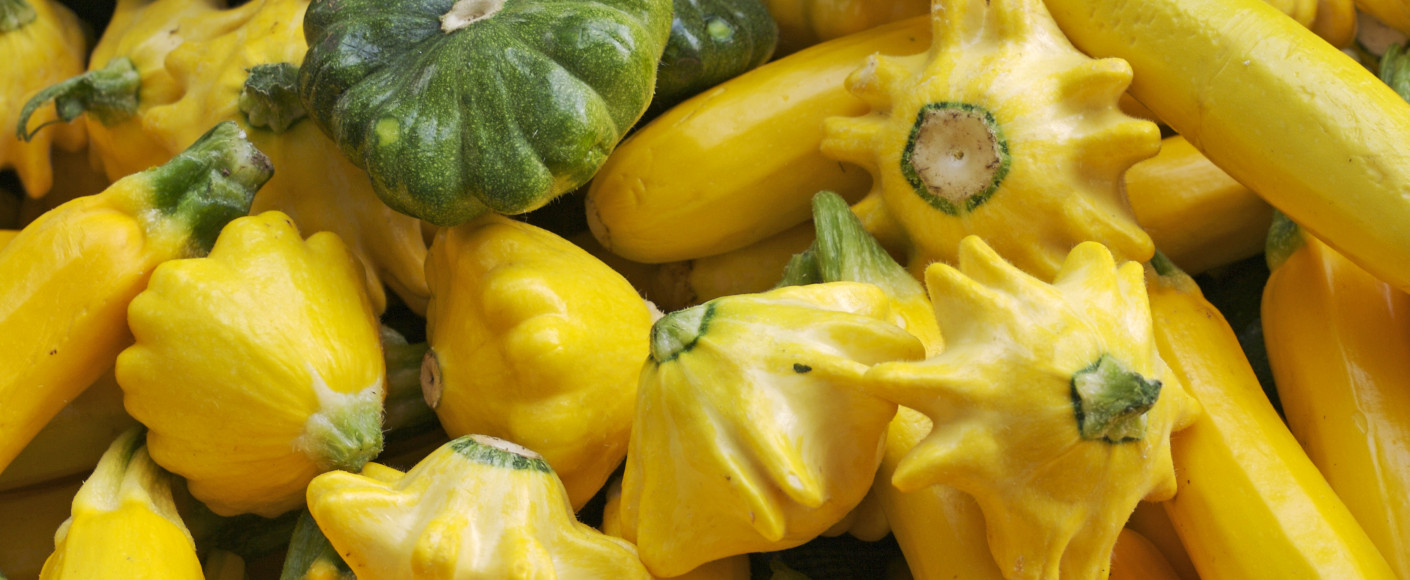 It's hard to beat the taste of a perfectly ripe, fresh vegetable. With the hot Kansas weather in full swing, we're especially grateful for the flavors of summer squash this season.
Whether you're looking for a new side dish or are curious about adding this vining veg to your garden, we have the lowdown. 
Varieties of Summer Squash
First thing's first: What kinds of summer squash are there? We're glad you asked! Many varieties of squash are available — big ones, tall ones, fat ones, small ones — so it can be hard to know which is best suited for your needs. 
Possibly the most well-known summer squash is zucchini. A classic choice with mild flavors, zucchini is used to make "zoodles" — a faux noodle, usually topped with pasta sauce. Beyond zucchini, there are many other squashes to explore. 
Here are some of the most popular types of squash and their flavor profiles:
Pattypan: mild and buttery
Cousa: semi-sweet
Crookneck: mild and buttery
Straightneck: mild, nutty and buttery
Tatume: sweet and powerful
Tromboncino: mild and nutty
Zephyr: semi-sweet, nutty 
Zucchini: mild, neutral flavor 
How to Cook Summer Squash
The most common way to prepare summer squash is a simple sauté. The veggie's skin is soft and edible, so no need to worry about peeling. Before heating things up, decide whether to cube or slice your selection — either is acceptable, just make sure the pieces are around the same size to ensure they cook evenly. Once your uniform pile is prepped, heat a large drizzle of olive oil in a pan over medium heat. Toss the squash in the pan, season with salt, pepper and a generous amount of garlic powder. Stir occasionally to prevent burning. The goal is to get the squash soft and tender, with a bit of added color. Sauté for five to ten minutes, depending on how thick your pieces are, then remove and dig in! 
If you're looking for a recipe that's a bit more challenging, try using your squash to make a soup or pureé. 
Growing Your Own Summer Squash
The only thing better than an in-season veggie is one fresh from the garden! Since squash requires a hefty amount of sunlight, Kansans should be able to add this plant to the garden without hesitation. 
As with winter squash, summer varieties thrive in soil with lots of organic matter. Consider adding a fertilizer to help growth or begin composting, if possible. 
Gardeners who struggle with patience will appreciate summer squash's relatively quick production. The average time from planting to harvesting is about two months, a much shorter wait time than other vegetables like potatoes and peppers, which can take up to 120 days. 
Unfortunately, the quick progression of summer squash also limits the window of freshness. Once your squash has been picked from the garden and put in the fridge, you'll have up to a week to enjoy. So chow down!
Hungry for more? Check out these articles and recipes featuring seasonal squash.