Sunflower Fields in Bloom in Kansas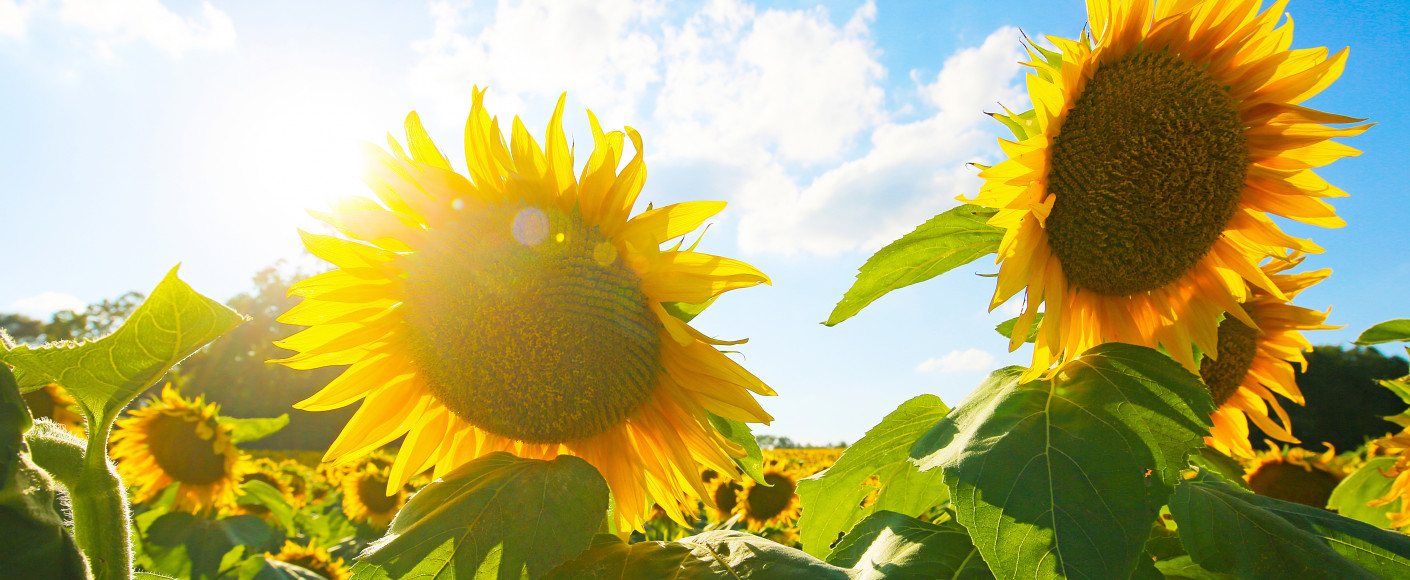 When it comes to getting Instagram-worthy pictures of gorgeous sunflower fields, no other state can compare to Kansas. (We are The Sunflower State, after all!) But figuring out exactly where — and when — to get those stunning photos is another matter. Never fear! We have your sunflower bloom primer right here.
Due to COVID-19, please confirm with the farms whether they are accepting visitors and any precautions you might need to be aware of.
When Are Sunflowers in Bloom?
Sunflowers bloom for a short window of about two weeks. Depending on when farmers plant them, they could bloom any time from mid-August to early September. Because weather plays a big factor, some farmers will plant fields earlier or later than usual depending on Mother Nature. Follow your farm of choice on social media or reach out directly to find out exactly when they expect this year's blooms.
Where Are the Best Sunflower Fields to Visit?
The good news is, no matter where you live in Kansas, chances are you're closer to a field than you realize! Here are a few spots throughout the state known for their bright yellow fields.  
Sunflower Fields near Wichita
Kansas Maze at Gaeddert Farms in Buhler hosts an annual Sunflower Festival with lots of activities. You can even cut stems to take blooms home. Visit their website for fees and other details. And keep them on your radar because they also feature a corn maze in the fall!
Walters' Pumpkin Patch in Burns was started as a hobby farm with small pumpkins and grew — literally — from there. Don't let the name fool you. They do sunflowers, too! In fact, they'll be hosting a Sunflower Festival in August, too.
Klausmeyer Farm and Pumpkin Patch in Clearwater is a dairy farm and they also grow sorghum, corn, soybeans and wheat. (As you might have guessed, they have a pumpkin patch, too!) They started their sunflower field just last year and it was such a hit, they've planted the crop again this year for us to enjoy. 
Sunflower Fields near Kansas City
Grinter Farms in Lawrence is one of the most well known sunflower fields in the state. They started growing sunflowers for seeds and oil, but so many people wanted to see the flowers in bloom, they kept it up. They've made several best-of lists for viewing sunflowers in the United States! They also grow soybeans and corn on their farm.
Gieringer's Family Orchard and Berry Farm is planning a sunflower festival mid-August. Follow them on Facebook for more information.
Sunflower Fields near Topeka
Berry Hill in Berryton is a you-pick farm with succulent strawberries. Once that season is over, they roll into wheat harvest before — you guessed it! — sunflower season begins. While it's free to visit the fields, they do ask visitors to leave donations if cutting flowers (and donations in general are welcomed).
Eleanor's Farm in Scranton is the former Lyndon Leaders 4-H Sunflowers. The Lyndon sunflowers were a popular local treasure. With the change in operation, there will be some changes to this year's fields. Follow them on Facebook for more information.
Other Sunflower Fields in Kansas
Britt's Garden Acres in Manhattan is well known for a great variety of seasonal produce and fall activities. In 2017, they planted eight acres of sunflowers and the field was such a draw for visitors, they've kept it going. They charge a fee to cut blooms, as well as for professional photographers to do photo shoots there.
Goodland in Sherman County is known for its giant Van Gogh sunflower painting, but the sunflower theme is more than a roadside attraction. Goodland is nicknamed Sunflower City and all of Sherman County boasts the greatest number of sunflowers in Kansas.
The Peterson Farm Brothers — yes, those brothers of farm song parody fame — open up their sunflower field near Lindsborg for visitors to enjoy. They charge an entrance fee and a fee for cutting blooms.
The Kansas Tourism website has links to other spots to find sunflowers throughout the state.
If you're more adventurous, Kansas photographer Mickey Shannon created a round-up of sunflower fields he's discovered in the past. Many of these are private and mapped according to where they're located along state highways. There's no guarantee the fields will be planted this year and visitors should be respectful.
More About
If you head out in search of sunflowers, here are some fun facts you can share along the way to impress your family (or just keep yourself entertained!).
The actual statute stated: WHEREAS, Kansas has a native wild flower common throughout her borders, hardy and conspicuous, of definite, unvarying and striking shape, easily sketched, moulded, and carved, having armorial capacities, ideally adapted for artistic reproduction, with its strong, distinct disk and its golden circle of clear glowing rays — a flower that a child can draw on a slate, a woman can work in silk, or a man can carve on stone or fashion in clay;

and WHEREAS, This flower has to all Kansans a historic symbolism which speaks of frontier days, winding trails, pathless prairies, and is full of the life and glory of the past, the pride of the present, and richly emblematic of the majesty of a golden future, and is a flower which has given Kansas the world-wide name, "the sunflower state":

therefore, Be it enacted by the Legislature of the State of Kansas: That the helianthus or wild native sunflower is hereby made, designated and declared to be the state flower and floral emblem of the state of Kansas.
More About Sunflowers