Popular Hot Dog Styles Around the U.S.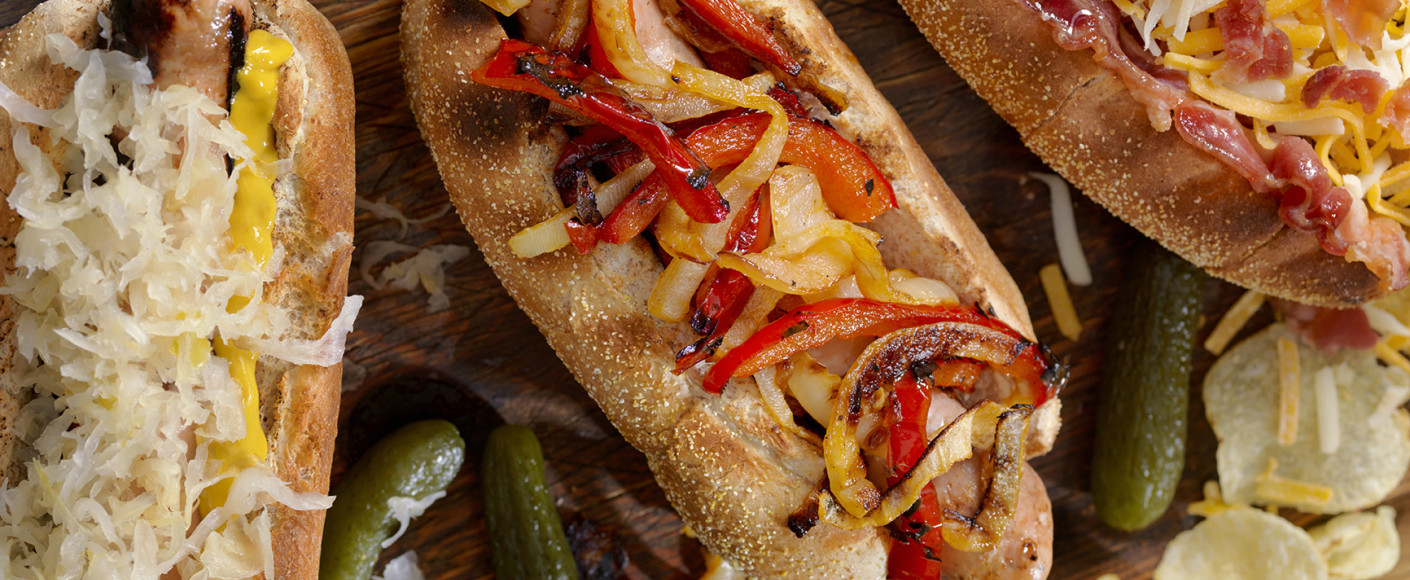 Summer is here! For many of us, this season means the sound of fireworks, smell of bonfires and sight of kids playing outdoors. And, of course, it wouldn't be a successful summer without firing up the grill and enjoying one of the most iconic American foods: hot dogs.
According to some experts, the hot dog's history might go as far back as ancient Rome, but we'll skip ahead a few thousand years to when they first reached the United States. Like many delicious foods, hot dogs were brought here by German immigrants. However, it took a little time before one man helped turn them into an American staple. 
You've probably heard of Nathan's Famous Hot Dogs? Well, Nathan Handwerker spent years working at a hot dog stand on Coney Island for years in the early 1900s before saving enough money to open up his own cart. A savvy businessman, Nathan charged 5 cents per dog — half the price his previous employer charged. The competition couldn't keep up with Nathan's low prices, so they eventually closed their doors. Nathan's Famous is still slinging dogs today (now at a much faster rate).
Since then, hot dogs have become a symbol of America. In fact, the National Hot Dog and Sausage Council estimates we eat 20 billion hot dogs each year!
Of course, we're an eclectic bunch, so Americans around the country have created different styles of dogs, each as unique as its region. From a large helping of relish to a smear of cream cheese, here are some of the most popular hot dog styles around the country. 
Where it's most popular: (this one is self-explanatory) Chicago
What it is: a beef hot dog topped with mustard, white onions, sweet relish, a dill pickle (preferably in spear form), tomatoes, sport peppers and a sprinkling of celery salt, all packed into a poppy seed bun.
Where it's most popular: Detroit
What it is: a beef hot dog slathered with beanless chili and white onions, topped with mustard, inside a fluffy white bun.
Where it's most popular: Kansas City — especially Kauffman Stadium
What it is: a hot dog topped with sauerkraut and melted cheese, with optional Thousand Island dressing, caraway seeds or relish, depending on where you're ordering.
Where it's most popular: Maine
What it is: a hot dog dyed bright red with casing so tight it snaps when you take a bite. More about the dog itself and less about the accoutrement, these franks can be topped with just about anything.
Where it's most popular: (again, not much of a thinker) Seattle
What it is: a hot dog served either in a bun or a bagel, covered with grilled onions and a healthy dollop of cream cheese. Optional toppings include peppers and sauerkraut.
Where it's most popular: Arizona
What it is: a bacon-wrapped hot dog, served with beans, tomatoes, onions, mushrooms, mayo, mustard and avocado puree.
There are endless styles of hot dogs and countless topping combinations! What's your go-to dog recipe? Are you chomping at the bit to try something new this summer? Let us know on social media and tag us in any of your upcoming hot dog endeavors. Happy eating! 
More Summer Fun