Merchants Pub & Plate: A Restaurant with Kansas Grit and Grub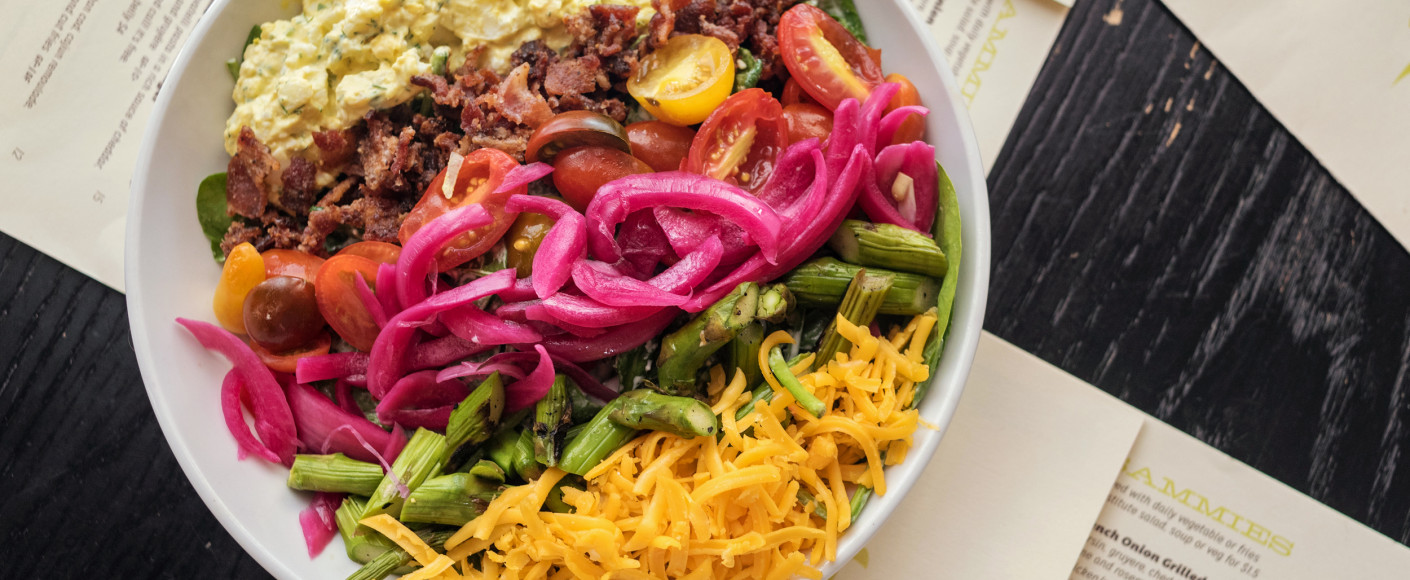 For T.K. Peterson, a career in food was always the plan. As a child growing up in Lawrence, he spent much of his free time cooking with his parents and experimenting with recipes. Those early years sparked a passion for food and his home state, which provided so many delightful ingredients.
His wife, Emily, is from Chicago, but was drawn to Kansas by its charm. Specifically, Emily fell in love with Lawrence. The culture, small-town feel, tight-knit environment and agricultural surroundings sold her.
So the couple happily settled in the land of the Jayhawk. As he'd always imagined doing, T.K. began working as a chef, while Emily started a career in marketing. The Petersons were mostly content, living in a town they adored and holding jobs they enjoyed.
But a shared vision lingered in the back of their minds: They wanted to open their own restaurant.  
The couple considered the idea often, but never found the right time to make their move. Then one day, a friend who owned an iconic Lawrence building — the old Teller's restaurant on Mass Street— called with news that pushed their dream into reality. 
Emily still lights up when discussing the phone call. 
"He told us that Teller's was closing and asked if we wanted to open a restaurant. We thought, 'Well shoot! We better try!'"
To get the restaurant out of their heads and into Lawrence, T.K. and Emily had to show some true Kansas grit. They didn't have family cash to invest, or any assets of their own to leverage. Unable to get loans, they created a proposal to attract local investors who had expressed interest in a Peterson-run restaurant. 
Their proposal went smoothly, and they won the support of local backers. And while this path was more stressful than taking out a loan from a bank, they look back on the decision proudly. 
Not only did they get the financial support they needed, the pair felt the intense encouragement of the community they so loved — something that continues to motivate them today. 
"Every single layer of this place is personal for us, including the financing. It gives us something to wake up each day and work for," Emily said. 
With the financial pieces falling into place, the building remodel was the next project to begin. 
If you've ever been to Lawrence, you've probably seen the old Teller's building. The former-bank-turned-restaurant flaunts high ceilings, handsome stone and a classic vibe. 
Those features lent themselves well to Merchants Pub & Plate, and today, it's a spacious, airy environment with an instant feeling of accessibility as soon as you walk in.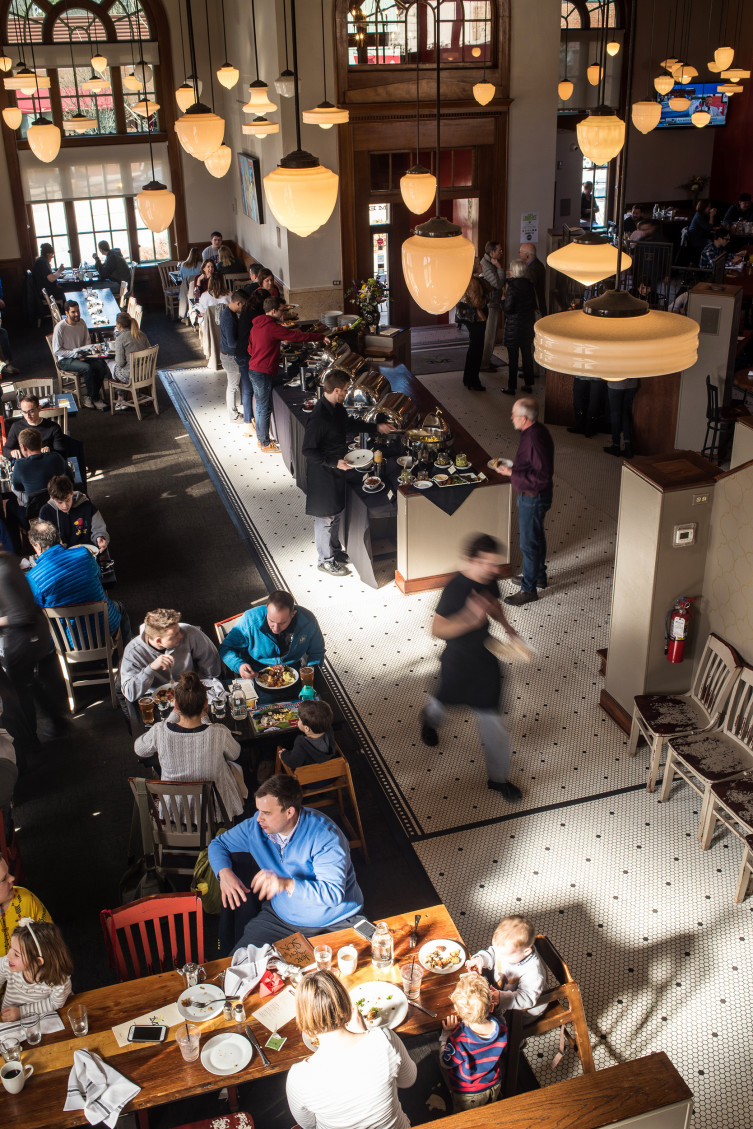 "You can go straight into the kitchen from the dining room, and people do! It's intentionally very open," Emily said. "People walk back to complement the team and the chef. Everything comes down to community, transparency and openness, so we did the remodel with those things in mind." 
The community theme goes beyond the walls of the restaurant. Merchants Pub & Plate uses locally grown ingredients in every dish on the menu. For T.K. and Emily, that was always the plan. 
"We knew how much our area had to offer and we wanted to showcase that. We're in the heart of the ag world and want to connect people to their food," she said. 
While locally grown fare benefits the customer — there's nothing better than fresh goodies! — it also helps the Kansas economy. T.K. and Emily are passionate about helping the state they love.
"If we're going to generate revenue, and if money is going to be moving, we want it to benefit the whole region. There are so many farmers here who produce the best products, and we want to support those people," she said. 
Freshness is a key component to every dish, but also plays a huge part in another Merchants Pub & Plate mission: safe food for those with allergies. 
The Petersons have friends and family who struggle with gluten and dairy and have seen firsthand how difficult those allergies can be when eating out. 
"You see how it impacts their happiness when eating. They have to ask a million questions, miss out on conversation and worry about getting sick," she said. 
T.K. and Emily strive to provide a safe and worry-free experience for every customer. In their minds, dining should be a fun, light, enjoyable experience. Their menu is full of gluten-free, dairy-free and celiac-safe dishes — each as tasty as the next! 
Allergies or not, there's something for every kind of eater at MerchantsPub & Plate. 
When asked her favorite dish, Emily chuckled, "I can tell you what's most popular!" 
Maybe choosing a top menu item is a little like picking your favorite child? 
"We are known for our Brussels sprouts. They won Best Dish at the Best of Lawrence Awards and are definitely a fan favorite," she said.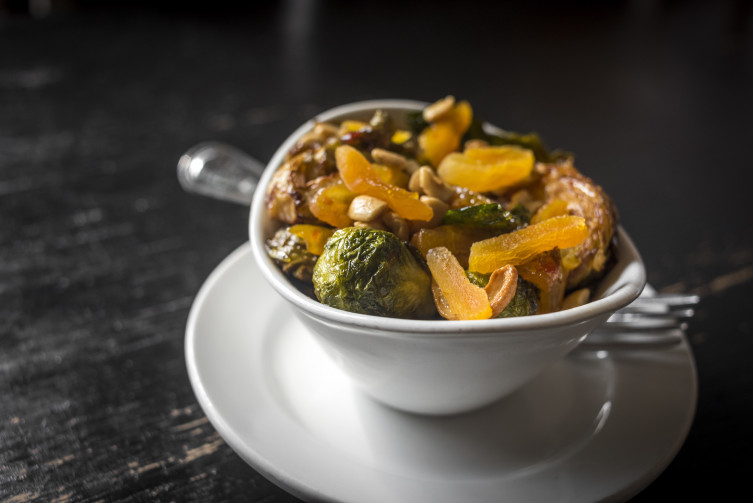 Their Brussels sprouts achieve the perfect mixture of savory and sweet, and feature the oh-so-important crunch factor. Sprouts are blanched, then deep-fried to order, ensuring the delightfully crispy texture every time. A garlic-chili glaze provides a dash of sweet heat, and the finishing touches of cashews and dried apricots complete the flavor profile. 
If you're already drooling — we don't blame you! — head over to taste the Brussels sprouts and other fantastic dishes for yourself.
All photos by Doug Stremel provided courtesy of Merchants Pub & Plate.