How to Take Your Tailgating to the Next Level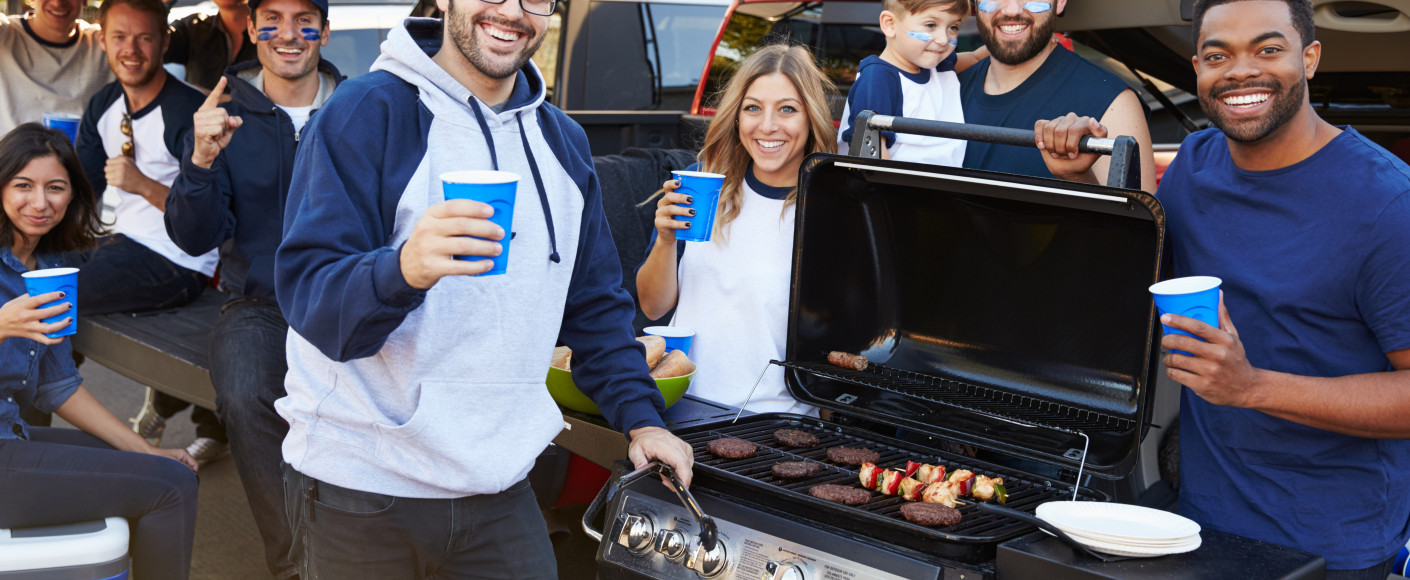 You've mastered the art of the hotdog and could cook a perfect burger in your sleep. But are your tailgates cheer-worthy? Do friends and family chant your name as you roll up to your spot? If you're looking to take things to the next level, we have tips to make your next tailgate a touchdown. 
Up Your Food Game
Arguably, the most important part of any tailgate is the grub. Something about a big game makes appetites larger! And while there's nothing wrong with classic dogs, chips and dips, we think you're ready for more. Here are a few recipes to consider for your next game.
Baked Potato Cupcakes
From our friends at Midwest Dairy, these cheesy bites are portable, which means you don't need to pause the cornhole match to eat. 
BBQ Meatballs
This recipe requires planning ahead, but the savory barbecue flavor is worth the effort. Pro tip: Make the recipe as described, then toss the meatballs in a crockpot to transport them to the tailgate and warm them up once you get there.
Mini Chicken Salad Sandwiches
You can put these sandwiches together a couple hours before chowing down, so they'll be just fine if you get caught in dreaded gameday traffic.
Southwest Corn and Three Cheese Party Cups
A step above traditional queso, this recipe will elevate any event. Bonus: Since the dip is already inside the wonton cup, you reduce the risk of spilling cheese on your gameday duds! 
Spicy Cheeseburger Sliders 
More interesting — and much cuter — than your usual burger, these sliders bring the heat with chili powder and pepper jack cheese.
Offer Drink Choices
It wouldn't be a tailgate without a few drinks! Whether you're hosting adults or anyone under 21, it's important to offer a variety of options for your guests. Check out some of our favorite drink recipes to make in larger batches.
Pro tip: When a drink recipe should be served warm, make a large batch before leaving, then put the liquid in a crock pot to warm it up once you're at the tailgate. When drinks should be served cold, make a large batch before leaving, then put it in a big pitcher or insulated dispenser when you arrive. 
Alcoholic Drinks 
Kissed Caramel Apple Moscow Mule
With flavors like caramel and cinnamon, this drink is served cold, making it a great choice for fall games when the weather is still on the warm side.
Fun Ship Special Cocktail
Summer flavors like orange, pineapple and lime make this a refreshing drink to sip during hot gamedays.
Spiked Peppermint Hot Chocolate
For the cold, windy and winter gamedays, this grown-up hot chocolate will keep your hands warm and spirits high.
Non-alcoholic Drinks
Apple Cider
The recipe suggests you serve this drink hot, but we think it's fine to see what the weather is like before making a call — if it's a particularly toasty day, feel free to serve cold.
Cherry Lemonade Sports Drink
Tart cherry and lemon makes this the ideal choice for lovers of all things sour.
Mexican Hot Chocolate
Cayenne pepper adds an extra kick to this cozy hot chocolate recipe.
Set Up Your Space
The key to wowing your fellow tailgaters is to create a welcoming atmosphere while showing off your team pride. From decorations to trash cans, these simple ideas will go a long way! 
Ensure all your serve ware is in your team's colors: paper plates, plastic cups, napkins, disposable tablecloths and so on. This scheme will make your tailgate more cohesive and will flaunt your team spirit loud and proud.
Bring a tent, canopy or cover. The weather can be fickle — especially in Kansas — so be prepared for anything with something to shelter under. Coverings also help protect your food and guests from the sun.
Create a playlist for the day to set the tone. This can be as upbeat or mellow as you'd like. Start the music at the beginning of the event and let it play in the background throughout.
Elevate your serving dishes. You can find impressive platters, trays, punch bowls and more for reasonable prices. Presenting your food on nicer serve ware will make everything look even more delicious. 
Add fun details like colored streamers, banners and other signage. Whether it's a single strand of bunting or an all-out streamer fest, decorations make a big difference. 
Make sure to have adequate trash cans. Don't make your guests walk to the nearest public bin. Have bags for them to dispose of their empty cups and plates without leaving the party. 
Bring games or activities. From cornhole to flip cup, there are an endless number of tailgating pastimes. Even if it's as simple as a football or frisbee to toss, give people a way to occupy themselves. 
Get Inspiration from Ultimate Tailgaters 
If you're still searching for ways to up your tailgate game, we're here to deliver. Folks across the country make throwing the ultimate tailgate experience their hobby. To inspire you, here are a few of the craziest things we've ever seen. 
Chandeliers hanging from the tailgate tent
Champagne towers
Chocolate fountains 
Customized cornhole boards and bags 
Fondue pots 
Fresh flower bouquets throughout the tent 
Photo booths with props
Renovated buses with full kitchens, living rooms and bathrooms 
We hope you're geared up for an incredible season and ready to take your tailgate to the next level. Happy cheering! 
More Game Day Fun