Thanksgiving Day Survival Guide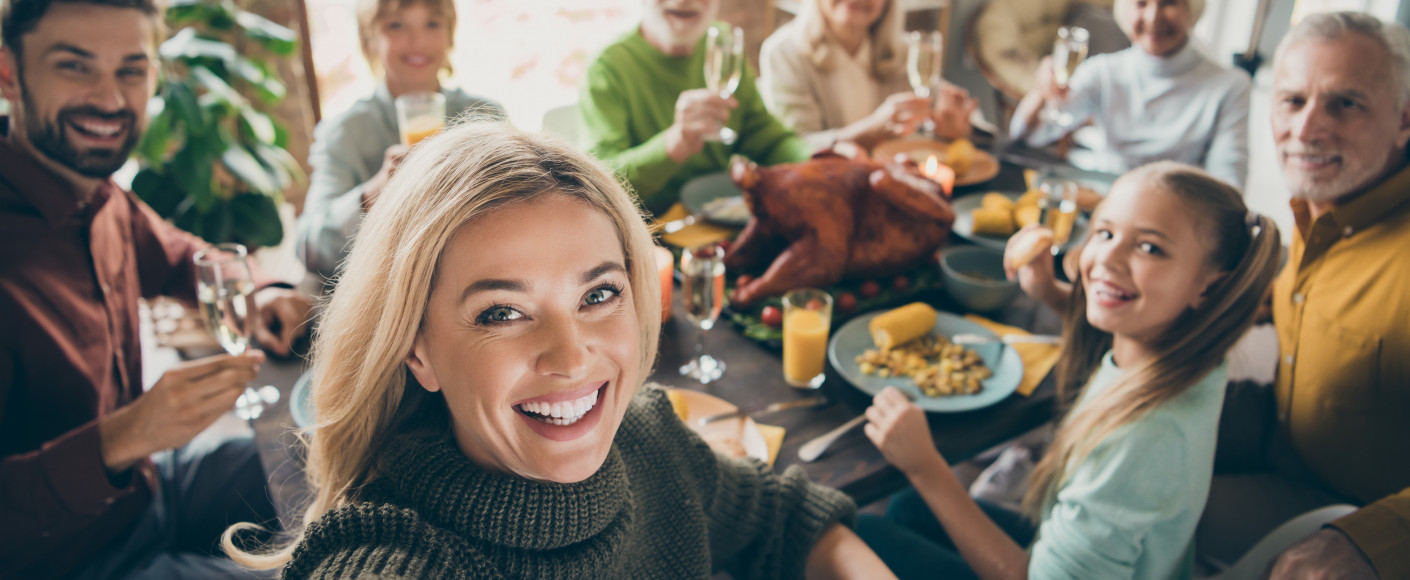 Picture this: The turkey is finished with time to spare, your family is gathered around the table singing praises to your food and decor, laughter fills the room and you smile knowing you've pulled off the perfect Thanksgiving. 
Oh, to dream! Whether this is your first year tackling the challenge, or you've been hosting for years, Thanksgiving can be a stressful time crunch. 
This year, put the odds in your favor by following our tips for a successful day. 
Make a Show-Stopping Centerpiece 
Presentation is everything! A nice centerpiece and simple decor go a long way. 
Start by choosing a color scheme and sticking to it. If this isn't your forte — never fear — go with typical fall colors: orange, yellow, red and neutral tones or brown. 
Pro tip: Once you've settled on a few key colors, find smaller items to sprinkle around the table and other areas where guests will be. It's easier to match your centerpiece to the smaller paraphernalia than vice versa. 
The small scatterings can be as easy and affordable as real leaves fallen from your trees. If you're willing to shop, check your local home goods store to find mini pumpkins, fake leaves, pinecones or any fall-related pieces. 
Now for the centerpiece! Again, you can make this as involved or as simple as you'd like. Here are a few of our favorite ideas to spark inspiration:
Cook the Perfect Turkey 
Whew. This seems a little overwhelming, doesn't it? But we know you're up for the task. No matter the recipe you follow, try these tricks for the best outcome possible.
First things first: Buy a turkey to fit the number of guests you'll be serving. A standard rule is one pound per person at the table. This may sound excessive, but remember the bone weight is included, not just the meat. To be safe, always err on the side of too heavy — there's nothing better than leftovers. 
Whether you rub the turkey down with butter or oil, ensure your main dish is as moist as possible by coating it before it goes in the oven. For extra moisture, cut small openings in the skin and put butter underneath. 
Next, make sure your turkey goes in the oven on a bed of veggies. Cooking the meat alongside other foods will increase the flavor and add extra layers to the dish. 
Many recipes will tell you to baste the turkey over consistent intervals, but consider leaving it untouched. Keeping the oven door closed will ensure things stay as hot as possible without interrupting the process. 
Want to keep things simple for a smaller crowd? You don't have to ditch the turkey entirely. Consider cooking a breast with this savory recipe.
Choose Fail-Safe Sides 
A little novelty never hurt anyone, but when it comes to Thanksgiving Day sides, let's keep it simple. You have enough on your plate without conquering an overly complicated side dish for the first time. 
If you've mastered the art of green bean casserole, whip that sucker out! If potatoes are your specialty, get to mashing! This is a great area to relieve stress and go with what you know. 
We love the classics, so here are a few ideas sure to be crowd pleasers: 
If you want to be a little more adventurous, we love these adorable, edible mini-cornucopias!
Remember to check the yield of each recipe and adjust for the number of people you're feeding.
Prepare an Activity 
Whether you have time to participate or not, it's the sign of a great host to have a fun game prepared. 
Ever a classic, have everyone around the table share a few things they're thankful for before dinner. For a more interactive activity, tell everyone to write down one thing they're thankful for and put all answers in a bowl. Then, take turns drawing pieces of paper and guessing who wrote what. 
Set out markers, colored pencils, crayons and paper for hand turkeys. Holidays bring out the child-like spirit in everyone, so this can be a fun activity even if no kids are present. 
If you have enough guests, coordinate a friendly football game. Designate "end zones" in the yard and spend the afternoon throwing the pigskin. 
Put together a Thanksgiving Day Scavenger Hunt. Prepare a list of holiday-related items for your guests to search for like a pinecone, three different colored leaves, an acorn, a tree without any leaves left, feathers, a pumpkin or specific things around your neighborhood. To make the game easier, guests can snap a picture of what they find instead of carrying everything around. Winner gets the first piece of pumpkin pie! 
Enjoy the Day
It's true, being the host can be stressful. We hope these tips will make your day more manageable, but most of all, remember to stop, smile and give thanks for the things that matter. 
Happy Thanksgiving!
More Thanksgiving Goodness