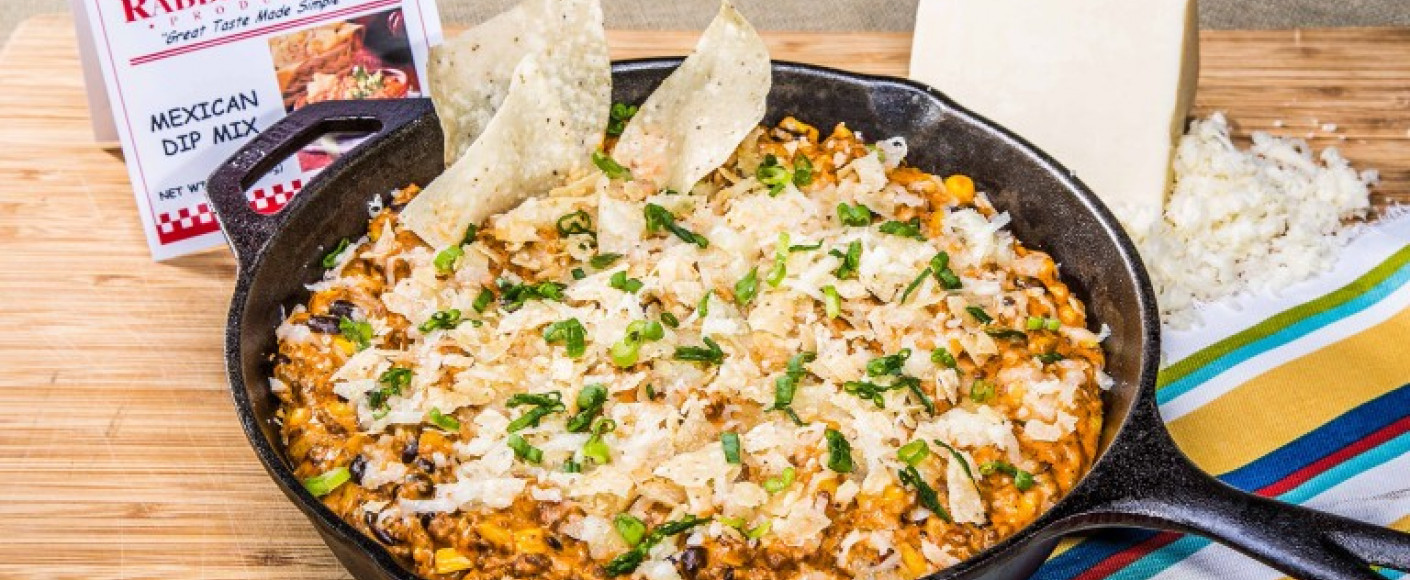 Ooey, gooey cheese paired with hearty beef and zesty Mexican spices. What's not to love?! This delicious dip can be served as a starter or side to add some fiesta to your table!
Ingredients
1 pound lean ground beef
10 ounces red enchilada sauce
8 ounces cream cheese, softened
1 cup roasted corn kernels
14-ounce can black beans, drained and rinsed
4-ounce can fire-roasted green chilies
1 teaspoon ground cumin
1 teaspoon chili powder
 ¼ - ½ teaspoon red pepper flakes
 2 cups shredded Monterey Jack cheese 
Kosher salt and freshly ground black pepper, to taste
 3 scallions, chopped, for garnish
 ½ cup crushed tortilla chips, for garnish
Directions
Preheat oven to 375 degrees F.
In a cast iron skillet over medium high heat, cook ground beef until cooked throughout and all pink is gone; drain fats.  Stir in enchilada sauce, cream cheese, corn kernels, black beans, green chilies, cumin, chili powder, red pepper flakes and one cup of cheese; season to taste with salt and pepper. 
Top mixture with remaining cup of cheese. Bake, uncovered, in preheated oven for 15-20 minutes, or until hot and bubbly throughout.
Remove from oven and garnish with scallions and crushed tortilla chips. Serve with additional tortilla chips or crackers, for dipping.  
This recipe was provided courtesy of Kansas Living Magazine through a partnership with Chef Alli.  Read the original recipe here.
More Great Mexican Recipes
---