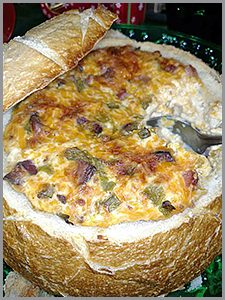 Looking for some hearty comfort food?  Look no further. Add a simple salad for an easy and satisfying meal, or serve this as a filling snack.
Ingredients
8 ounces soy sour cream
8 ounces soy cream cheese
16 ounces sharp cheddar cheese, grated
1 can (4 ounces) chopped green chilies
½ cup green onions, chopped
1 cup chopped ham
½ pound bacon, fried and crumbled
1½ pounds rounded bread loaf, hollowed out
Directions
Combine soy sour cream, soy cream cheese, grated cheddar cheese, green chilies, green onions, ham and bacon in a mixing bowl until blended. Spoon mixture into the hollowed-out bread loaf.
Bake at 350 F uncovered for one hour or until nicely browned.
Makes about 6 cups of filling.
Tips
Butter and toast the "lid" and inside of the hollowed-out bread and serve them along with the filling.
Make vertical cuts into the wall of the bread after it bakes, or tear the bread, to dip in the filling.
Nutrition per serving (2 Tablespoons or 32 g): 95 calories, 8 g fat, 0 fiber, 3 g saturated fat, 0.47 g trans fat, 1 g carbohydrates, 17 mg cholesterol, 202 mg sodium, 5 g protein, 1 mg vitamin C, 0.07 mg iron, 77 mg calcium
Source: Jane Fry, Elk Falls (Kansas State Fair soyfoods-judging entry)
More Great Comfort Food Recipes
---