Grandma's Creamed Chicken and Biscuits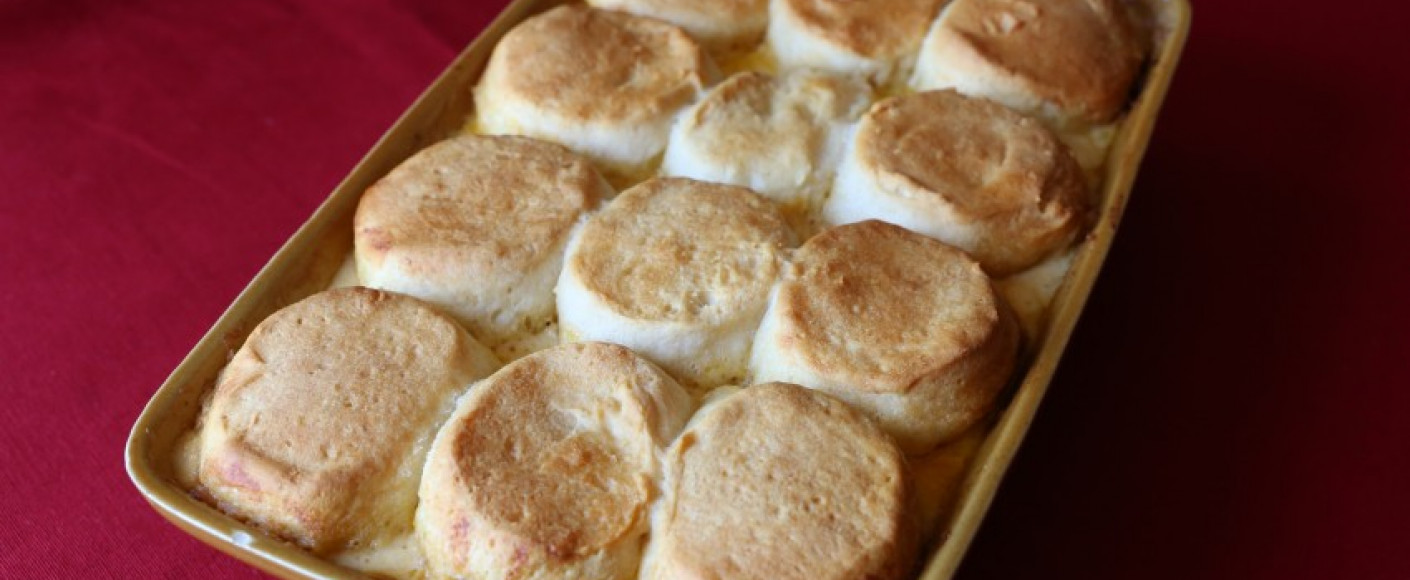 There's nothing like dinner like way grandma use to make! And if your grandma didn't make chicken and biscuits, do yourself a favor and learn how to make this ultimate comfort food. Your whole family will thank you!
Ingredients
1-2 tablespoons unsalted butter
1 small onion, diced
1 red bell pepper, seeds and membranes removed, diced
2-3 cups shredded rotisserie chicken (or 2 pounds cooked chicken breasts or thighs)
1 can cream of chicken soup
1/2 cup sour cream
1/4 cup mayonnaise
1 cup milk
1/2 cup peas
1 1/2 cups shredded cheddar cheese
1 roll refrigerated biscuits
Melted butter, for brushing biscuits
Directions
Preheat oven to 350 degrees F.
In a skillet over medium heat, melt butter; sauté onion and bell pepper in butter until softened and translucent, about 5 minutes.
In a large mixing bowl, combine onion and bell pepper mixture with chicken, soup, sour cream, mayonnaise, milk and peas.
Place mixture into a greased 11"x7" baking dish; bake uncovered on center rack for 15 minutes.
Remove from oven and sprinkle with cheese. Arrange biscuits in a single layer over the cheese and filling, then gently brush them with a bit of melted butter.
Return casserole to oven and bake until biscuits are golden brown and sauce is bubbly, 15 to 20 minutes longer.
This recipe was provided courtesy of Kansas Living Magazine through a partnership with Chef Alli.  Read the original recipe here.
More Great Comfort Food Recipes
---