Dijon-Glazed Corned Beef with Cabbage and Potatoes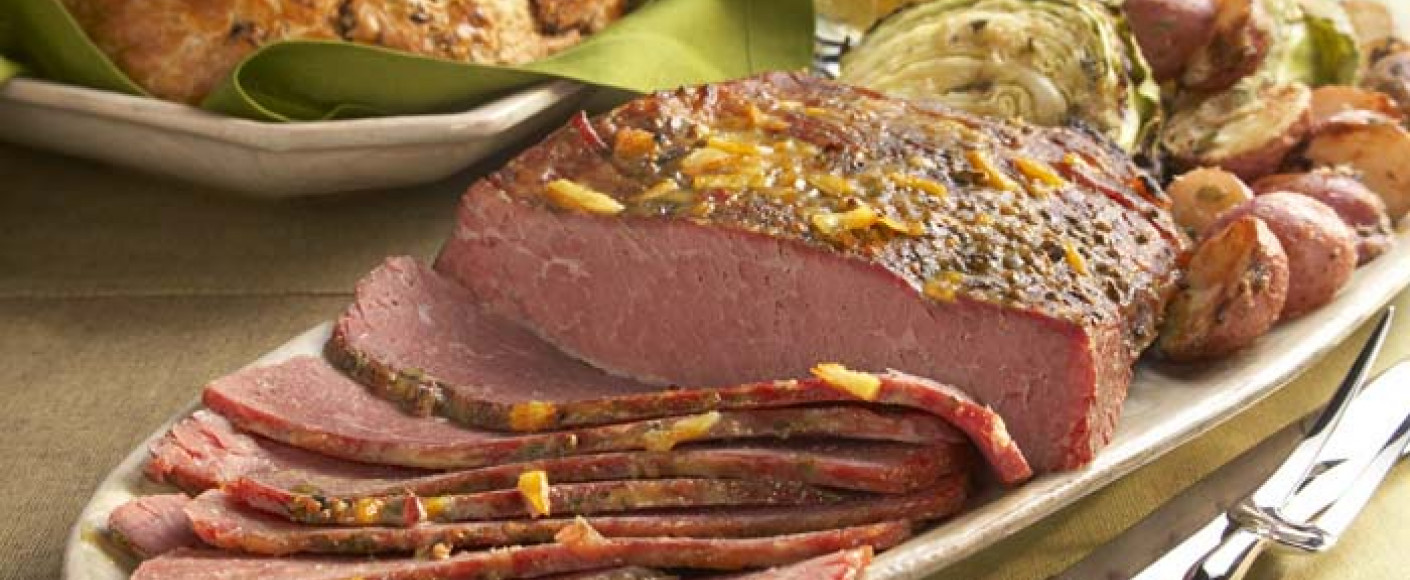 Corned beef and cabbage is one of those dishes most people only make, or eat, once a year. If your St. Patrick's Day celebration isn't complete without the pairing, give this savory and delicious recipe a try.
Heck, why wait until March? Enjoy it any time of year!
Ingredients
  1 boneless Corned Beef Brisket with seasoning packet (3-½ to 4 pounds) 
    6 cloves garlic, peeled 
    2 teaspoons whole black peppercorns 
    2 cups water 
    6 tablespoons butter 
    1 cup thinly sliced green onions, including white and green parts 
    ½ cup horseradish 
    ½ teaspoon ground black pepper  
    1/4 teaspoon salt 
    1 head green cabbage, cored, cut into 6 wedges (1 to 1-1/2 pounds) 
    1-½ pounds small red-skinned potatoes, cut in half. 
Glaze
    2 tablespoons orange marmalade 
    2 teaspoons Dijon-style mustard
Directions
Position oven racks in upper and lower thirds of oven. Heat oven to 350 degrees. Place corned beef brisket in roasting pan. Sprinkle garlic, contents of seasoning packet and peppercorns around and over brisket. Add water and cover tightly with aluminum foil. Braise in upper third of oven for 3 to 3-1/2 hours or until brisket is fork tender.  
Meanwhile, place butter, green onions, horseradish, ground pepper and salt in glass measuring cup. Microwave on high for 1 to 2 minutes or until butter melts. Mix well. Place cabbage wedges on half of baking sheet and potatoes on other half. Drizzle horseradish-butter mixture over vegetables, turning cabbage and tossing potatoes to coat. Cover with aluminum foil. Roast in lower third of oven with brisket for 55 minutes. Uncover vegetables and continue roasting 15 to 20 minutes or until vegetables are tender and begin to brown.  
Combine glaze ingredients in small bowl. Remove brisket from roasting pan and place on rack in broiler pan so the surface of the brisket is 3 to 4 inches from heat. Brush glaze over brisket and broil 2 to 3 minutes or until glaze is bubbly and beginning to brown.  
Carve brisket diagonally across the grain into thin slices. Serve with potatoes and cabbage.
Recipes for Special Occasions
---