Beef and Butternut Squash Chili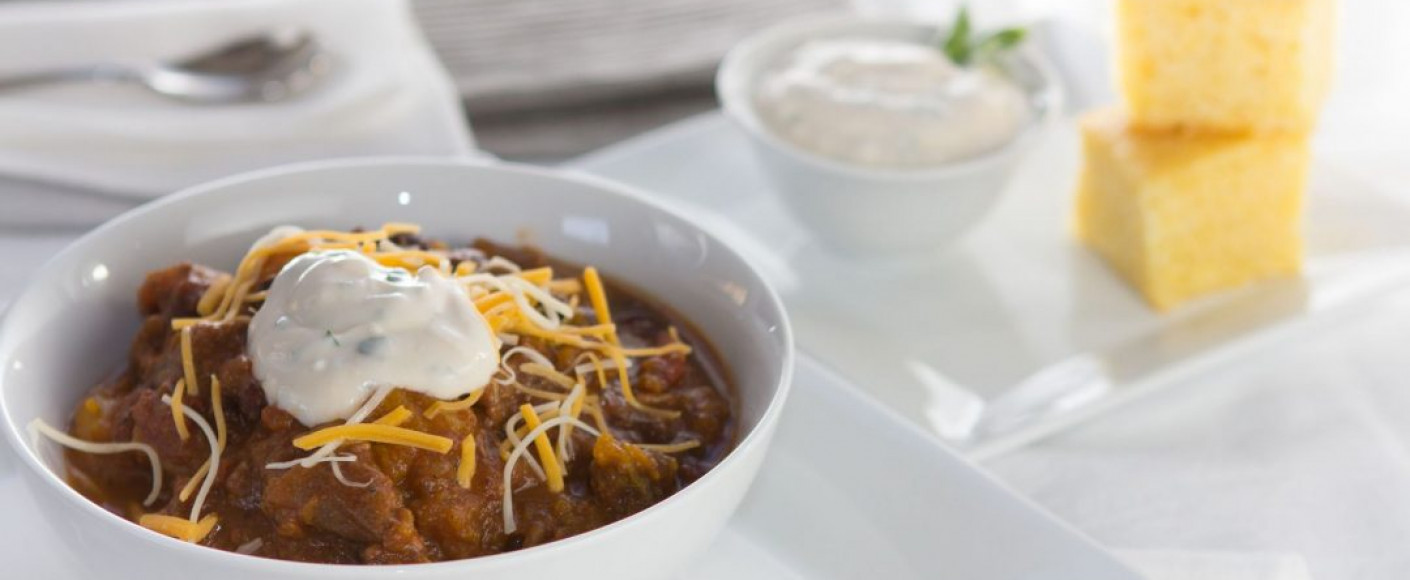 Warm, hearty and packed with flavor, this slow cooker chili recipe is one you'll want to savor during cooler months.
Ingredients
2 tablespoons all-purpose flour
1 teaspoon salt
1 1/2 pounds stew beef cut into 1 1/2 inch cubes
2 cans black beans rinsed and drained (15.25 ounces each)
1 butternut squash 3 pound, peeled, seeded and cut into 1-inch cubes (about 4 cups)
2 cups onion chopped (about 2 large onions)
3 cloves garlic finely chopped
2 cans fire-roasted diced tomatoes (14.5 ounces each)
1 1/2 cups low sodium beef broth
1 can tomato paste 6 ounces
2 chipotle peppers in adobo sauce, chopped
1 tablespoon chili powder
1 1/2 teaspoons ground cumin
1 teaspoon dried oregano leaves, Mexican or regular
1 teaspoon ground coriander
1 1/2 cups fat-free plain yogurt
1/4 cup cilantro leaves finely chopped
1 teaspoon adobo sauce (from chipotle peppers)
1 1/2 cups shredded Cheddar cheese blend
Directions
In a large bowl, combine flour and salt. Add meat and toss to coat with flour mixture. Place meat in bottom of slow cooker. Layer black beans, butternut squash, onion and garlic over meat. Pour tomatoes over vegetables.
Pour beef broth into a 2-cup measuring cup. Add tomato paste, chipotle peppers, chili powder, cumin, oregano and coriander to beef broth; stir until combined. Pour beef broth mixture over vegetables.
Secure the lid on slow cooker. Cook on low for 6 to 8 hours or until meat and squash are tender.
To serve, combine yogurt, chopped cilantro and adobo sauce in a medium bowl. Spoon chili into individual serving bowls, sprinkle with 2 tablespoons of shredded cheddar cheese and top with a spoonful of the yogurt mixture. Serve warm.
You Might Like
---